How Live Shopping will change e-commerce in 2021?

---- 10

min read

In the previous article, we discussed how shortcomings of traditional online shopping can be overcome with real-time engagement features. In the debate between live streaming commerce vs traditional online shopping, live streaming ecommerce clearly wins. In this blog lets us decode how Live Shopping will change e-commerce in 2021

It is seen that about 80% of customers drop out of a website or app within the first 30- 60 seconds of their visit. These few seconds are enough for a customer to decide whether the app has what he/she is looking for, or not. The same is the case with eCommerce apps and shopping cart dropouts. Users do not find the online store's experience or the product information engaging and useful. Even after adding products to their cart, most customers abandon their carts and do not complete their order.

To counter all such challenges, implementing Live Shopping and Real-time Engagement features into your platform can be of big help as these offer improved product experiences, personalization, two-way communication, faster order placement, and much more.
What is Livestream Shopping?
Live Stream Shopping also known as Live Video Shopping can be defined as the combination of streaming videos and live shoppable services. This enables buyer audiences to purchase products directly during a live shopping show without having to route to other sites to complete a purchase.
Livestream Shopping is built on the idea of video shopping and goes back to the '80s wherein Home Shopping Channels and live shopping networks like QVC started to appear on televisions. Hosts would casually chat with audience members while showcasing and promoting products. Viewers would tune in to see what's for sale and call in to make purchases. The live video shopping we are talking about has live element associated with it wherein viewers can buy products without leaving the live experience.
This makes the whole shopping experience highly interactive. Viewers who tune in to live shopping shows can ask questions, leave comments, share feedback, communicate with a host, participate in giveaways, quizzes, and polls, etc. Thus more and more brands are turning to live video shopping to close sales with buyers who can join remotely to watch, communicate and buy.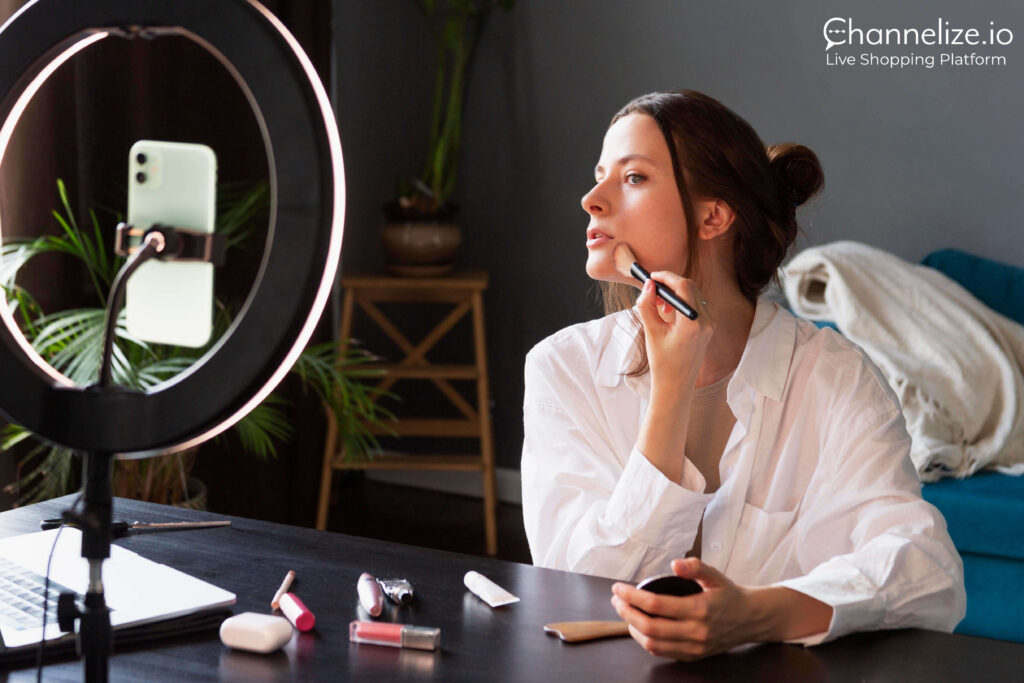 Live Streaming E-commerce Market Size
The very first place to look when we talk about live video shopping is China. And Live shopping is predicted to soon become a trillion-yuan ($157.50 billion) market in the country. eCommerce giants in China began conducting live shopping shows hosted by celebrities back in the 2010s. Live shows hosted by celebrities or influencers elevated the whole shopping experience from mundane to swanky which attracted shoppers and led to sales.
Read More: How Live Selling Boosts 5 Ecommerce KPIs.
Here are a few reasons that depict the success of Live Video Shopping in China:
1. Shoppers in China turn to live shopping shows for social proof and word of mouth. This enabled them to learn about products and make the right choices.
2. China has a large influencer industry. The majority of these influencers or KOLs are live streaming content creators.
3. Content creators are much more diverse in China and hence afford to take risks with their content and open themselves to manifold sales opportunities.
4. Covid-19 further accelerated the growth of live video shopping as more than 10 million live commerce streams were hosted in the first six months of 2020 in China.
After China, the US also began to catch up with the trend. According to Coresight Research by the end of 2021, Live Shopping in USA is predicted to reach $11 billion. The value is still unmatched to that in China, where it comprised $150 billion in 2020 and is predicted to reach $300 billion in 2021. Live Shopping in Germany is also gaining popularity significantly.

Live Shopping Success Stories
Let us look at a Live Shopping success story before we move ahead!
On Single's Day 2019, Kim Kardashian West co-hosted a live shopping session with one of the country's top-selling influencers, Viya Huang. Kim Kardashian and sold out her entire stock of 150,000 KKW perfumes at $ 47 each in a matter of seconds. The stream also attracted over 13 million viewers in China. As a result of such successful live stream selling shows, the live shopping market size flourished in China.
---
Lately, Microsoft streamed their XBOX One S release event at the 2016 E3 conference. The show attracted more than 6.5 million views and thousands of comments. As a result of this show, the XBOX One S was entirely sold out within two weeks of its launch.
---
During Shanghai Fashion Week, Adidas hosted a limited edition superstar sneaker release event. During the event, consumers interacted with hosts in real-time, and the show attracted 2.23 million viewers and generated more than $28 million in just 10 hours.
---
Luo Yonghao, one of China's most famous tech entrepreneurs hosted a live stream in a bid to repay personal debt, which was over 100 million yuan. The live show attracted more than 48 million views and generated sales exceeding RMB 110 million (about $15 million). During the show, he sold a number of products from Xiaomi smartphones to Gillette shaving razors.
---
A live stream show hosted by Tommy Hilfiger in China generated 14 million viewers and 1,300 hoodies were sold in two minutes.
---
A live stream show was hosted by Trip.com wherein the chairman, James Liang himself was the host and the event resulted in the booking of 80,000 rooms.
---
Hyundai Department Store sold 30% of the monthly sales of women's fashion brand G-Cut's products in just one hour via a live stream show.
---
Bobbi Brown announced that its live streaming commerce conversion rate was 5% whereas the average order value was $99, compared to a typical conversion rate of 2% and the average order value of $87.
---
Apple conducts live streaming events twice a year wherein the brand hosts new product launches and generates excitement around their creations. One such event that was held in June 2014 event attracted 20 million viewers!
The realism that live stream selling brings to online shopping is immense because the "live" element brings to viewers a sense of spatial immediacy where they feel like they are actually there in the moment and not behind the screen. This level of interaction not only intrigues the interest of potential buyers, but it can actually push them over the edge to purchase.
Also, live stream shopping combined with Chat empowers real-time two-way communication between buyers and sellers, offers a better product experience, and facilitates real-time engagement with an influencer or a product expert. This is one of the reasons Live Shopping in Germany is gaining attention.
Read More: How to use Live Stream Shopping to improve Purchase Intentions of Buyers.
Live Shopping in USA has successfully increased the rate at which product purchases are being made. This is because there's more product information than traditional online shopping, and it's often coming from a host consumers already trust. Live shopping shows can keep buyers engaged for a longer period of time thus increasing the chance of a brand to sell more. All this leads to a shopping experience resembling an authentic, in-store one.
Benefits of Livestream Shopping Platform for Online Shopping
Authenticity
Live stream selling platforms supply the authenticity that modern buyers crave for. There's no video editing or photoshopping, this enables buyers to see exactly what they'll get. It's unscripted and unedited!
During a live shopping show, buyers watch hosts use, wear, or test products they're promoting or launching. They also get to see real people telling real stories about real products, which shows the authenticity of a brand and gives buyers a conviction around their purchase decision. Furthermore taking viewers on a behind-the-scenes tour gives them an inside view of your brand which in turn helps them relate to your brand better.
Product Experiences
Livestream Shopping creates a real-life shopping experience scenario that draws viewers closer to products. Through real-time interaction with product experts, influencers, or celebrities, consumers are able to try, feel, and inevitably trust products. Real-time interaction can include an influencer demonstrating a product to customers over live video, showing them all the key benefits, and building the knowledge and confidence needed to help them to ultimately make a purchase.
Viewers can also use chat to ask influencers questions about sizing, request close-ups of fabrics, or discuss what accessories would look better with each outfit. Hence live streaming shopping provides a better product experience with a personal touch.
Real-time Engagement
Live streaming shopping opens up a two-way connection between brand and viewers that creates a level of interaction that can humanize a brand in a way that no other medium can. Customers who tune into live shopping sessions can leave comments or ask questions via live chat and hosts can address them in real-time which fosters engagement.
The unpredictable nature of live shopping draws more attention and urges customers to interact with the content, be it a like, a comment, or a share. Busting myths, playing games and trivia, and giving insightful facts with the help of live polls and reactions can further increase engagement during a session.
Sense of Urgency
The spontaneous nature of live stream selling shows generates feelings of curiosity, excitement, and FOMO among customers.
During a live session, live streamers can offer exclusive coupons, flash sales, giveaways, and lucky draws which creates a sense of urgency in audiences pushing them to shop. This sense of urgency can boost sales and conversion rates and hence we can say that live stream shopping can be an effective sales enabler. Hence, live shopping for e-commerce brands can be regarded as a powerful tool.
Brand Image
Promoting your brand with visual storytelling helps influence viewers to engage more with your content and create a more personal bond with your brand. Hence compelling video storytelling allows your brand to stand out and be noticed by customers.
Giving your audience an exclusive first look of a product, sharing announcements, sharing your brand values, and news that no one else knows yet, will make customers feel more in touch with your brand which ultimately leads to brand loyalty. Using Social Media, you can also build pre-event hype to get a large audience for your live stream show.
Complementary Use-cases
Using live streaming shopping to serve complementary content that appeals to your target customer audience is a hidden gem! If you're a Food Brand, then live streaming a yoga session while offering various breakfast options to your customers is a powerful way to use Live Video in your App for Sales.
Ultimately, storytelling and offering complementary content also help in improved brand image described in the previous section. A big advantage of live streaming commerce versus traditional online shopping is the ability to offer complementary use-cases.
Entertainment
For many buyers, especially the youth, entertainment and fun factors are important for an optimal shopping experience. The differentiated shopping experience they get with live streaming ecommerce makes up for the pleasure they otherwise get in physical shopping. A large number of consumers are even willing to pay more if there is a fun shopping factor.
Allowing entertaining influencers to take over a session, presenting exciting content, holding raffles and quizzes, conducting product unboxing sessions, interviews, and challenging viewers for a competition or a bet, etc keeps customers hyped and happy and makes shopping entertaining for them.
Because of the importance of entertainment in shopping, some marketers have rightly coined the term: "Shoppertainment". live streaming is an intriguing solution for brands to bring about more fun and entertainment via live shopping. This ultimately draws more audiences towards your brand and boosts retention and average session time.
Analytics Tracking
There's a bunch of data that comes from a live show, and it's important to track the best metrics to get a complete picture of an event's success. A key benefit of live streaming ecommerce is the analytics tracking that aids to monitor the ROI you have made during a live event. Hence with this information, you can modify your content and delivery approach for utmost impact.
Aggregated benefits of Livestream Shopping
The advantages of Live Streaming for Ecommerce that we've shared above are not exhaustive, and there certainly are more. Getting to know these will help you develop the right strategy to utilize to boost your leads and convert your customers into long-term clients. Increased sales conversion rate and a number of downloads, improved average session time, higher net promoter score (NPS), repeat customer rate, higher lifetime customer value (LCV), lower customer acquisition cost (CAC) – all of these can be direct benefits of leveraging livestream shopping. Go ahead and get a live streaming solution, and stay connected with your customers, now and forever! This is How Live Shopping will change e-commerce in 2021.
Also by leveraging the right content strategies for live streaming and an effective marketing approach for your live stream show you can lead to more product sales and improved buyer connections.
Channelize.io Live Stream Shopping Platform can help you serve your customers in efficient ways by personalizing their experiences, engaging them in real-time, and offering better product experiences. Book a FREE DEMO with us to get started.
What's more?
We also have plug-and-play integration available for popular ecommerce platforms. Install & activate the plugins on their respective platform and start selling LIVE:
Shopify: https://apps.shopify.com/live-stream-shopping
WooCommerce: https://wordpress.org/plugins/live-shopping-video-streams/
Magento: https://marketplace.magento.com/channelize-liveshopping.html
PrestaShop: https://addons.prestashop.com/en/support-online-chat/86309-live-shopping-video-streams.html