Live Selling on Ecommerce Website vs Social Media

---- 6

min read

Livestream Shopping is fast becoming a popular way to sell online because of its benefits for online retailers. Brands worldwide are making use of various Live Stream Shopping platforms to connect with their buyer audiences and sell their products. Choosing the right livestream shopping platform is an important decision to make.

In this article, we'll decode why you should choose Channelize.io Live Video Shopping Platform and activate Livestream Shopping within your own Website and Apps, over Social Media Channels like Instagram and Facebook.

Live selling platforms allow you to stay closer to your customers by providing opportunities for better product discovery, enhancing product experiences, personalization, and communication. With Channelize.io Live Stream Shopping Platform used on your Website and Apps, you get many more benefits apart from the ones above, which are not possible with social media channels. These benefits make our live selling platform more effective and definitely beats social media channels in comparison.

Here are some points that make Live Shopping on your Website and Apps with Channelize.io a more beneficial proposition for your brand than Social Media:
Live Selling on Ecommerce site vs Social Media
Easy & Seamless Integration
Channelize.io Live Stream Shopping Platform is easy to integrate seamlessly within any website and apps with our API, SDK, UI Kits and pre-built integrations. In-fact this article shows how we make it easy to add Live Shopping on any Ecommerce platform within 10 mins, and start selling live instantly. Furthermore, the existing functionalities of your ecommerce store that you are accustomed to using will not be affected.
Plug-and-play integration plugins/apps are available for the popular e-commerce platforms listed below, and we will provide extensions for other e-commerce platforms shortly.
Install and activate the plugins on their respective platform:
Shopify: https://apps.shopify.com/live-stream-shopping
WooCommerce: https://wordpress.org/plugins/live-shopping-video-streams/
Magento: https://marketplace.magento.com/channelize-liveshopping.html
Prestashop: https://addons.prestashop.com/en/support-online-chat/86309-live-shopping-video-streams.html
Bonus: With our Embedded Shopping Shows feature, brands can easily add Shopping Shows, both Live and Recorded, on their websites as well as any other web pages by simply Embedding a small Code Snippet. Shopping Shows can also be embedded on partner and 3rd-party websites, and can hence simultaneously Go Live at multiple places. If you choose to embed a shopping show on your website, you will certainly increase the traffic on your website.
Read More: Boost impact of Live Shopping Shows with Embed Code.
Easy Adoption
Our Platform comprises a Production Dashboard for Store Admins that gives store owners the ability to easily create, run and manage Live Shopping Shows.
Also our Platform makes it very easy for any chosen host for a Shopping Show to Go Live. Hosts can easily Go Live using our iOS & Android Broadcaster Apps, showcase and spotlight promoted products, engage with buyers in real-time and build relationships with high touchpoint interactions. This makes our platform very adoptable.
Deeper Level Analytics & Data Ownership
When it comes to live shows, there is a lot of data that comes in, and it's important to track the best metrics in order to have an accurate picture of a show's success. A key benefit of Live Shopping on your Website and Apps with Channelize.io is the analytics tracking that aids to monitor the ROI you have made during a live show.
By Leveraging our Platform, store owners can gather analytics for all shopping shows and can check and analyze Engagement KPIs (Total Comments, Total Reactions) and Performance KPIs (Show Duration, Peak Time, Peak Viewers, Total Unique Viewers) of each shopping show. You can also easily export the data of logged-in viewers and add it to your email campaigns for retargeting.
Spoiler Alert: We'll be adding Commerce Analytics in the coming weeks!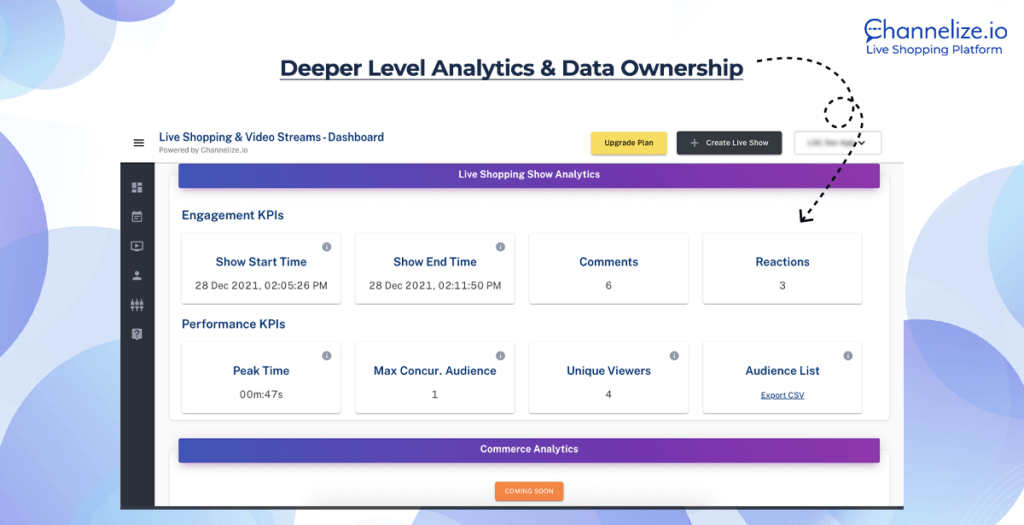 More Control on Buyer Experiences
Shopping shows on your Website and Apps give you full control on branding and buyer experiences. On the contrary, social media platforms have a lot of distractions, which makes your products and brand less likely to be noticed.
Buy during the Live Experience
Shoppers who wish to purchase through Live Shopping via Social Media channels will have to leave the live experience in order to do so. This can harm your overall conversion rates. And, with how distracted the shoppers of today are, this is not recommended. Live video shopping on your Website and Apps with Channelize.io takes the friction out of this experience and takes the ownership back to a brand.
As buyers are not required to leave a live show, they are more compelled to impulse buying leading to more sales.
Brand Loyalty
Live video shopping on your Website and Apps with Channelize.io leads to better brand loyalty amongst your buyers as the Engagement and Retention generated stays on your Brand's website and apps itself. This also gives you many opportunities for up-selling and cross-selling.
Brand Building & Recall
Doing Livestream shopping shows on your website and Apps with Channelize.io is a quick result driven approach and benefits you for a long term. On the contrary, live shopping on social media can gain you followers only for sometime but it has little long-term benefits.
Furthermore, Conducting Shopping shows on your own websites and apps help viewers to recall your brand more easily as it creates a brand image in their mind whereas when conducted on social media it fails to create that impact owing to multiple other content available. Thus leveraging our livestream shopping platform facilitates better brand building and recall.
Read our Blog to know why it is beneficial for brands to sell on their ecommerce website vs marketplace.
Custom RTMP Support
You can take full advantage of both Channelize.io Live Streaming Ecommerce Platform and your choice of third-party live streaming software with this feature. This will enable you to use live streaming softwares with features like Overlays, Media Source, Video Capture Device, Image Slide Show and make your shows more engaging and interactive. You can use external cameras or webcams and go live with a variety of video aspect ratios, such as 9:16 and 16:9.
The Best Part?
With this feature you can go Live with a pre-recorded Show.
Read More: Custom RTMP Support for Live Stream Shopping.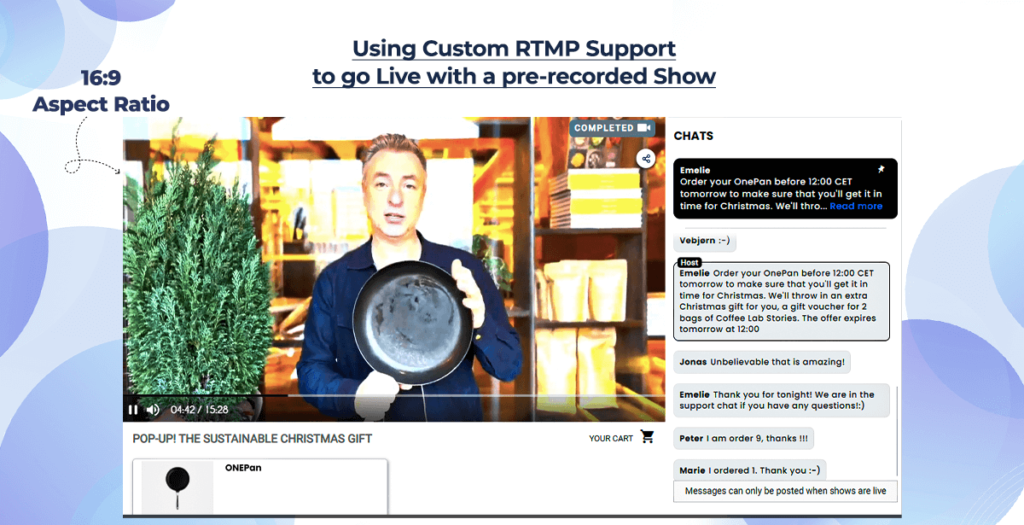 Simulcasting
If you are still not convinced and still want to use social media channels then you can simply leverage the simulcasting feature of our Platform. In this way you will be able to utilize the benefits of our live selling platform as well as of the respective social media channel. Isn't this cherry on the top feel!
What's more?
Some of the other notable benefits of conducting Livestream Shopping on your Website and Apps with Channelize.io over other platforms are as follows:
1. HD video quality and lower latency gives the best experience boosting engagement.
2. Leverage recordings (Past Shopping Shows) for post-live engagement and more sales.
3. To facilitate the whole process of integration, we show our clients a full demo of our livestream shopping platform and demonstrate how to Integrate it (Book a Demo). Clients can also refer to our Help Center and Blogs to add Live Stream Shopping to their E-commerce Platform. How Beneficial!
In Closing
Channelize.io Live Streaming Ecommerce Platform has proven to be highly effective at creating a sociable and personalized way to sell online with the real-time element pushing impulse purchases. Hence brands across the globe are taking advantage of Live Selling on their Website and Apps via Channelize.io to provide customers with exclusive shopping shows where they could buy products in real time with clarity.
We hope you can make the right choice for your brand now and book a Free DEMO or get in touch with us at info@channelize.io with us at the earliest!