Channelize.io Live Shopping Platform is evolving: Meet the latest Updates!

---- 3

min read

Take your shopping shows to the next level with an amazing lineup of game-changing new updates from Channelize.io.

These new updates will help you:

1. Create and Host your Shopping Shows effortlessly

2. Level up your Products Promotion capabilities

3. Sell more from your Shopping Shows

So let's dive in,
Real-time Products Update
With this powerful feature, Brand Admins can Add or Remove Promoted Products for their Shopping Show, On-the-fly from the Production Dashboard during the Live Show. Additionally, Admins can also Add or Remove Products from the Recorded Shows.
This gives Admins full control over the products they want to promote, and allows them to choose these as per their requirement during Live and Recorded Shows.
So, Brand Admins can Add and Remove products easily via the Production Dashboard itself, which makes this feature very user-friendly.

NOTE: Currently, this feature is only available for Ecommerce Stores on Shopify.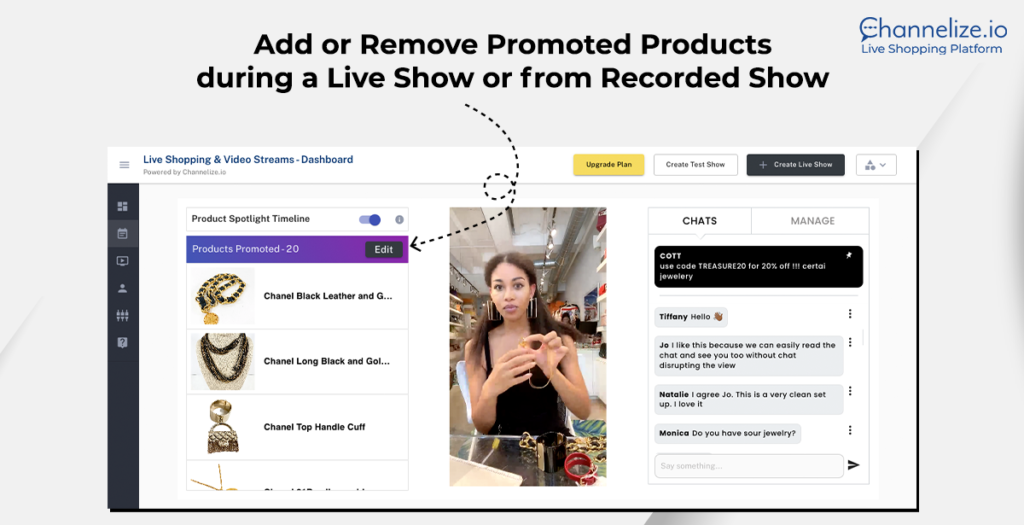 How is this Beneficial?
Adding and Removing Products on-the-fly during your Shopping Shows helps you sell more effectively. Here are some ways:
Adding Products On-the-fly During your Shopping Shows:
Start your Shopping Show with 0 products. Surprise your customers by adding products on-the-fly to promote.

Promote Products that Buyers demand. Listen to your buyers' needs, make your Shopping Shows Interactive and Entertaining.

New Collection Launch. Keep the products of your new collection a mystery till you launch them in your Shopping Show.

Promote a large number of Products in your Shopping Shows, but keep users' attention to a small set of products at a time: Start your Shopping Show with a small set of products. Spotlight the one being demonstrated at any instance. Change the Promoted Products to the next set to promote as your Shopping Show progresses.
Removing Products On-the-fly During your Shopping Shows:
Out of Stock Products: Removing out-of-stock products from the list of promoted products.
Showing Discounted Product Price in Buyer Interface

Shoppers love Sales! However, for shoppers to successfully take advantage of these Sales you must communicate these Sales or Discounts effectively during a live shopping show. This is what our new feature is all about.
With this new feature, Clients will now be able to showcase the Discounted Product Price as well as the Original Product Price on the Buyer Interface during a Live Shopping Show.
What are the Perks?
Customers often see discounts as a huge opportunity to save money and enjoy a product for a whole lot less. In fact, discounts usually influence customers to buy more products than they initially planned. They love to 'take the opportunity' because the same products may not be so cheap after the Live Show!
Hence by leveraging this feature of our Platform, Clients can now entice their customers and accelerate their decision-making process to buy the promoted products.
Pro-tip: You can also spotlight the discounted products to attract buyers' attention to them and drive conversions.
Modification in Create Live Show & Test Show Form
This feature is rolled out to make the live selling journey of our Clients effortless and smooth. With this feature, Admins can now quickly create a live show just by filling in a few necessary fields. This simplifies the process of creating a live show, thus enhancing the overall experience for you, the Brand Admin. Useful! Isn't it?
With this feature, few fields now fall under the advanced settings which are optional to fill.
Minor bug fixes in the Dashboard & Buyer Interface
We have also made some minor changes to the Dashboard which makes the whole dashboard experience more enjoyable for the Brand Admins.
Stay tuned for more
Live Shopping is becoming increasingly important, not just for customers who crave convenience and authenticity in online shopping, but also for businesses who want to stay ahead of their Competitors.
For a world increasingly engaged by video, Channelize.io Livestream Shopping Platform is the best way to know your shoppers, increase average order values and chase faster business growth!
Contact us today to get started with a FREE PERSONAL DEMO.