Alegria Colombia commits to Live Shopping for Elevating Sales

---- 2

min read

Live Streaming Commerce, the fusion of instant buying of featured products and audience participation over a reliable Live Stream Shopping Platform has revolutionized the retail industry and has solidified itself as a successful sales and marketing tool. Livestream Shopping offers several opportunities for brands to sell all types of products, from cosmetics and fashion to healthcare and fitness, and to hospitality and automobile.

Alegria Colombia, for example, is one such brand that is successfully using Channelize.io Live Stream Shopping Platform to sell accessories, fashion, beauty, and healthcare products.

Founded on 20 April 2020, Alegria Colombia is a brand that firmly believes that it is possible to be happy and young throughout one's life and build a better country by working together and sharing the things that make one feel happy and energetic.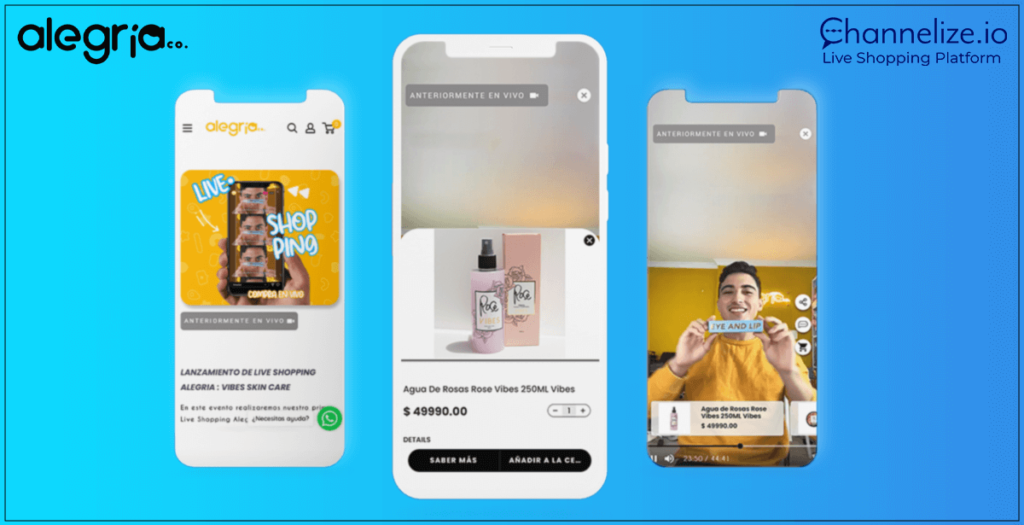 Key Features of Channelize.io Live Stream Shopping Platform that is helping Algeria Colombia to offer improved online shopping experiences.
Mimics Offline Shopping Experiences
Hosts can demonstrate how products look from different angles and viewers can even request specific models for demonstrating. With livestream shopping, brands can advertise their product live to an online audience in such a way that the customers can really get a sense of a product's perfection and flaws in real time.
Highly Interactive and Entertaining
Brands can host giveaways, Q&A sessions, live contests, flash sales, etc to effectively engage, inform and entertain their customers. Running flash sales, discounts, and limited-time offers can be a powerful way to boost the success of a live shopping show.
Offers Personalization
The popularity of Channelize.io Live Stream Shopping Platform may be attributable to the intimacy that it fosters between shoppers and online sellers. Our platform adds the necessary human touch when you sell live and ensure a seamless and improved online shopping experience by Algeria Colombia.

Builds a Sense of Scarcity
Customers often feel that they will lose the bargain if they don't place their order during a Livestream shopping show because of the good discount offers and limited stock. This creates a sense of urgency and urges them to shop.

In Summary,
Live Shopping is a key strategy for Alegria Colombia to increase sales and provide better online shopping experiences. Aside from generating sales, Channelize.io Live Shopping Platform has also enabled Alegria Colombia to build trust, increase audience reach, show creativity, and be in direct contact with customers.
Channelize.io Live Stream Shopping Platform offers clear benefits to brands across industries. Retailers and D2C brands can present their products, answer consumers' questions in real-time, and even carry out live promotional offers to compel them to buy products. Furthermore, it provides a real-world brand experience to consumers remotely and reassures them about the quality and authenticity of products.
Click here to discover how brands across industries are leveraging our Live Stream Shopping platform!
If you would like to learn more about how Channelize.io can help your brand, feel free to book a demo.
Disclaimer: The Brand name Alegria Colombia and the brand logo are properties of alegriacolombia.com.