Channelize.io Product Updates: WooCommerce Deeper Integration, Cart Management & more

---- 4

min read

We value our Clients and that's why we strive to provide them with as many best Platform Features as possible. This blog is a full rundown of what's new at Channelize.io. From WooCommerce Deeper Integration to Cart Management and more, let's quickly review our February 2023 product updates.

Ready? Let's jump in.
WooCommerce Deeper Integration
Here's some exciting news for our WooCommerce Clients!
With just a few clicks, WooCommerce Store Owners can now Add Products to their Shopping Shows that are linked to their store. This simply requires clients to configure the store products with the Channelize.io Production Dashboard. Easy & impactful, isn't it?
Clients benefit from the Store Configuration Setup because it makes it easier for them to create and host shows effortlessly thereby generating Sales. Products will be fetched automatically from the store and can be added/removed with a few clicks.
Existing clients need to follow the steps below for store configuration:
Step 1: Update your WooCommerce plugin to version 2.1.0 or higher.
Step 2: Update your Products API URL in the provided field. Ensure that your Products API URL is formatted as follows: https://ecommerce-website-url.com/wp-json/api/products.
Step 3: Finally, to complete the store configuration, fill out all of the required fields and save the changes.
Bonus: Once the show is created store admins will get the Live Shop URL Link in the Production Dashboard which will give them one-click access to the Live Shop.
New Clients can simply create a new application by filling in the E-commerce Website URL and they will be directed to the Production Dashboard. From the Production Dashboard, they can complete the store configuration and start selling LIVE.
---
Cart Management in Buyer Interface
Well, great products are essential, but so are all the little details that makeup a shopping show's experience.
Everything from the way your products are displayed to the cart management process impacts how successfully you can turn audiences into buyers. One of the important elements for shopping shows is definitely cart management which can resolve reasons for cart abandonment. This also leads to a sense of convenience and a smoother buying experience.
With our latest update to the Buyer Interface, we have successfully achieved this. That's wonderful, isn't it?
Now buyers have the ability to manage their cart in just a few clicks. This includes managing product quantities, removing products etc without getting redirected to the website checkout page.
This feature enables a smooth purchasing experience, a satisfying, stress-free buying experience, and a reduction in cart abandonment rates. Ensuring a positive customer experience will ultimately lead to a huge impact on your Sales.
Note: This feature is only available for Shopify Stores.
Read More: Channelize.io Launches Wix Integration for Live Shopping.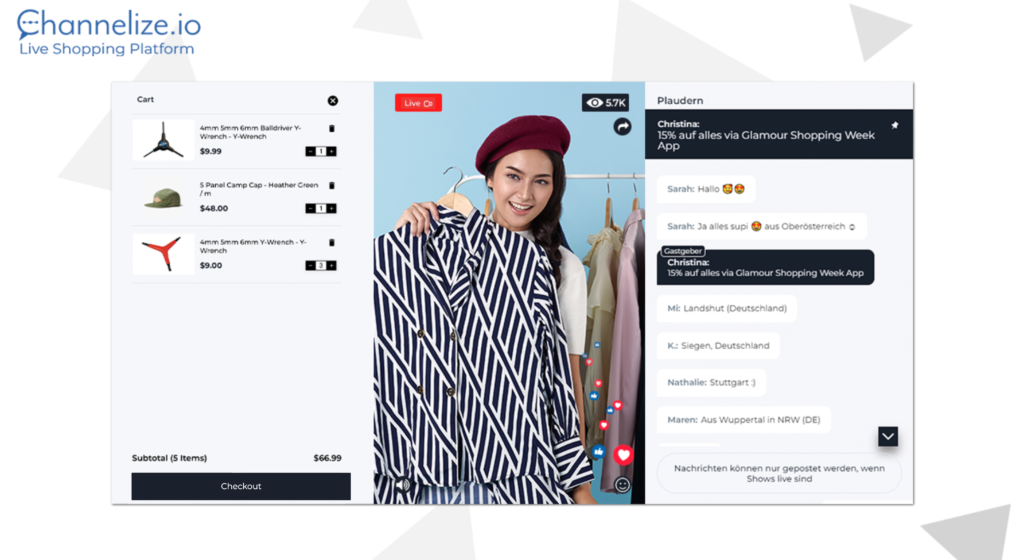 ---
Better Past Shows experience for Audiences
Another one of the product updates is improving the Past Show experience for Audiences.
Keeping in mind that brands experience huge sales from their past/ recorded shows, we have improved the overall buyer experience for past shows.
This makes the entire shopping experience of buyers faster, smoother, and more pleasant.
---
Stay tuned for more product updates
"For the price, you really can't do better than Channelize! They have excellent customer support, and the Platform is really easy to use as a host. Our customers noted that the mobile integration could use some fine-tuning, but overall I would definitely recommend to businesses dipping their toe in live sales!" – Shop Chunks.
This is just one of the many feedbacks we received from our beloved client which clearly demonstrates how our Platform can be a game changer for you.
To know more feel free to Book a FREE DEMO with us or contact us at info@channelize.io.