Nature Baby Turned to Live Video Shopping for selling Kids Apparels & Toys

---- 2

min read

Naturebaby.dk is Denmark's largest Ecological and Environment friendly online store for babies, mothers and household. The brand values Sustainability, Ecology and Health ensuring that consumers safely shop with them knowing that there is full transparency in the goods they buy from the brand.

The brand turned to Channelize.io Live Video Shopping Platform and this initiative has been a resounding success, creating the highest conversions they have ever achieved.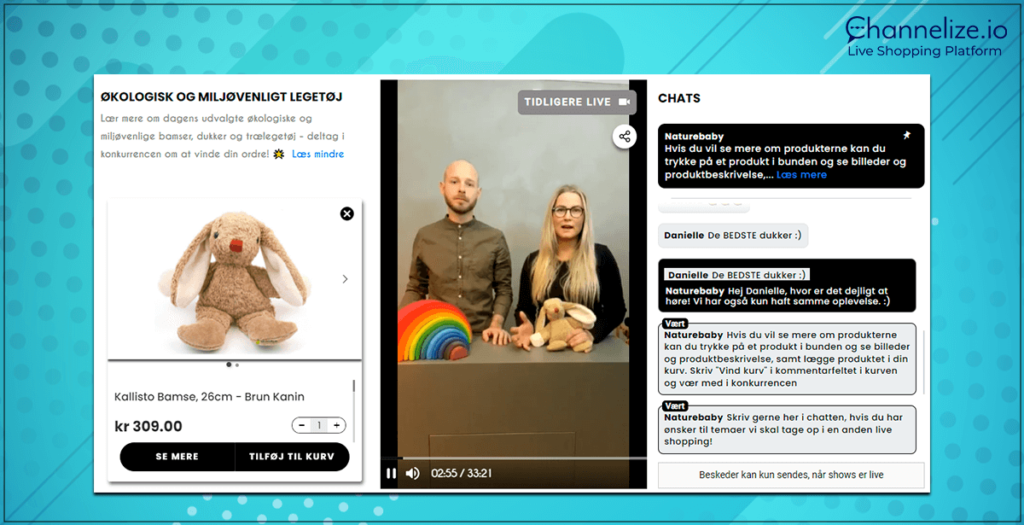 Here is how our Platform is helping the Brand
The beauty of Channelize.io Live Stream Shopping Platform is the ability to track, gauge, and analyse analytics from the dashboard which the brand is embracing fully
Buyer audiences can Add-to-Cart and purchase while watching a Live Shopping Show itself, allowing the brand to create an immersive experience
Through our Platform, the brand is educating shoppers, offering entertainment and interactivity to recreate the energy of in-store shopping experiences digitally
Features like Quote Reply, Pinn Message, Product Spotlight, Live Chat Moderation etc gives brand admins the control over their live shopping shows
Live Streaming Ecommerce is helping the brand grab the attention of their audiences and deliver their brand message to them leading to brand exposure and reach
Besides helping the brand generate sales, our platform also helps them market their products. In addition, buyers can access recordings of past live shopping shows, and hence those too contribute in influencing purchase decisions
The brand gained as many as 2k viewers and 10k engagements from just one Livestream Shopping Show. What's even more astounding is that they have just started with our Platform and are planning many more Live Shopping Shows. Channelize.io Live Video Shopping Platform is continuously improving their Sales, Customer Engagement, Brand Rapport and is building relationships with their Consumers.

In Summary,
Live Video Shopping can be an impactful way to quickly give your sales a boost, build brand awareness and reach and find new customers. This is a great way for people to become familiar with your products and your brand.
Channelize.io Livestream Shopping Platform is not only effective for the Brands selling kids apparels and toys like you saw in the case of Naturebaby.dk but our Platform can play a major role in Sales, Marketing, Brand Enhancement and Customer Out-reach for brands across industries.
To know how our Live Shopping Platform is being used by brands across industries, you can read our Success Stories.
You could be the next success story! Get in touch with us at info@channelize.io or book a Free DEMO to have a walkthrough of our platform.
Disclaimer: The Brand name Naturebaby.dk and the brand logo are properties of naturebaby.dk