New Feature Alert: Boost impact of Live Shopping Shows with Embed Code

---- 4

min read

With easy onboarding, Channelize.io Live Shopping Platform enables Retailers and D2C brands to stream live shopping shows from their own domain, providing shoppers with seamless, interactive, and improved online shopping experiences that help them make informed purchase decisions.

Till date, Channelize.io Live Shopping Platform has seen widespread adoption by global brands because we constantly listen to our clients and keep updating our Platform. And this time we have come up with something really big!

For Shopping Shows, both Live and Recorded, it is very important to get a good number of buyer audiences because it is only those watchers that will convert to buyers. Channelize.io Live Stream Shopping Platform already enables this as every shopping show has a Dedicated URL which remains the same throughout the life of a show. Hence brands and stores were already able to share these URLs on their social media handles to market and popularize their shows to get large audiences.

Furthermore, our platform has API, SDKs, and UI kits for integration in web and mobile applications, and we also have pre-built integrations for Shopify, Magento, and WooCommerce which makes adoption of our platform very easy for brands.

We have now gone a step further and made it very easy for brands to add Shopping Shows, both live and recorded, on their websites as well as any other web pages by simply Embedding a small Code Snippet. This is a great way to increase the reach of your Shopping Shows and Products, and ultimately boost revenue. Shopping Shows can also be embedded on partner and 3rd-party websites, and can hence simultaneously Go Live at multiple places. On other websites, when buyers would click on products to purchase them, they will be redirected to the main store or product pages, and this will hence lead to increased traffic as well.

Keep reading to learn more about this amazing feature!
What is an Embed Code and how does it function?
An embed code is a piece of HTML code that you can use to add shopping shows on your website or ecommerce store. This snippet of code, after being added on a web page, displays the desired live shopping show on your website, which can be either displayed on a page or opened up on a trigger like "button-click".
Here's how it works.
Step1: Every show you create in the Production Dashboard has a unique embed code. So, you first need to create a new Live Shopping Show for your buyer audiences.
Step 2: Go to the Show's preview in the Production Dashboard.
Step 3: Click the "Embed" button to see the embedded code with instructions to copy and use.
Step 4: You can paste this code into any HTML or Template file. After adding the code as instructed, you will be able to see the Live and Recorded Shopping Shows on the web page(s) where the code is embedded.
We will soon release documentation for deeper integration with Shopping Carts, Analytics, and Buyer Data.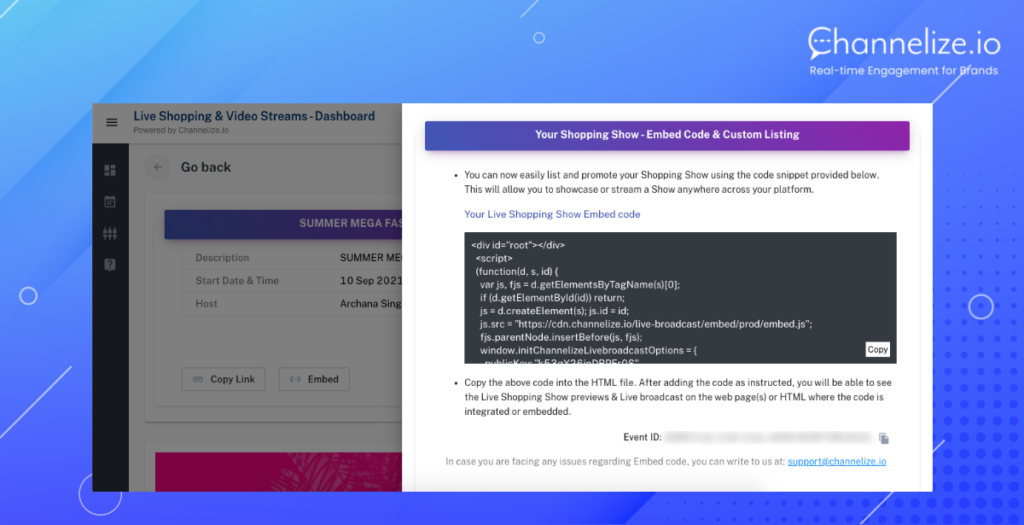 Note: Non-Shopify store owners can simply create an account on Channelize.io, complete the signup process and go to the Production Dashboard, where they can create live shopping shows and follow the above-mentioned steps.
Advantages of using Embed Code
There are multiple advantages of using the embed code feature:
1. You can add any button, menu, or banner on your website that will redirect to a live shopping show that you'd like to promote.
2. You can create a custom listing page or landing page for shopping shows. By clicking on every element on that page you will be redirected to a different live shopping show.
3. At a time, you can open one or list multiple shows on any CTA or button as per your preference. 
4. You can promote or showcase your shows at multiple stores or websites to get maximum attention from viewers.
5. This new feature makes it very easy for anyone to easily adopt Live Stream Shopping.
6. Non-Shopify Owners can promote absolutely any product (own or 3rd-party) in their Shopping Shows
Final Thoughts
Showcasing and promoting live shopping shows has become very easy and impactful with this powerful feature of Embed Code.
The best part about embedding is that you require no coding knowledge to do it! As we've already mentioned, to successfully embed a live shopping show on your website — obtain an embed code and copy/paste it in an appropriate place and you are done. Isn't it quick and easy!!


What's More?
We also provide Deeper Integrations for clients who use embed shows on their website or use their custom platform for hosting live shopping shows. With Deeper Integrations clients can leverage core features of our Live Shopping Platform and offer buyers a personalized experience through interactive real-time features. This gives clients the flexibility to showcase in depth details like price, variant etc of their products while allowing buyers to add those products into their cart while being in the live shopping experience. This helps buyers make a more informed decision.
Furthermore, with Deeper Integrations, admins / store merchants can create exclusive shopping shows for their loyal customers (logged-in users) and hence can control the shopping show accessibility.
So what are you waiting for, start using Channelize.io Live Shopping Platform and offer improved product experiences, greater interactivity, and drive higher levels of engagement while contributing to Bigger Order Sizes and Repeat Purchase Rates that exceed industry benchmarks.
If you have a feature request, we're all ears, just write to us at info@channelize.io.