Product Updates: Broadcast Messages, External Chatbots Support, Improved Video & Voice Calling, and More

---- 3

min read

The increasing demand for Chatting and its impact on business makes it necessary for companies to implement Chat into their applications. Some have even begun to make their own chatting platform as a supplementary feature of their core product with months of effort and large investments. Some have opted to use readymade Chat APIs and SDKs like Channelize.io that reduces the rollout time from months to just a few weeks.

To build feature-rich and easy-to-integrate Chat APIs & SDKs, we continuously listen to our customers and come up with new releases. We're super stoked to share what all we bring for you in this release that will make Channelize powered In-App Chat faster, intuitive and more user-engaging than ever.
Broadcast Messages API
Broadcasting Messages to users, or groups of users, is a powerful feature for any business admin. Using this API, business admins can send important announcements, discount offers, seasonal messages, etc. Broadcast Messages feature has the potential to give an instant push to increase user engagement, reduce churn rate and increasing upsells inside your applications.
For more information about Broadcast API and its use, you can jump onto our API documentation.
The best part? We will soon be launching this functionality in your Channelize.io Dashboard, which will make it easier for you to broadcast. If you want this broadcast feature your users too, like the popular messaging app WhatsApp allows its users, please drop us an email at info@channelize.io.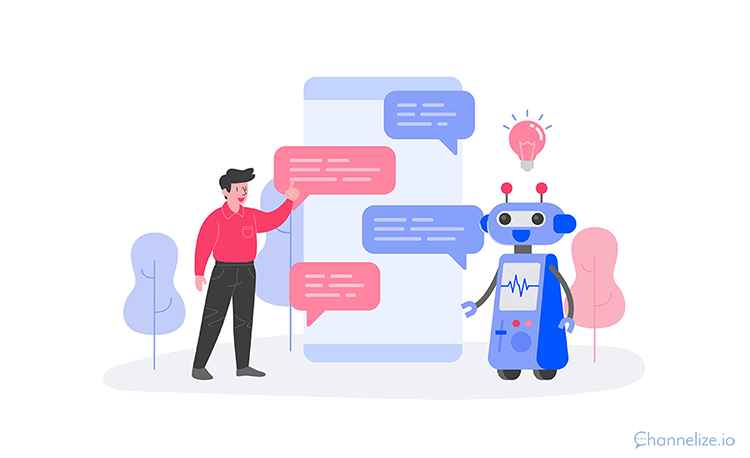 Chatbot Feature: Integrate your Bot
What if you have an application, and want to automate answers to incoming questions from users about your products, services or anything else? What if you want to send notifications to users via Chat, and trigger actions from users in response? An obvious solution for all of these is: Chatbots.
You can now easily integrate your own Chatbot Engine built using Dialogflow, Amazon Lex, etc, or a custom flow-based bot, into your Channelize.io services. Check here the detailed steps for integrating Chatbots, and to start using them. You can create bot-users, and a different bot engine can power conversations for each such bot user.
Chatbots will be always available to communicate with users, and can also push user engagement in your apps. Automated event-driven messages can also be sent from bots to users to trigger user-to-bot conversation.
We have more supplementary features lined up for Chatbots in the upcoming releases.
Interactive Cards for Missed Calls
Video or Audio Calls missed by users is an engagement opportunity missed by your app. Thus, it is important that users prominently see that they've missed calls, and are easily able to call back. To facilitate this, we have added Interactive Cards in the conversation screen for Missed Calls. This has currently been added to our Pre-built Web UI, and iOS SDK, and will soon be added to our Android SDK too.
Monetize your SocialEngine Communities with Member Level Restrictions on Chat
One of the platforms for which Channelize.io provides pre-built Chat integration is: SocialEngine. We have good news for SocialEngine powered Communities. We have listened to your feature requests, and you can now define which all members levels in your application should have access to Channelize.io powered real-time messaging. This functionality will open new windows for monetization for you, as certain member levels can be paid subscriptions based. Good Luck!
What else is NEW in this update?
This update is BIG, and there are many more new things in it:
New: Channelize.io

Help Centre

to get quick answers to your queries.

New: Message Formatting support in Android SDK.

Fixed: Special characters replaced by HTML in Push Notifications.

Fixed: Issues in sharing audio files.

Fixed: Android App screen doesn't wake up when there is an incoming call.

Fixed: Issues related to call events i.e Alerts, Call Connecting, Call Ended and Call Rejected.

Fixed: Multiple Issues in iOS and Android SDKs.

Fixed: Message status keeps changing to Read in Pre-built Web UI even when the chat window is closed or minimized.

Fixed: Issues in migration of the secondary field for users.
We're constantly iterating Channelize.io with new exciting features and enhancements to provide world-class in-app communication features for your users. We'd love to hear from you what you find most exciting in this release and what you want us to launch in the coming months. Drop an email on info@channelize.io and tell us!
Want to see our Product's Demos?
Channelize.io's Demos will give you a good idea of how our product works, and also how it can help in increasing engagement and retention, and help you serve your users better.
Stay Tuned
Stay tuned to our news, we have many more exciting developments coming up soon! If you haven't subscribed to our newsletter, and wish to get updates about our product, then please subscribe to our newsletter from here.