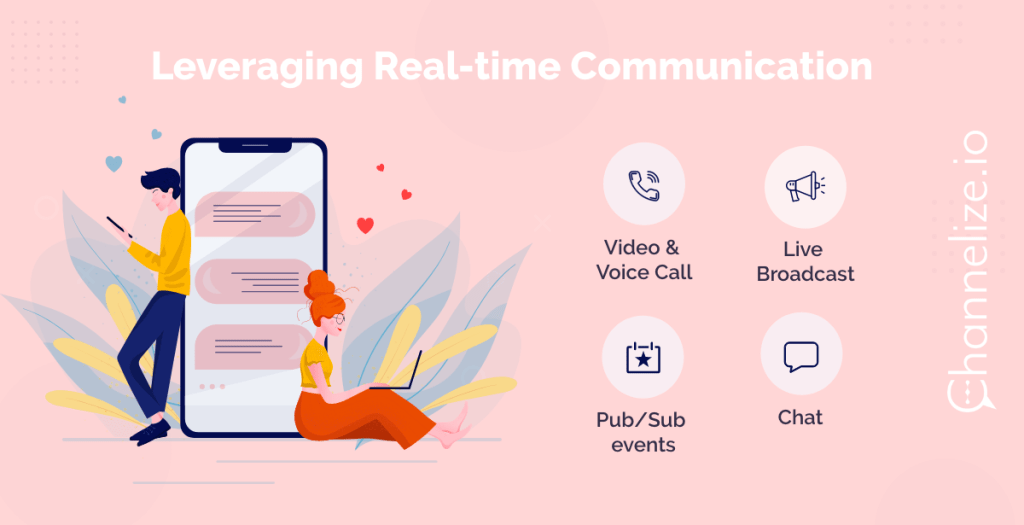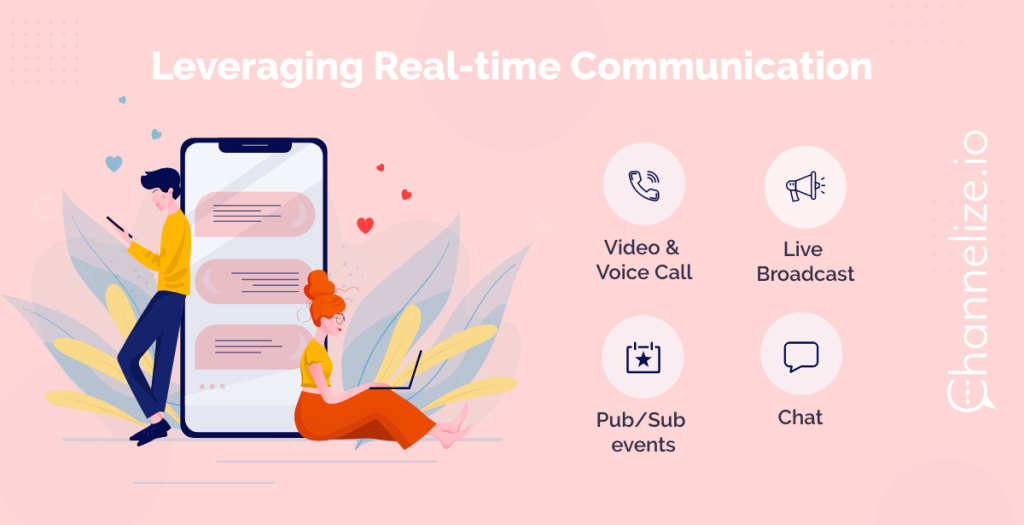 Types of Real-time Communication and their Use Cases

---- 6

min read

There was a phase in human history when putting ink on paper and sending it out through a carrier was the only means to communicate a message. Can you imagine negotiating a business transaction through this slow means of communication?

Well, somehow, it was done for centuries.

Then came the telegraph, and then the telephone. Then, finally, we entered the era of Real-Time Communication.
What is real-time communication?
Real-time communication refers to any online communication that offers exchange of information between a sender and a receiver in real-time. It occurs with minimal latency in such a way that both parties are present simultaneously and are communicating remotely.
For varied types of Web and Mobile applications, real-time communication can be an important factor for growth. They can be of the following types:
Video & Voice Call
Live Broadcast
Pub/Sub events
Chat
In today's era where information must be shared quickly, decisions must be made promptly, products have to be developed rapidly, and customer queries have to be solved right away, the advantages of real-time communications are countless. Be it Healthcare, Dating and Matrimonial, Education, E-Commerce, or On-demand business, adopting real-time communication is a great way to set the foundation of engaging interactions and efficient operations.
Let us dig deeper to know the types of real-time communication and how different businesses are leveraging these.
Types of Real-time Communication
Video and Voice Call
Voice and video calls offer almost in-person interaction experience, irrespective of distance, and benefit in personalizing sessions between users.
For instance,
A teacher delivering online lessons via video conferencing
A yoga teacher conducting a face-to-face Yoga session
Participants in a Group Therapy Session
A consultant giving advisory to her customer
Voice and Video calls can be further divided into:
One-to-one call
Group call
Whether your app offers customer support, advisory services, healthcare, dating, or concierge services, a video call adds personal touch to interactions that drives engagement and customer retention while ensuring the confidentiality of communication. It helps your users offer better services, and become more efficient.
Live Broadcast
Live streaming is an engaging medium that grabs audience's attention and allows businesses to deliver compelling and engaging content and forge a strong brand connection.
For instance,
Product demonstration hosted by an influencer
A live virtual event, or online event
An online concert
The widespread use of live streaming is changing the face of many industries today, including retail and commerce, events, entertainment and sports.
A live broadcast can be classified into
Single host broadcast: 1 to many communication
Multiple host broadcast: Many to many communication
Live Broadcast experiences are further enhanced by features like open chat conversations, real-time polls, quizzes and trivias and so on.
Read more: How Real-time Communication APIs are helping Brands innovate Commerce!
Real-time Pub/Sub events
Pub/Sub messaging is a concept whereby a communication channel is set up between a server and its clients and both the parties are notified in real-time about occurence of events. They are leveraged by various app types for real-time updates and real-time interactivity.
Some example use-cases:
Whether to book a cab or to track order status, applications like these must be updated without requiring any action from the user.
To optimize delivery, dispatching systems need up-to-date information on where their drivers are. Pub/sub-event messaging helps logistics companies do this.
In Online Events, a host may mute / unmute participants, or start a new poll
All these are made possible by implementing Pub/Sub messaging patterns into your platform.
Chat
Chat is a powerful proactive communication feature that enables your website and app users to chat in real-time.
In today's era, users expect real-time responsiveness that provides them with what they want and right when they want it. Hence real-time chat has become synonymous to speed and convenience that connects people without the need to dial a number or to wait on hold on a call.
For instance,
Initiation of chat between a doctor and patient after an appointment is booked
A customer sharing his or her location with a service provider via chat
Two dating prospects chatting with each other
Parent to teacher Chat in a School's App
Group Chat in an interest based network app
Open Chat in an online event
Chat can be classified into:
One-to-One Chat
Many-to-Many or Group Chat
Open Conversations
Further, these real-time chat conversations can be made more interactive by using features like Online Presence and Typing Indicators, Media Sharing, Push Notifications, etc. They can also be made secure using End-to-End encryption.
Using a Chat Plugin for popular CMS platforms like WordPress can help websites adopt real-time communication quickly and effortlessly. Chat plugin for WordPress lets your users communicate while they are using the website.
Read More: How Good Chat Experiences create Trust
Use Cases of Real-time communication
Smart businesses today are realizing better ways of doing business and thus have started to leverage real-time communication for almost everything. Be it e-commerce, on-demand apps, transportation and logistics, marketplaces, real-time communication can boost any sort of business.
Let's look at some of the use cases of real-time communication across various business domains.
Business
Use Cases
Telemedicine
Sharing of prescriptions, test results, diagnostic reports, etc via chat
Remote consultation via video conferencing
Remote patient monitoring through gadgets
Virtual Events
Webinars and social lounges
Online recruitment drives
Online concerts & parties
Dating & Matrimonial
Face-to-face interaction between potential partners
Exchange of audio notes
Sharing of images & GIFs
Education
Parent-teacher meeting via video call
Sharing of study notes and scorecards via chat
Student counselling over video call
E-commerce
Live product demonstration
Running flash sales during a product showcase
Product enquiry directly from the seller
Real-time communication & Enterprise Apps
Real-time features like instant messaging, push notifications, and live data streaming in enterprise mobile apps can make the user experience more pleasant. Hence real-time communication can lead various enterprise apps toward success by increasing the user interaction and client retention rate.
The Covid-19 pandemic caused sudden disruption to several enterprise operations which made many businesses shift to virtual versions. In this scenario, real-time solutions made virtual experiences more interactive and meaningful. The pandemic urged to set up efficient real-time communicational tools to control the outbreak and thus transformed enterprises across the globe.
To Sum Up
Be it a small startup, medium-sized business, or a large-scale corporation, real-time communication can have a direct impact on your customers and operations.
In today's era since markets are much more globally connected, attracting a global user to your website when you don't speak his/her language can be made possible with real-time communication solutions. This lets you stay competitive in this digital world.
The Channelize.io in-app chat and call platform helps apps achieve user engagement and solve important business use-cases. You can build custom, scalable, and secure instant messaging app solutions across iOS, Android, and Web with Channelize.io and achieve your business goals.
Moreover, rather than creating a feature-rich real-time communication solution from scratch, it's always wise to Buy rather than Build a complete solution, which is exactly what Channelize.io offers.
Reach out
Hope I convinced you to give a real-time communication platform a try! For any queries feel free to reach out at info@channelize.io.
Visit our Platform APIs developer documentation to know how our Chat APIs and Chat SDKs function.
Further, if you wish to get an insight into our product updates and new launches then subscribe to our newsletter and stay updated.