Top 5 Features to Maximize the effectiveness of your Live Shopping Shows to generate more Sales

---- 7

min read

If there is one thing that brands do via Live Shopping Shows is that they break the physical wall between them and potential buyers. A Live Shopping Show is a combination of Live Video, Products Showcase, Buyer Engagement, Entertainment, and eCommerce that allows buyers to see and experience your products, chat with you, ask questions, and purchase straight from the live experience. But how can you maximize the effectiveness of your Live Shopping Shows to generate more Sales?

Here are the top 5 Features of Channelize.io Live Stream Shopping Platform to Maximize the effectiveness of your Live Shopping Shows to generate more Sales.
Message Quote / Reply Feature
While Shopping Show Hosts can verbally answer questions posted by buyers in Chat, many times brands can get a barrage of questions when the buyer interest in their promoted products is high. The "Quote / Reply Feature for Chat Messages" enables brands to answer questions of the buyers effectively, and in real-time during Live shopping Shows. This can facilitate Two-way Engagement as brands can reply to individual customers' comments or questions in chat. This improves Live Show Conversions and Customer Engagement by helping customers with their decision-making.
NOTE: Brand Admins can easily reply to Chat Messages from the Production Dashboard, and also moderate Chat.
What are the perks?
For a lot of people, the idea of shopping online with a brand without the ability to see or test products in person can be intimidating. Instead, having a direct conversation with your buyer allows you to Build Trust and close a Sale immediately. Moreover, customers want fast and immediate support to help them with their decision making and purchase process. Here is when you can leverage this powerful feature of our Platform and leave a positive impression on your customers.
Pinned Message Feature
With this feature, you can pin/unpin a Chat Message so it remains at the top of your show's live chat regardless of an audience's dialogue or conversation timing. These Pinned Messages are flagged as special and make it easier for you to keep important information easily accessible to your buyer audiences.
What purpose does this serve?
It allows you to highlight limited-time offers, deals, discounts, coupon codes, important links, product information, announcements and greet/welcome your audience. During or after the show, you can also change the Pinned Message.
NOTE: Brand Admins can easily pin a chat message from the Production Dashboard.
Product Spotlight Feature – For Live Shows
As a brand, you may choose to promote multiple products in a Shopping Show, but at any instance in a Show, your Host would be talking about, or demonstrating a particular product. At that time, you would want to gather buyers' attention to that particular product amongst the ones lined up for promotion.
With this powerful feature of our Platform, hosts and brand admins can Spotlight Products during a live shopping show to attract buyers' attention to them and drive conversions. Anytime a host wants to highlight a certain product among those being promoted in a shopping show, they can select it and the buyers will see that product prominently displayed. The Spotlighted Product moves to the top of the list of promoted products and appears highlighted.
NOTE: A product can be spotlighted by the Host from the Host Apps, as well as by the Brand Admin from the Production Dashboard.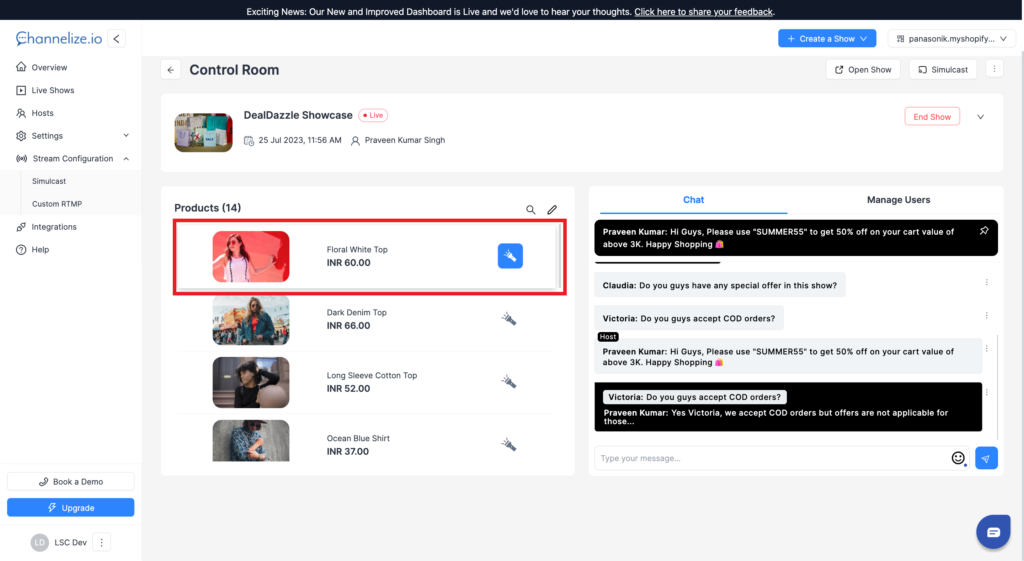 Why is this feature useful?
Calling attention to a particular product at a specific time can cause shopper anxiety and entice them to buy right away. By leveraging this feature, you can highlight what makes a particular product unique, while also promoting it.
Also spotlighting a product while talking about it or showcasing its application enables shoppers to see that product in action while adding it to their cart. This helps them make an informed decision.
Product Spotlight Timeline – For Recorded Shows
"Product Spotlight Timeline" feature enables brands to bring their products alive and give buyers the opportunity to interact with them. Interesting, isn't it?
With this powerful feature, buyers can easily jump to those parts of a recorded Shopping Show where a particular product of interest was presented or spoken about. So now instead of watching an entire show, a buyer can selectively check out those parts where a desired product was spotlighted, and make the purchase right away.
Unique URL of each show
Every Shopping Show created via Channelize.io Production Dashboard has a dedicated/unique URL which remains the same throughout the life of a show (Upcoming / Live / Past). Brands can share these URLs via their social media handles, email newsletters, push notifications, homepage banners, etc to market and popularize their shopping shows to get large audiences, and more sales.
Furthermore with our Embed Code Feature it is very easy for brands to add Shopping Shows, both live and recorded, on their websites as well as any other web pages by simply Embedding a small Code Snippet. This is a great way to increase the reach of your Shopping Shows and Products, and ultimately Boost Revenue.
Shopping Shows can also be embedded on partner and 3rd-party websites, and can hence simultaneously Go Live at multiple places.
Host Management
Channelize.io makes it very easy for absolutely anyone (founders, influencers, KOLs, celebrities, employees, etc), located anywhere to host your Shopping Shows. These hosts can Go Live either via the iOS & Android Host Apps, or using Live Streaming Softwares (OBS, Wirecast, MimoLive, etc).
With this feature, Store admins can manage their hosts from the "Manage Hosts" section in the Production Dashboard. This gives admins the opportunity to view all the created hosts at once, edit their details (changing name, email ID & resetting password), add new hosts and much more.
Successful Live Shopping Events to Inspire from
Over 500+ brands have already used Channelize.io Live Stream Shopping Platform to enhance the Shopping Experience on their Ecommerce Stores. Belonging to different industries, these brands have unlocked perks, like Increased Engagement, Repeated Purchases, Community Expansion, Increased Sales, etc. Here is how 3 Brands are witnessing success by leveraging our Platform and its features.
Canadian Fashion Brand
The most recent 8 shows hosted by a Canadian fashion Brand garnered an Average Live Engagement rate of 45% approx. At the same time, their average add-to-cart rate climbed up to 11% while the product view rate stood high at 52.5%. Such numbers dictate the success of Live Stream Shopping shows for the Canadian Fashion Brand, as they continue to conduct more shows for increased engagement.
Canadian Footwear Brand
One of their best Live Shopping Shows, which lasted 30 minutes, scored some amazing feats. During the brief show, their Total Engagement Rate reached 40% while their Add-to-Cart Rate also averaged 26%. Besides this, they managed to reach a whopping 65% Product View Rate, which led to an immense increase in their product and brand awareness.
French Activewear Brand
The highest Live Engagement rate achieved by the French Brand is 63%. Additionally, the brand saw over 80 purchases throughout all of their live shopping shows. These numbers determine the success of Live Stream Shopping Shows for the French Brand as they continue to conduct more of them.
Channelize.io Live Stream Shopping Platform sets live-stream video capability and scalability standards.  Our Platform not just enables customers to discover your products and connect with you, it also furthers the relationship between your brand and customers in a way that fosters customer loyalty and keeps them coming back day after day.

Now is the time to maximize the effectiveness of your Live Shopping Shows to generate more Sales with Channelize.io.
All you need to do is book a free demo and reach the Live Streaming Shopping Experts today.