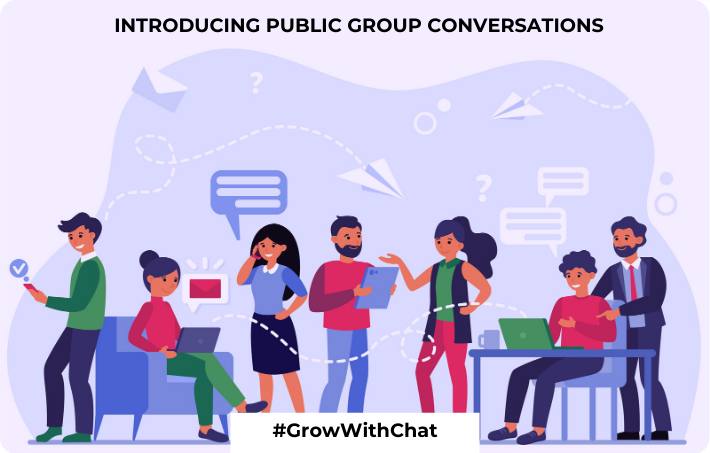 Introducing Public Group Conversations

---- 3

min read

In our previous product update announcement, we talked about all the new features and capabilities we've released in our platform. Public Group Chats and Reactions were the most prominent roll-outs in that. In this article, we'll dig deeper into Public Group Chats (also known as: Public Group Conversations), and how this will benefit you in increasing user engagement in your apps, and achieve multiple use-cases.



What are Public Group Conversations?

If you have used Public Groups on Telegram, Slack Channels which can be joined by any project user or Skype Groups, then you know the basic concepts of Channelize.io's Public Group Conversations. As the name suggests, these are group conversations that allow anybody to join, view the entire chat history and post messages, without any approval by Group Admin. So in a snapshot:


They are fully visible to everyone, and can be joined by any user without being approved by any Group Admin.

Users will be able to see messages as well as members without joining the Public Group.

Users will be able to send messages only after joining the group.

These groups are easiest for users to join, and can, therefore, grow quickly, increasing the engagement in any application.

Notifications, read events and typing indicators are optional, and configurable in public groups, but they are all disabled by default.

Can support upto 500 members in each group.

When to use Public Group Conversations – Some use cases

With so many features, public chat groups fulfill communication needs for many use cases. Some of the prominent ones are shared here.


Build Strong Online Communities

Interest-based groups can be created in online communities. Start building strong online communities around your niche with public chat groups. This will allow your users to create or join a public group chat that meets their unique needs.


Public chat groups also support a wide range of content types, from media files to documents, GIFs, and beyond.

Topic-based Discussions

In many scenarios, you would want multiple public groups to exist in your application to target a large audience where users can share their views on multiple topics like Sports, Work/Projects, Education, Faith, Gaming, and more. Users who relate to a topic or cause can join its group.


Channelize.io API allows searching public groups on customTypes, titles, etc amongst other parameters.

Interactive Chat in Webinars and Online Events
Make your webinars interactive with Channelize.io powered Public Group Conversations. Popular webinar platforms have a chat function that allows webinar attendees, the host, co-hosts, and panelists to communicate for the duration of the webinar. Embed a chat to your webinars using Channelize.io Public Chat Groups to give your audience a way to interact, provide feedback, and get clarification.


With features like threaded conversations and reactions, such interactive Chat will surely boost participant engagement in online events.

Gaming Clans and Guilds

If you want to provide your video game users capabilities to connect in real-time with other players while playing, as in popular games like Fortnite, Overwatch, and League of Legends, Public Chat Groups will be of interest to you. Example: Users who are playing online on the same ground can join its public conversation. Users can join groups easily and the in-game friends can share important information about any game and share strategies.


Based on your application's idea, there are many more use-cases where Public Groups Conversations can fit in to increase user participation, and boost your app's growth.


We know what you're thinking. What about spammers? To prevent potential spam issues, we have Chat Moderation feature in place and are also coming up with Profanity Filters feature to mask or disallow messages with offensive words.


To know more about Public Group Conversations, and all the other types of Chats Channelize.io APIs and SDKs provide, please check our developer documentation.


To stay updated about our news, please follow us at our below handles:


Got questions about any of our new features, or roadmap? Please drop a note from our Live Chat, or email us at: info@channelize.io.