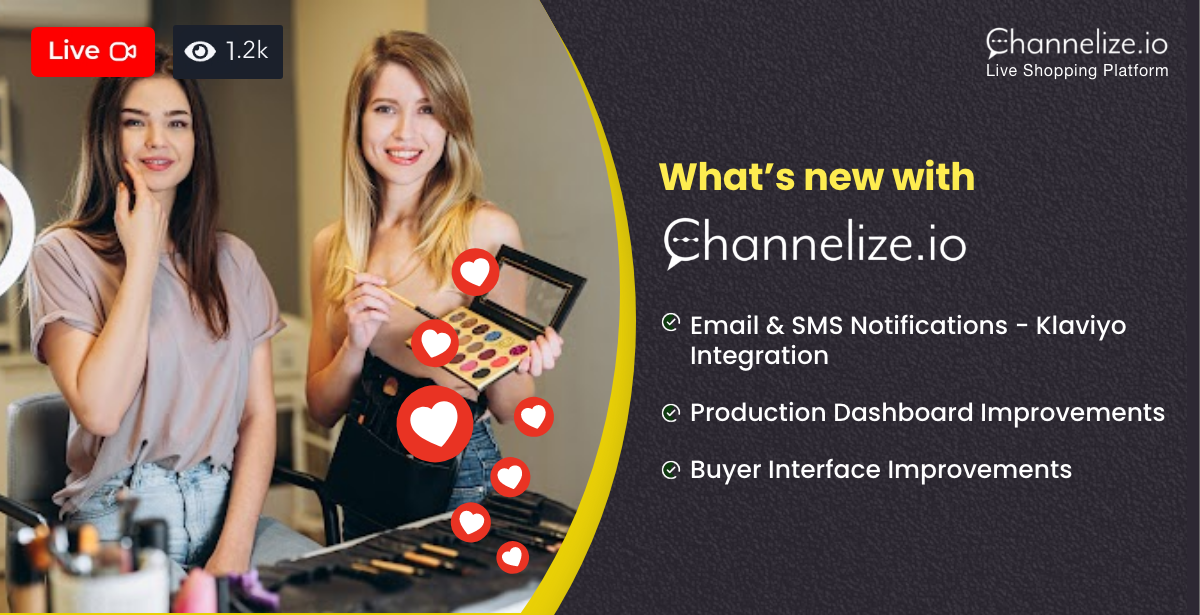 Product Updates – Email & SMS Notifications, Production Dashboard Improvements & more

---- 5

min read

We value the success of the Brands we work with and that's why we strive to provide Features that make a strong impact. There is something big we have done this time that will definitely delight our Clients. Excited? Let's begin.

Email & SMS Notifications
We're excited to announce the Email and SMS Notifications feature, for which we've integrated Klaviyo with our Channelize.io Live Shopping Platform. This feature is a great way to automate marketing engagement for your Shoppers. Our clients will benefit greatly from this feature, and we are proud to share this news with you.

Live Stream Shopping is an effective Sales & Marketing Tool. But it can yield even better results if you effectively promote your live shopping shows. Now the question is, how?

Very simple! Notify your Buyer Audiences well in advance about your Upcoming Live Shopping Shows, with subsequent reminders closer to the Go-Live date. This new feature gives buyers the ability to be notified about:
1. A particular Shopping Show going Live
2. All new Shopping Shows that are created in the future
You can even market your Recorded / Past Shopping Shows to generate sales from them. It's all about captivating buyer audiences to tune in and buy your products which will ultimately lead to Sales generation. Depending on how you utilize this feature, the possibilities, and benefits are endless.
Note: This feature is available for Basic & Higher Plans.
Here's a little bit about Klaviyo
Klaviyo is a sophisticated, cloud-based email & SMS marketing platform that helps e-commerce entrepreneurs grow their businesses. It is widely known for being an efficient method to custom-tailor, target, optimize, and monitor different marketing campaigns.
---
What are the Benefits of the Email & SMS Notifications feature?
Timely reminders: Sending timely Email and SMS Notifications to buyer audiences is a great way to remind them about upcoming shows. It is quite impactful to remind people at the right time, whether it is through a single reminder or a series of reminders.

Increased engagement: By using this feature, you can increase buyer audiences' engagement with your brand and shopping shows. This further builds a stronger relationship with your buyer audiences and increases the likelihood of them attending the show.

Personalization: Email and SMS notifications can be personalized to each buyer audience based on their preferences and past behavior. As a result, buyer audiences are more likely to take action after receiving relevant notifications.

Cost-effective: Compared to traditional marketing methods, Email and SMS notifications are cost-effective ways to alert buyer audiences about your shows.

Data insights: Klaviyo provides detailed analytics and data insights for your email campaigns, including open rates, click-through rates, and conversion rates. You can easily gain valuable insights into your buyer audiences' behavior and preferences, allowing you to optimize your email campaigns for better results.

Convenience: Email and SMS notifications are convenient for buyer audiences' because they can be easily accessed on their mobile devices. By receiving notifications wherever they are and at any time, buyer audiences' are more likely to attend the shopping show and take action.
How to get Started? Login into your Production Dashboard to know in depth.

Surprise: We will be doing more of such integrations with other marketing tools in the near future.
Production Dashboard Improvements
We have updated the Products Promoted Modal in the Production Dashboard which helps admins to moderate and control their shopping shows. This ultimately makes the live selling experience much more seamless and convenient for Brand Admins.
These improvements include:
1. Search Option on the Products list on the Preview Page.
2. Ordering Promoted Products in Upcoming Shows by drag-and-drop.
3. Showing Price on the Products list
Read More: How to sell on Livestream with Multiple Hosts using Channelize.io?
Buyer Interface Improvements
Improvements like Days label for the Upcoming Shows section, improved product details drawer in Shopping Shows, and the View count label in the Past Shows section helped our clients Increase Engagement and the impact of their Shopping Shows. To further enhance the experience of buyers we have made more improvements in the Buyer Interface.
Now by clicking on the product name in the system message of Chat, buyers will be taken to the Product Details Drawer where they can easily view the product details and add it to their cart.

How is this beneficial? This eliminates manual searching of products and increases the Add-to-cart rate leading to more sales.
Bonus Tip: Here are some more ways to Market your Shopping Shows.
Stay tuned for more product updates
" The app works well, it's quite simple to use, at a very competitive cost compared to the others. Some things could be improved, like the product management during the event, but the customer support is excellent: they've heard our feedback and request, providing solutions to some little issues: they are always available. In the end, we recommend this app!"
– Lisolastore
This is just one of the many testimonials we've received from our successful client brands which clearly demonstrates how our Platform can be a game changer for you.
To know more feel free to Book a FREE DEMO with us or contact us at info@channelize.io.