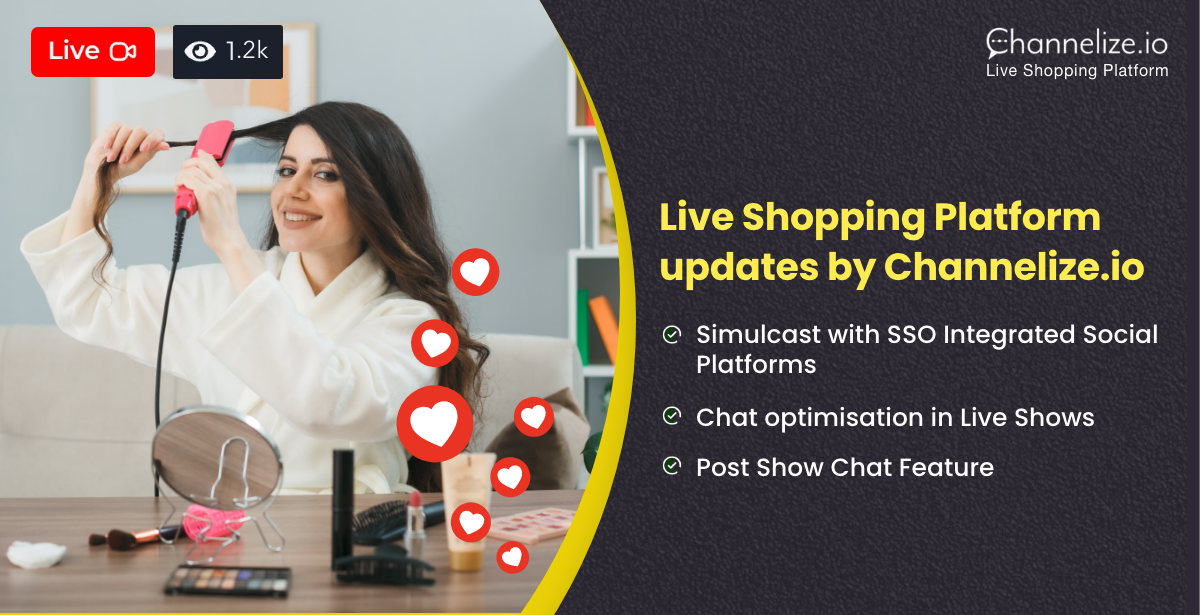 Platform Updates: Smoother Multi-streaming to Social Media Channels, Chat Optimizations & more

---- 3

min read

Get ready to revolutionize your Selling Capabilities with the latest updates to Channelize.io Live Shopping Platform. Our goal is to scale-up the impact of your Live Selling Channel on your Ecommerce Store. In this article, we'll take a look at updates which include the improved way to Simulcast your Shopping Shows on Social Media, Chat Optimization in Live Shows, Post Show Chat Feature, and more.
Smoother Multi-streaming to Social Media Channels
Simulcasting with Channelize.io has gotten even better! Let's dive in and explore what's new!
Simulcasting, a well-known feature of our Platform that has already helped several Brands to simultaneously broadcast the Video Streams of their Shopping Shows on various Social Media Platforms has now become extremely easy to use.
In this update, we have integrated Single Sign-On (SSO) with YouTube and Instagram for Simulcasting. This allows for a hassle-free login process to your YouTube or Instagram account when Simulcasting, without the need for navigating multiple screens or entering redundant information. Also, admins will be able to control YouTube and Instagram stream details from the Production Dashboard itself. Interesting isn't it?

Note: Simulcasting / Multi-streaming feature is only available for Standard and Custom Plans.
Listed below are a few benefits of our Simulcasting feature, but there are undoubtedly many more depending on how you utilize it:
Increasing Buyer Audiences in your Shopping Shows by tapping into your Follower Base on Social Media channels.
Improves customer engagement
Increases traffic on your Online Store Website by re-directing watchers of your Live Streams on your Social Media Channels to your website.
Enhances brand visibility and awareness
Allows to utilize the advantages of each platform, be it Instagram or Youtube
Allows you to engage with your Brand's Community more easily
---

Ultimately, being able to simultaneously broadcast the Video Streams of your Shopping Shows on YouTube and Instagram allows you to connect with your followers on these Social Media Platforms, establish your branding to twice as many viewers, and ultimately elevate your sales without spending much time and resources.
Chat Optimisation in Live Shows
Chat is a big engagement driver for your Shopping Shows. It helps buyers connect with your brand, ask questions from your Host / Brand Admin, and be more confident of their orders from your Shopping Shows.
To stay ahead of the curve with Live Chat in your Shopping Shows, we have made improvements to the performance of our Chat. With these optimizations, our Chat is now smoother and faster!
Read More: Why Brands should consistently host Live Shopping Shows.

Post Show Chat Feature

This feature allows buyer audiences to chat in Recorded Shows after the Show has ended. This provides them with an opportunity to ask questions or request additional information about products they are interested in.

How is this beneficial?
This feature enhances the Recorded Show experience by giving buyer audiences the ability to interact with the brand admins and ultimately leads to increased engagement and buyer satisfaction.
Read More: How Ecommerce Brands can provide Product Experiences that Convert to Sales
Minor Production Dashboard Improvements
In addition, we've made some minor changes to the Production Dashboard, which makes the entire experience of creating, managing, and moderating your shopping shows more pleasant for Brand Admins.
Wrapping up
We hope you're as excited as we are about these new Product Updates! Our team has worked hard to incorporate your feedback and make improvements that we think will make a big difference for you and will help you generate more sales.

We're always looking for ways to improve our Live Shopping Platform and make it even more effective for our Clients, so please don't hesitate to share your thoughts with us.
If you would like to see a Demo of these new updates, then please Book a Demo with us from here: https://calendly.com/channelizegrowth/30min?
Happy Selling!