ONESIDESHE scaling Scales by selling Fashionable Bags via Livestream Shopping

---- 2

min read

A brand new selling trend has emerged for Retailers and D2C brands called Live Shopping or Live Stream Shopping. The possibilities provided by the trend appear endless, especially for the Fashion Industry. What makes Live Shopping popular among Fashion Brands is its relatability. Livestream eCommerce offers a certain level of trust to shoppers that cannot be emulated through online shopping.

In this success story, you will see how Channelize.io Live Video Shopping Platform is embraced by ONESIDESHE – the brand formed by Paula Lancaster.

The brand was introduced to allow more and more women to have access to inclusive, sustainable fashion products with a particular stamp, which enabled the brand to demonstrate its unique personality through its modern and bold designs.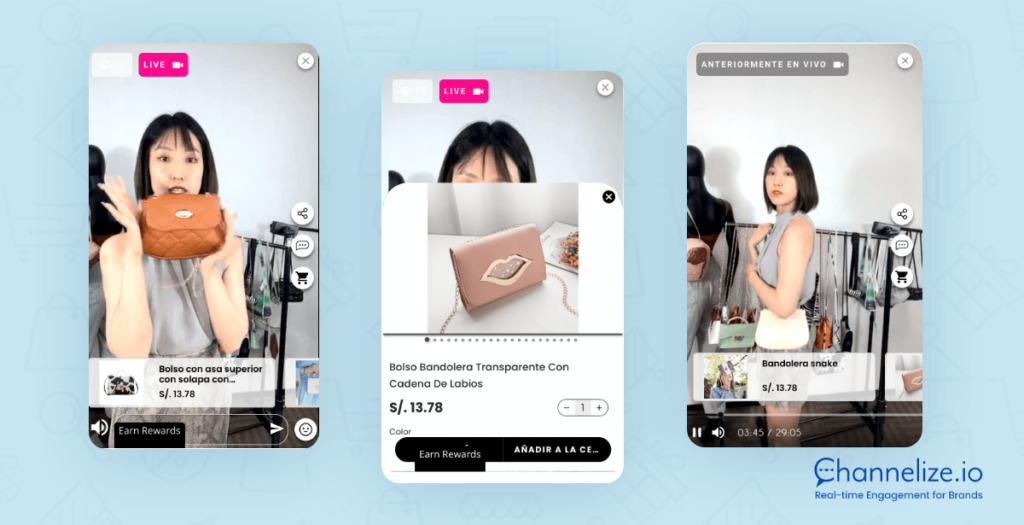 How is our Platform helping the Brand generate Revenue?
Our platform integrates seamlessly with Shopify and other e-commerce platforms like Magento, WooCommerce and PrestaShop which makes adoption of our livestream selling very easy for the brands across industries.
During a Live Shopping Show hosts often try on clothes, shoes, accessories, or whatever their area of expertise, and sell to viewers. Audiences can interact with hosts in real-time and easily purchase products during a live shopping show. To create FOMO, products are often only available in a one-hour window, with special discounts, which encourages on-the-spot purchasing.

Our platform has a number of features like Embed Code, In-show Products Promotion, Product Spotlight, Add-to-Cart, Language Translation Feature, Live Chat with Pinned Messages, Live Chat moderation, and Shopping Show Analytics, etc that help the brand scale sales by creating a branded experience.

The brand also uses the analytics we provide, to make every show better than the previous ones and understand customer's behavior much more deeply.

The real-time interaction happening between the brand and its customers via our platform is helping the brand to reflect transparency and inspire loyalty amongst existing and potential buyers.
In Summary,
Livestream selling via our platform is helping the brand to engage audiences, increase loyalty through branding, and scale sales by creating an improved shopping experience that is entertaining and informative for shoppers. All this helps improve customer satisfaction and retention rate.
Channelize.io Live Stream Shopping Platform enables brands across industries to offer an interactive live shopping experience via their own websites or apps and provide customers with an instant shopping experience. This helps brands take their selling experience – and sales results – to the next level.
To find out how brands across industries are leveraging livestream selling, click here!
If you would like to learn more about how Channelize.io can help your brand, feel free to book a demo.
Disclaimer: The Brand name ONESIDESHE and the brand logo are properties of onsideshe.com.