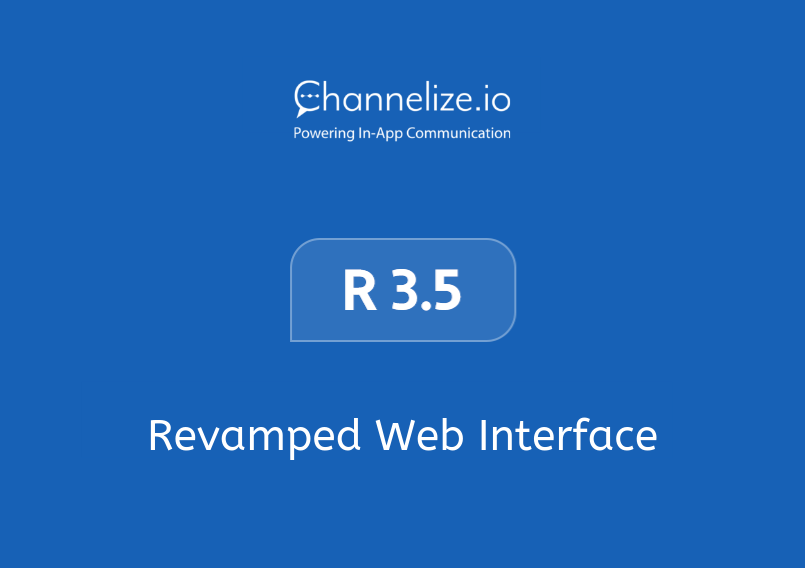 New Release: Revamped Web Interface

---- 2

min read

Channelize's new, refreshed Web Interface is now out in beta!

At Channelize, we target making your business grow with simple & seamless in-app messaging / communication experiences. In the past few months, we've grown beyond our origins of 1-1 and group text messaging, adding files sharing support, Stickers & GIFs, Video and Voice calling, and a broad range of other features.

As Channelize's functionalities are expanding, we want to ensure that it remains simple to use.

In the past few weeks, we explored some design changes, heard from our customers, and refreshed the Web Interface with both UI and UX changes. In this release you'll find a cleaner and more efficient layout, simplified navigation, and some brand-new features to delight your users.
Light Theme
The new light theme with soothing colors drives members to have longer conversations.
Modern and fresh Recent Conversations
Our data suggests that the 'Recent Conversations' Screen is a highly used entry-point for most of the users. We have revamped it with an eye on making it more appealing and to get maximum things done with less complexity. The new Online Indicator has good visibility on colored profile photos also.
We added subtle elements of Google's Material Design in the Navigation drop-down. Now on scrolling, the navigation bar auto-hides, providing maximum space for conversations.
Right-click on any conversation will provide options for actions, like Mute conversation, Block user, Delete and Clear conversation.
Improved Chatting Experience
Content is king, and this includes content of messages too. We want to celebrate content and give your users a smooth chatting experience with new Chat Bubbles design.
We also introduced:
new typing indicator.
floating dates for conversations.
A more elegant experience to bring message-oriented actions like Forward, Reply and Delete to the forefront by making a right-click.
Emojis Shortcuts Support
We are re-focusing on the fundamentals of why most businesses use Channelize — to make communication easier amongst users. Expressing yourself is much easier with Emojis.
With the new Emojis Shortcuts support, users can send emojis by typing shortcuts, without requiring an emoji keyboard or copy and paste.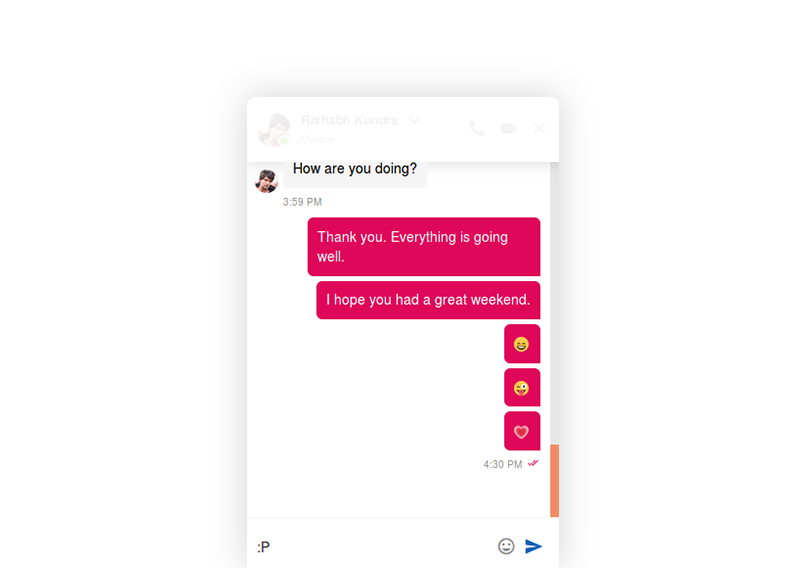 Other Enhancements
New: User and Group Profile Screens
Revamped Search Screen
Simplified Group creation
Experience Channelize in real world with all these enhancements in action, please click below for Web, iOS or Android demos:
[ Login using these Dummy Accounts to Test: kivanc@se.com / qwerty and emir@se.com / qwerty ]
Got queries about Channelize, please drop in a note from here: https://channelize.io/contact, or send us an email at: info@channelize.io.
We also love getting feedback. 🙂
Stay Tuned
Stay tuned to our news, we have many more exciting developments coming up soon! If you haven't subscribed to our newsletter, and wish to get updates about our product, then please subscribe to our newsletter from here.