New Release: Mobile Friendly & Faster Web Interface, Image Compression and More

---- 2

min read

As Channelize users, you constantly provide us with great feedback as our product evolves. Your feedback influences every decision we make as a product team.

Our team works hard to ensure that we are consistently improving the UI, adding new features, and providing better integration that will enable businesses of all sizes to deliver moments of wow to customers.

In the past few weeks, we built some features out of our popular feature requests list. We're excited to introduce features that many of you had been waiting for. Let us walk you through them and show how they can help your business.

Web Interface is now Mobile Friendly!
In many countries, the number of smartphones has long surpassed the number of personal computers. Along with your website being Mobile friendly, the integrated real-time messaging also needs to be mobile friendly and should have a better user experience, because this is where a lot of your user engagement happens.
So we solved the problem by tackling it in two phases.
In the first phase, we did a complete revamp of Channelize Web Interface with both UI and UX changes. These include a cleaner and more efficient layout, simplified navigation, and some brand-new features to delight your users. If you'd like to know more, click here!
During phase two, we made the newly updated Web Interface Mobile Friendly. With this release, users signing up to your website from the Mobile browser will have the same messaging experience as they would in the Mobile Apps.
Stimulate Users Engagement with Message Alerts
The newly added sound alerts and message count animation in the Web Interface will grab users attention when they receive a new message, it doesn't matter where they're on the screen.
Improved Loading Experience with Shimmering Effect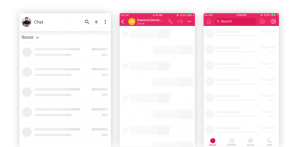 Speed and Performance plays a vital role in User Experience. We have done some modifications to reduce the loading time. The remaining load time of few seconds wouldn't ruin User Experience as we have now replaced the old boring loading spinner with a more dynamic Shimmering Effect.
Shimmering Effects visually tell users what to expect from the interface. It gives them a heads up on what's going to come and creates a sense of fast loading.
Image Sharing is now faster with Image Compression
Until now, sending large images was extremely painful and time-consuming. With Channelize's Image Compression abilities, images can be shared quickly in seconds without compromising much with the quality of the shared image.
This also reduces the size of the image saved on your messaging server.
We have also developed some Other Exciting Enhancements:
Web:
Smooth scrolling on all screens to provide better User Experience.
Fixed issue in the 'Send Message' functionality.
Fixed issue of inconsistency in unread messages count.
Crushed some bugs of Video and Voice Calling Add-on.
Android:
You told us you love your business apps in Light Theme, so we've made Channelize Android SDKs to support Light Theme.
Crushed some bugs of Video and Voice Calling Add-on.
Experience Channelize with all these enhancements in action, please click below for Web, iOS or Android demos:
Android: http://bit.ly/2xTbxYf
[ Dummy Accounts to Test: kivanc@se.com / qwerty and emir@se.com / qwerty ]
Got queries about Channelize, please send us an email at: info@channelize.io.
We also love getting feedback 🙂
Stay Tuned
Stay tuned to our news, we have many more exciting developments coming up soon! If you haven't subscribed to our newsletter, and wish to get updates about our product, then please subscribe to our newsletter from here.