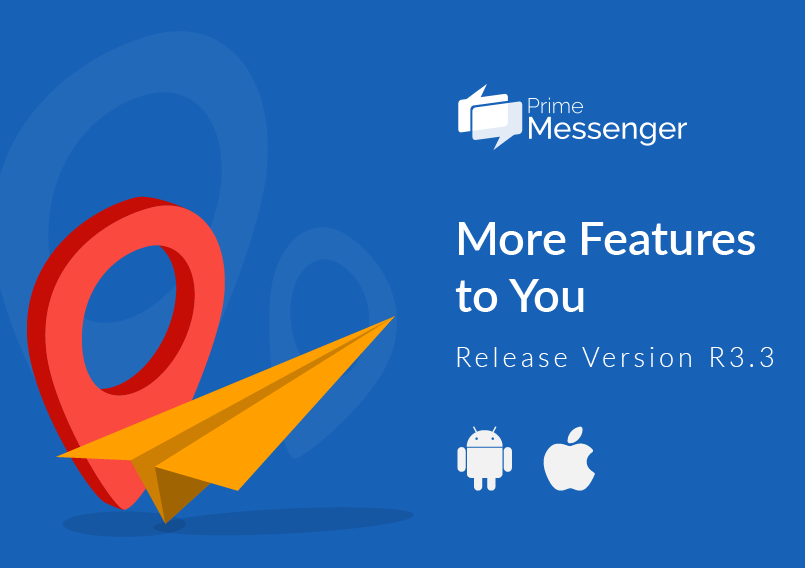 New Release: Location Sharing, Messages Forwarding and More

2

min read
PrimeMessenger is a business tool that can help you grow your business in one or more of the following ways by facilitating and leveraging communication amongst your members, customers and partners:
Increasing Engagement

Increasing Retention

Introducing avenues for Growth by achieving new use-cases
Our development roadmap for new features and enhancements covers all the above points very well.
PrimeMessenger's new release contains new features, as well as enhancements. Our new features of this release will add multiplier effect to engagement in your community, and also new utility for your business.
Location Sharing
Location sharing is a way for users to tell recipients where they are and give them directions to their location.
This is a very useful feature for on-demand businesses, marketplaces and dating communities where 2 parties need to meet, arrive or work at a common location. This feature shows real-time location, allows for searching places, and also contains a map interface. It greatly increases the utility of interactions.
Locations can be shared in one-to-one as well as group conversations.
Messages Forwarding
Many times users would feel certain messages to be useful in their other conversations too. Manually typing those conversations would be a very un-optimal and stressful experience.
Our new feature of multiple messages forwarding takes care of this. Users can forward multiple messages from a conversation to multiple other conversations in one go. This feature has a multiplier effect on engagement. Various types of messages like text, images, videos, stickers and GIFs can be forwarded from one conversation to others.
Messages forwarding too can happen from-and-to one-to-one as well as group conversations.
Other Enhancements
Major performance enhancements in iOS App.

Boosted performance with some nifty upgrades.

Minor UI improvements.

Crushed some bugs and polished messaging experience.

Under-the-hood bug fixes and stability improvements.
To experience PrimeMessenger in real world with all these enhancements in action, click below for Web, Android or iOS demos:
Android: http://bit.ly/2xTbxYf
[ Dummy Accounts to Test: kivanc@se.com / qwerty and emir@se.com / qwerty ]
Got queries about PrimeMessenger, please drop in a note from here: https://primemessenger.com/contact, or send us an email at: info@primemessenger.com.
We also love getting feedback 🙂
Stay tuned to our news, we have many more exciting developments coming up soon! If you haven't subscribed to our newsletter, and wish to get updates about our product, then please subscribe to our newsletter from here.