Minerals & More Embraces Live Stream Shopping for Selling Crystals

---- 3

min read

With an increasing number of brands turning to Live Stream Shopping, it is definitely the new frontier in retail, re-creating the magic of the in-store shopping experience. Live Video Shopping offers a frictionless experience where digital commerce and entertainment merge.

Minerals & More is one such brand that opted for Channelize.io Live Stream Shopping Platform to sell its collection of healing stones and crystals. Minerals & More is a USA-based online store that sells the highest-quality healing crystals and semi-precious gemstones. Our Platform enabled the brand to deliver fruitful experiences to meet the new customer demands and embed an element of trust among customers for the brand. All this is eventually resulting in higher Sales Conversions and improved Customer Retention.
Let's see what makes Channelize.io Live Stream Shopping so impactful for Minerals & More:
Happens in Real-time
Live Video Shopping, as the name implies, takes place in real-time. Hence Live Shopping is intended to keep customers engaged and make promotions and limited-time offers accessible during a live shopping show. We further designed a unique feature called the "Claim Feature" to help the brand highlight deals, discounts, and offers during a Live Show.
Interactive and Engaging
By making products available for purchase during a live shopping show you encourage customers to ask product-related questions and queries and give you feedback. This makes live-stream shopping a two-way conversation that encourages shoppers to not only buy but also participate in live shopping shows. This also helps in informed decision-making before a purchase.
Authenticity
A live shopping experience is based on live video – providing the authenticity customers are looking for. Selling in real-time, shows that you value open communication and you are authentic. This increases customer loyalty as many shoppers trust a video representation rather than a picture catalog.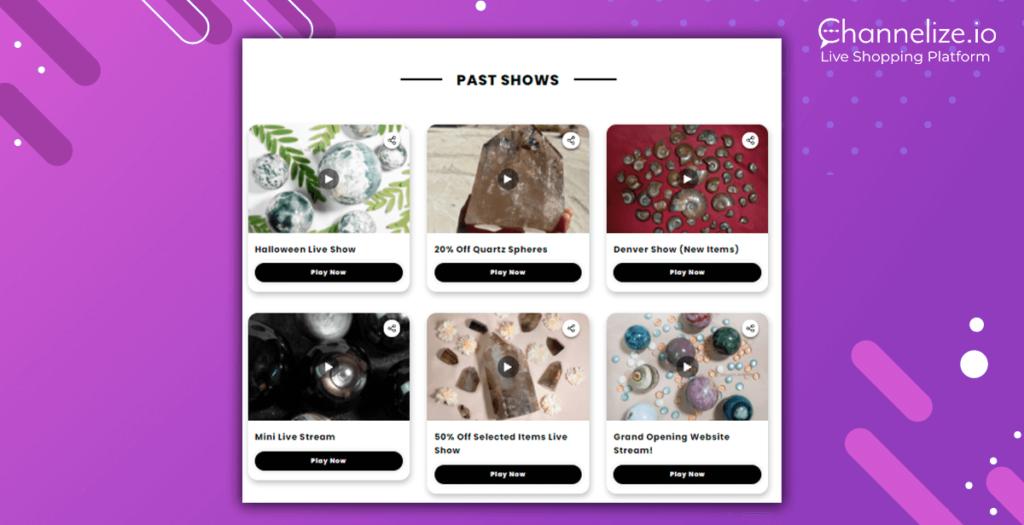 Improved Product Experiences
The idea behind Live Shopping is to create a real-life shopping experience that will attract more customers to products by offering improved product experiences.
Through real-time interaction with product experts, influencers, or celebrities, consumers are able to try, feel, and inevitably trust products. When a host demonstrates a product to customers over live video, showing them all the key benefits, this leads to improved product experiences enabling customers to ultimately make the purchase.
Shoppertainment
Live Video Shopping creates joyful shopping experiences for consumers while accelerating sales for brands. Shoppertainment is also making it easier for brands to deepen engagement with their shoppers at every step of their buyers' journey, and drive them from the discovery to the purchasing stage.
On a final note
Are you an ecommerce brand wondering how to Boost your Sales and Scale-up then Channelize.io is here to help you.
By leveraging Channelize.io Live Shopping Platform, you will be able to align the in-store experience with the online experience and shift to a more interactive channel of communication with your consumers.  Our platform is an effective tool for boosting brands' bottom line of revenue generation. It gives brands the chance to host live product demonstrations and launches with consumers actively participating. Besides, it also enables brands to get valuable data depending on interaction with customers to fine-tune their future sales strategy. As a result, it increases the possibilities of closing Sales and Maximizing Revenue.
Meet our Happy Clients who are taking advantage of Channelize.io Live Stream Shopping Platform and scaling their businesses. Furthermore, if you would like to learn more about how Channelize.io can help your brand, feel free to book a free demo.
Disclaimer: The Brand name Minerals & More and the brand logo are properties of mineralsandmore.com.