MAJOLIE PIERRE elevating Sales with Live Stream Shopping

---- 2

min read

In this success story we'll see how MAJOLIE PIERRE is elevating Sales with Channelize.io Live Stream Shopping Platform.
About the Client
Founded in 2016, MAJOLIE PIERRE is an online brand that sells precious stones and stone bracelets. Johanna, a Certified Practitioner in Lithotherapy started the brand to help people become the best version of themselves through the use of precious stones and bracelets.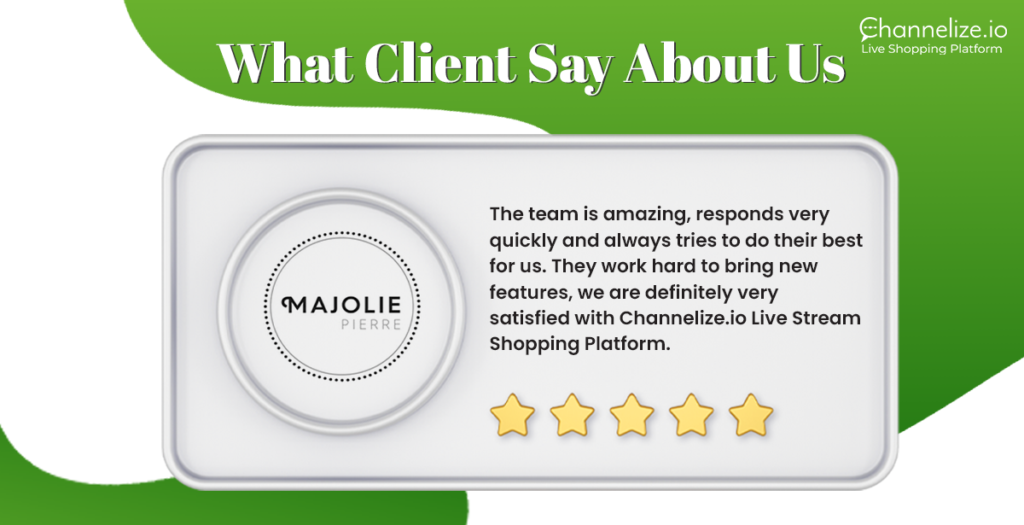 The Problem
Nowadays, shoppers do not find the online shopping experiences informative and engaging. Despite adding products to their carts, most customers abandon their carts and do not complete their purchases.
To counter all such challenges, the brand implemented Live Video Shopping to offer improved product experiences, personalization, two-way communication, and much more.
The Solution
Compelling reasons why the brand is Embracing Channelize.io Livestream Shopping Platform.
Real-time Interaction
During live stream shopping shows, customers can view product demonstrations, connect with sellers, get information, and purchase products in real-time. By interacting with customers in real-time, the brand is humanizing and personalizing the virtual shopping experience.

Read More: How to transform Product Discovery into Demand with Livestream Shopping.
Redefine Customer Engagement
Live video shopping welcomes customers into the virtual store with open arms, quite literally. Customers can ask questions, clarify their doubts, and demand personalized demos. Thus, live streaming e-commerce is proving to be helpful for redefining the customer engagement in a positive manner, accelerating decision-making of buyers and increasing sales for the brand.
Repurpose, Retarget, and Re-engage
The live shopping experience is not a one-time affair. Content can be reused to engage customers throughout their buying journey. The brand can also retarget its livestream content to drive traffic to its website and engage with their audience post-livestream.
Engage with Millennials and GenZ
Gen Z and millennials are tech-savvy and are attracted to brands that are educational and entertaining. They prefer consuming information through videos and have a pulse on all things trending. Thus, live video shopping powers the brand to engage with the Millennials and GenZ by tapping into the power of live stream shopping.
Read More: Live Streaming Commerce as a Sales Enabler.
Summary
Channelize.io Live Streaming Shopping Platform is one such tool that ticked all the boxes for the brand. By incorporating livestream shopping the brand boosted engagement, enhanced interactivity, improved product discoverability, and increased conversions.
Furthermore with our Platform customers are able to view products in real-time and have their queries addressed instantly. This translates into quicker purchase decisions resulting in higher sales for the brand.
With Channelize.io, brands across industries can build emotional and authentic connections with shoppers on the back of superior technology ultimately leading to sales.
Disclaimer: The Brand name MAJOLIE PIERRE and the brand logo are properties of www.majoliepierre.fr.