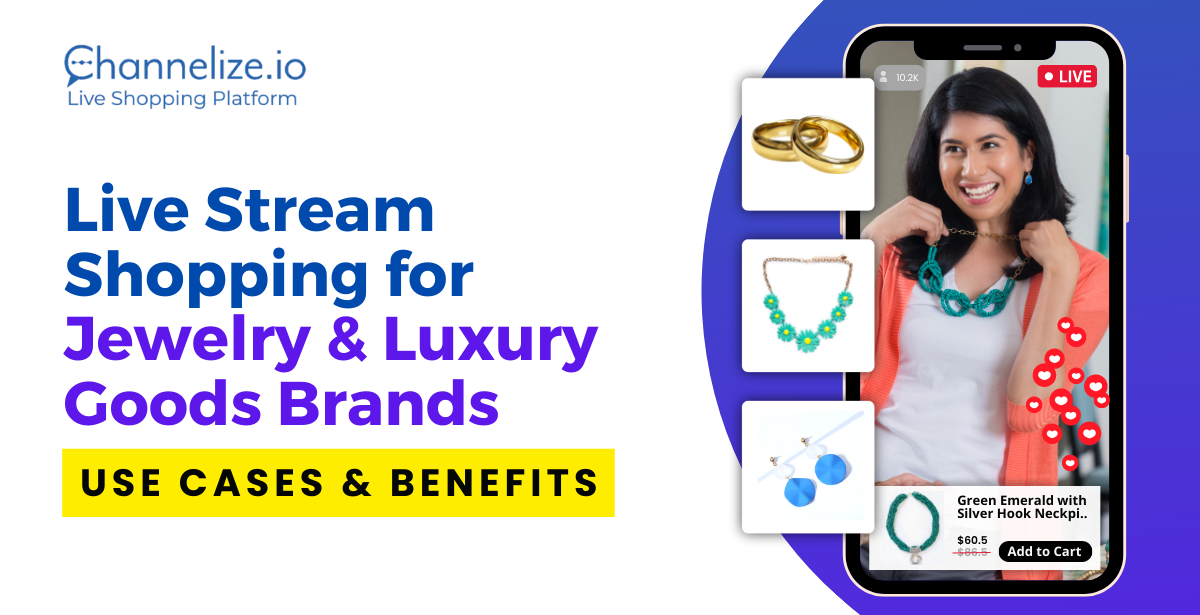 Livestream Shopping for Jewelry & Luxury Brands – Use Cases & Benefits

---- 5

min read

High value purchases like fine jewelry, watches, and other luxury goods can be challenging to sell online. When buying an item of significant value, there are huge barriers to overcome: Trust, Authenticity, Personalization, Exclusivity and Improved Product Experiences.

One source reports ecommerce conversion rate of just 1.4% in the luxury goods and jewelry sector over the past year.

Live Stream Shopping can be the missing element that can aid jewelry and luxury goods brands to boost ecommerce Conversion Rates by mirroring the in-store experience that shoppers not only expect but demand. ‍A live shopping host can serve as a product expert establishing trust, recommending products, answering shoppers' questions and assisting shoppers just like in store. As a result, brands are able to create unparalleled and improved customer experiences, accessible from anywhere.

Furthermore, live commerce enables shoppers to put a face to a jewelry and luxury goods brand, get a closer look at products, and gauge the reliability of a brand for themselves.
Use Cases & Benefits of Livestream Shopping for Jewelry & Luxury Brands
Here are some benefits and use cases of livestream shopping for jewelry & luxury brands:
Recommend coordinating items
A jewelry piece might catch a shopper's eye but they might be stuck on what it 'goes with'. During your live shopping shows you can offer a matching set like earrings, necklace, bracelet, and ring combinations. Apart from this, shoppers might have questions like : Which two pieces should I get from a collection? Can I mix and match this with other items? Etc.
In this case, having a live host answer all these questions and suggest the right style can be extremely helpful.
Read More: How to Transform Product Discovery into Demand with Livestream Shopping.
Identify the right product size or length
While jewelry and luxury products may seem unlikely to need 'size guides', shoppers will always wonder about size on specific pieces like watches and rings – items that are often difficult to size independently. An expert hosting a live shopping show can provide advice on how to measure size to help shoppers track down the right fit for them. Similarly, necklaces are often available in multiple lengths, and a guided shopping experience can help them determine what length they want.
Compare products
When buying online without appropriate guidance, buyers may purchase multiple sizes, colours, and styles and return whatever doesn't work. But that's often not an option when shopping for luxury goods and this can lead to high cart abandonment rates. Having the opportunity to compare multiple products side-by-side in real-time via live stream shopping is an excellent opportunity for brands to allow their shoppers to get a closer look, ask their questions, and feel more confident about purchasing. This is among one of the best benefits and use cases of livestream shopping for jewelry & luxury brands.
Read More: How Ecommerce Brands can provide Product Experiences that convert to Sales.
Showcase the true colour of a product
Every brand has their own take on gold, silver, platinum, rose gold, and every metallic shade in between, and it's not always easy to judge the colour based on the photography. Live Commerce eliminates the guesswork, especially for brands that offer a variety of finishes of a particular tone, e.g. matte gold and shiny gold.
Virtually recreate the experience of a retail store
There is a limited retail footprint for even the biggest luxury goods and jewelry brands. Live commerce eliminates the location restriction and brings the store experience to shoppers, no matter where they're located. The in-store experience can thus be enjoyed by shoppers without having to leave their homes.‍
Read More: Content Strategies to make Live Streaming successful for Commerce!
Provide incentives to close sales
Often, big purchases require a lot of thought and have high cart abandonment rates. But interacting with buyers via a live stream shopping show can help close more sales on the spot, when exclusive offers and incentives are presented that simply can't be accessed by other means.
For eg: Live shopping hosts can offer a gift with purchase, complimentary gift packaging, expedited shipping, or even promotional discounts.
Suggest a perfect gift
Purchasing a gift isn't always easy, especially if it's an expensive item. Live stream shopping allows brands to recommend items that are truly tailored for the gifting preferences of their buyers. This takes the pressure off of shoppers to find a winning item alone, while also avoiding a spiral of indecision that can happen when trying to solo shop online.
Top Jewelry and Luxury Brands using Channelize.io Live Shopping Platform
We would like to provide you with examples of some of our Clients belonging to the Jewelry Industry who have achieved fantastic Results. By effectively using livestream shopping for jewelry & luxury brands, you can also win at Sales.
Majolie Pierre
Successfully hosted 30+ Live Shopping Shows gaining avg. 60+ orders during each show.
The most recent show hosted by the brand garnered 65+ Total Sales, 1000+ Live Comments and 64% Live Engagement Rate.
Watch Recording HERE.
DSF Antique Jewelry
Successfully hosted 10+ Live Shopping Shows with avg. 50% Live Engagement Rate.
The most recent show hosted by the brand garnered 40% Product View Rate and 42% Live Engagement Rate.
Watch Recording HERE.
The Bead Gallery
Successfully hosted over 50+ Shows with Channelize.io with average Live engagement of 45%.
The most recent show hosted by the brand garnered 33% Product View Rate and 53% Live Engagement Rate.
Watch Recording HERE.
Selecting Livestream Shopping for Jewelry & Luxury Brands
The opportunity to create an elevated customer experience is at your fingertips. ‍
The big question is: Who's going to lead the experience with you? If you're looking for a reliable Live Shopping Platform, Channelize.io can help you provide a one-of-a-kind interactive and improved shopping experience that delights buyers, encourages Repeat Visitors and ultimately Boosts Sales.
How to get started with us? Book a FREE DEMO. We'll see you there.