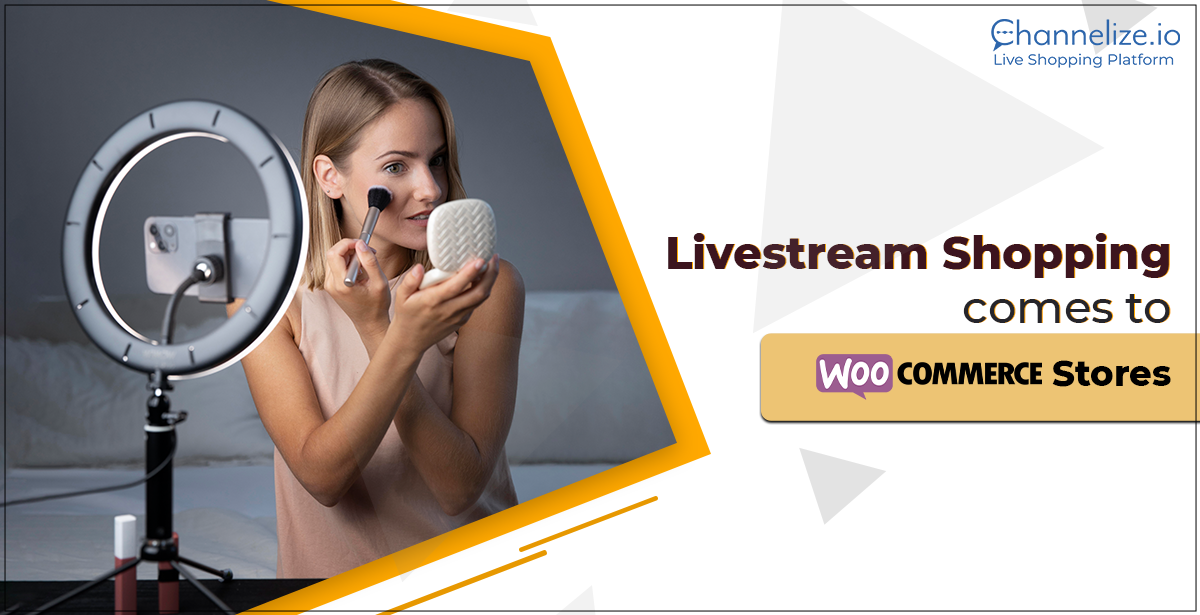 Livestream Shopping comes to WooCommerce Stores

---- 4

min read

We have amazing news for WooCommerce powered stores: You can now adopt Live Streaming Commerce, the new effective way to sell online, by installing our easy-to-use plugin: "Live Shopping & Video Streams Plugin". Continuing the development of Channelize.io Live Shopping Platform, we are happy to announce the rollout of our Plug-and-play Integration with WooCommerce.
WooCommerce, one of the most popular eCommerce platforms powering nearly 25% of all online stores, now has a plug-and-play integration available with the Channelize.io Live Shopping Platform. Brands using WooCommerce can now host Live Shopping Shows within their website and thus can gain not just from increased sales and enhanced brand perceptions, but also from the increment in engagement and buyer retention on their stores.
Live Stream Shopping that rose out of customers' ever-increasing demands for improved shopping experiences, authenticity, and convenience has become a mainstay now. Hence we now offer thousands of Direct-to-Consumer (D2C) Stores on WooCommerce and WordPress an opportunity to leverage the power of Live Selling and Real-time Buyer Engagement with our plugin.
How to Get Started?
"Live Shopping & Video Streams Plugin" integrates easily with your existing WordPress + WooCommerce website, turning it into a fully functional Live Shop with just a few clicks.
From the WooCommerce Marketplace, install the Live Video Shopping & Streams Plugin.
After installing the plugin successfully, the next step is to configure the plugin settings.
You will need to create a Channelize.io account, choose a subscription plan, and complete the sign-up process.
You will then be redirected to your Live Shopping & Video Streams Dashboard. Now go to your dashboard's Help & Support page, where you can see your Public & Private Keys as well as other account information.
Copy & paste these keys into the plugin settings and save changes.
Once this is completed, the Plugin has been successfully configured. You can find your Live Shop Page URL in the Plugin's Live Shop Page.
You are now ready to create Shopping Shows in your dashboard and go Live from broadcaster apps.
Refer to our Help Center to know in-depth.
How is it Beneficial?
Live Shopping is growing in importance because it offers brands an opportunity to invite buyers to participate in the testing, learning, and shopping experience in a way that standard e-commerce doesn't have the space for.
Our Plug-and-play Integration will make it easier for WooCommerce merchants to increase Sales Conversions and enhance Brand Perception by providing good Product Experiences, Engaging with Buyers in Real-time, and Entertaining them with content relevant to their Brand and Industry. Furthermore, by enabling all of this on their e-commerce stores, WooCommerce merchants can enjoy the gains in Engagement and Retention that will stay within their website.
Listed below are a few benefits of leveraging our Live Shopping Plugin, but there are undoubtedly many more depending on how you utilize it:
Enhanced conversion rates, user engagement, and session time
Enhanced customer experience and better customer retention
Increased sales with accelerated purchase decisions
Higher net promoter score (NPS) and repeat customer rate
Reduced customer acquisition costs (CAC) and optimized advertising expenditures

The new WooCommerce integration is now live, Are you ready to take advantage?
With Live Video Shopping, buyers can see products being tried out and even interact with hosts in real-time. Combining the convenience of online e-commerce with the human element of shopping, live stream shopping creates an experience that buyers cannot get enough of. Hence if you are a WooCommerce Retailer trying to captivate customers and Boost Sales then our Plugin is the perfect solution for you.
Get started by scheduling a Free Demo with us or contacting us at info@channelize.io.