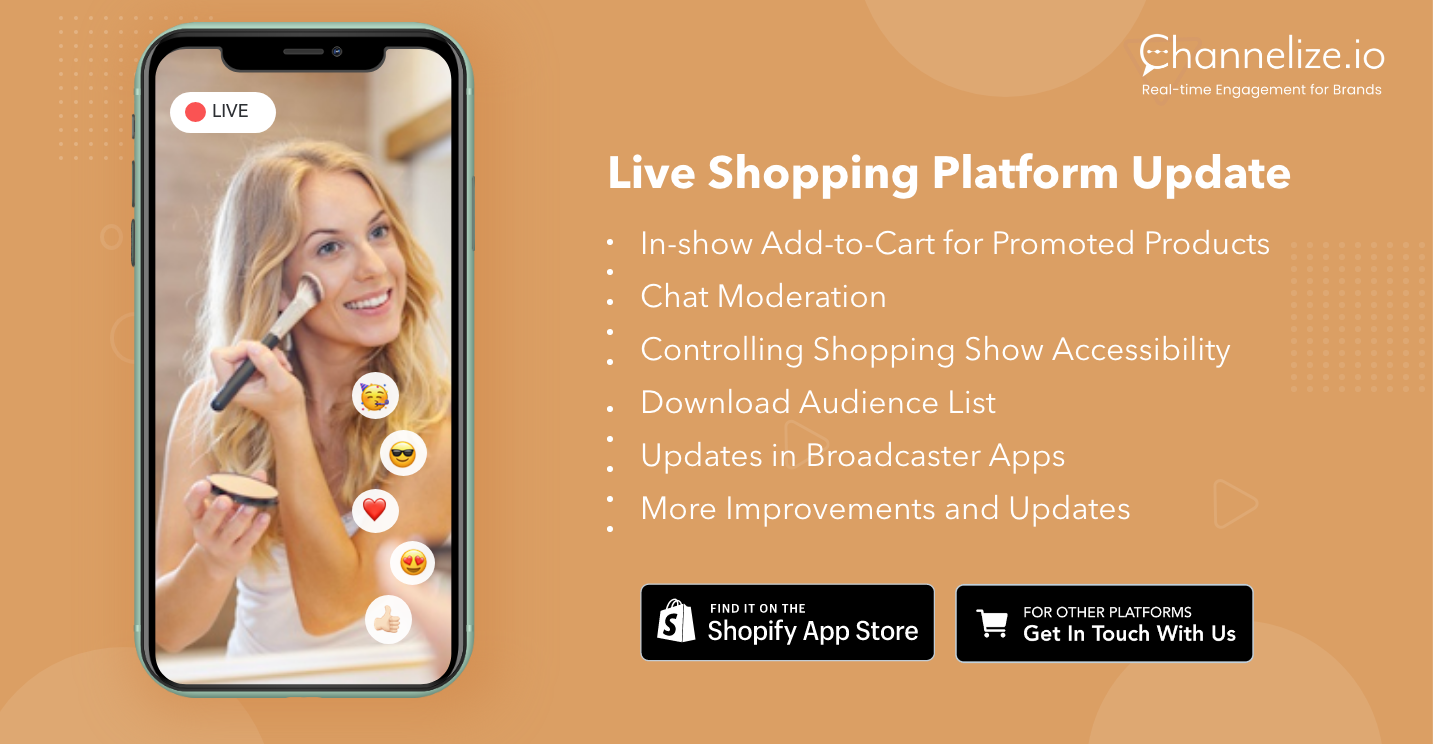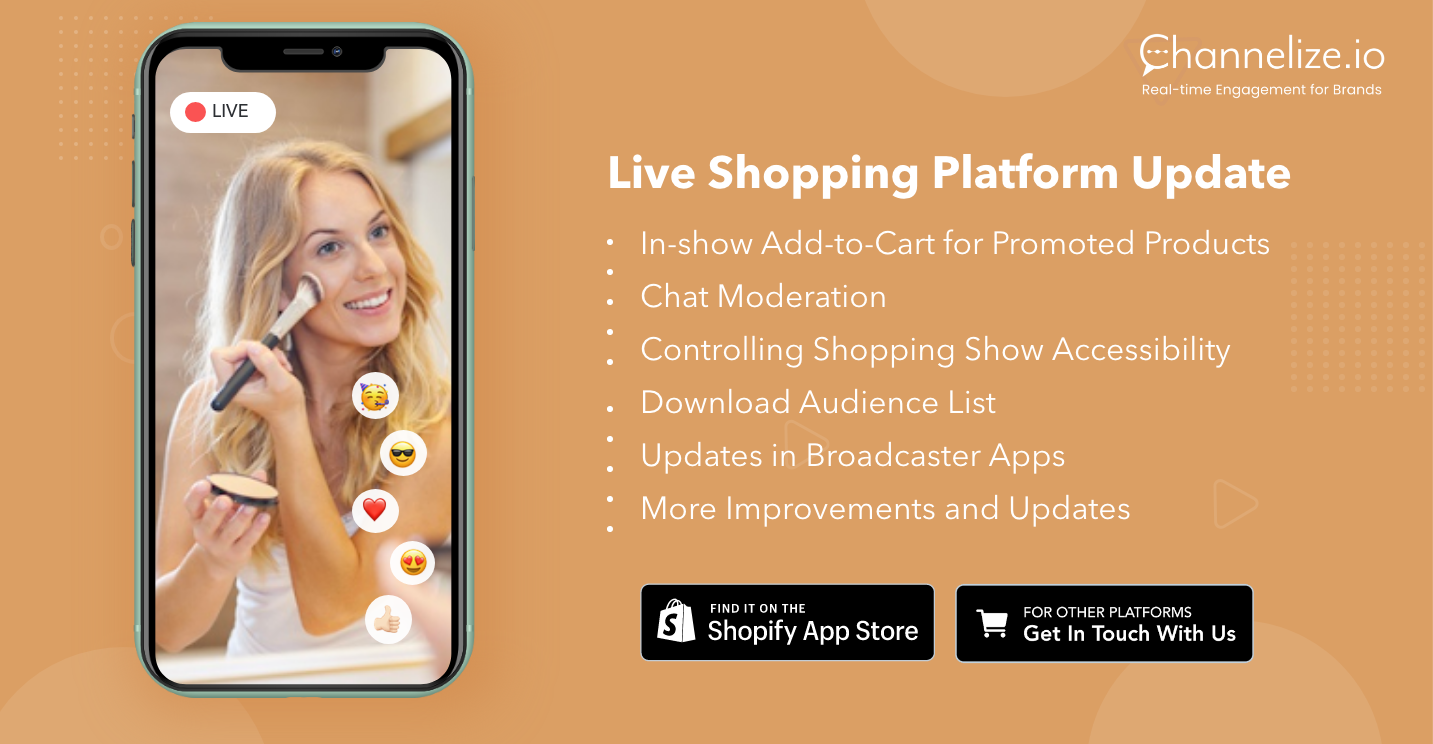 Live Stream Shopping Updates: May 2021

---- 5

min read

The last few months were exciting for Channelize.io and we have been working hard to provide our clients with top-notch Live Selling experiences. Our ultimate goal is to keep developing and improving our Live Shopping Platform to help our customers grow with us. Hence we are excited to present these new developments in our platform to you.

From features like revamped Mobile UI and Broadcaster app, to rolling out some extremely powerful features like offering store owners the ability to control event accessibility, to in-show add-to-cart for promoted products and Chat Moderation, the new updates will surely surprise you. So let's quickly dive right into the highlights.
In-show Add-to-Cart for Promoted Products
Now audiences do not need to go to a promoted product's detail page to add it to their cart. They can simply add products appearing on the Live Shopping Show window to their cart while watching it.
How can this be useful?
This powerful update allows buyer audiences to add products to their cart without leaving a live show. Hence they can simultaneously shop while watching a live show. This leads to faster decision-making for buyers and increases the purchase probability.
For store owners, such shorter purchase processes lead to improved sales conversion rates.
Hence this powerful update offers a clear benefit to both store owners and buyer audiences.
Chat Moderation
We have made moderating Live Chats during shopping shows really easy!
Now admins can do this straight from their show production dashboard as a shopping show is live. Admins can ban audience users posting offensive messages from the live chat, and can allow them back at any point. Banned chatters will still be able to watch the live shopping show but will not have access to the chatbox.
This helps admins to keep things under control, maintain the sanity of the platform and ensure a quality customer experience.
Controlling Shopping Show Accessibility
One of our major updates this month, Controlling Shopping Show Accessibility, allows admins to easily control the visibility of their live shows so that the shows are seen by the right audience.
How does it work?
An admin can create a public or private show. A public show can be viewed by anybody, logged-in as well as non-logged-in users, whereas a private show can be viewed only by a logged-in user.
So, if a non-logged-in user would want to watch a private shopping show, they would simply need to sign-up or login to watch a live show. Isn't it simple?
This update is especially useful for admins / store merchants as it allows them to create exclusive shopping shows for their loyal customers (logged-in users) and furthermore when non-logged users sign up to access a private shopping show, this facilitates organic growth.
Download Audience List
This is another noteworthy powerful feature that enables admins / store merchants to easily download the audience list for a shopping show from the production dashboard. This contains the list of all logged-in users who attended your live shopping show.
The best part?
This feature can also be used by store admins to target audiences by sending them personalized email campaigns, offering additional incentives, upselling, and stimulating curiosity among them.
Updates in Broadcaster Apps
To offer a better experience to hosts (influencers, brand employees, store admins, KOLs, etc) going live via broadcaster apps, we have upgraded them with some improvements listed below:
Preview Mode: Our "Greenroom" look-a-like feature helps the host prepare for the Live Shopping Show before actually going Live. A Host can now check and set their camera settings, set up beautification filters, or go through the list of products to promote, before going Live.
Sharing Feature: A Host can also market a live show on their different social media channels before it actually goes live. Remember, the larger the audience for a shopping show, the higher would be the sales.
New look and Improved User Interface
General Bug Fixes and Improvements
More Improvements and Updates
Apart from the big ones, we also made some improvements to further level up the overall quality of live shopping shows.
Improved UI for mobile responsiveness
New floating real-time chat messages for mobile audiences
Until Next Time
At Channelize.io we are on a mission to constantly improve our Live Shopping Platform and roll out releases to offer Shopify Merchants and other Ecommerce Store owners world-class live shopping features, to help them make more money as a result and grow their brands.
We will also be launching a bunch of other exciting features very soon! Stay Tuned!
If you have a feature that you'd like to request for consideration, please feel free to get in touch with us at info@channelize.io.
You can also download our EBOOK to know more about Live Shopping.