Live Stream Shopping: Ideal Fit for WOW Skin Science & More Beauty Brands

---- 3

min read

In this success story we will see how WOW Skin Science turned to Channelize.io Live Stream Shopping Platform to cater to their consumers and to enable them to make the right decisions, eventually leading to sales and improved engagement.
About Client
Based in India, WOW Skin Science is a renowned vegan beauty brand that delivers high-performance, plant-powered solutions backed by science. The brand curates authentic, vegan beauty that bridges the gap between natural remedies and modern science.
It produces all-natural solutions free of any sulfates, animal testing, and parabens. Its goal is to establish a balance between the spirit, mind, and body of every customer it reaches.
The Problem
WOW Skin Science approached the Channelize.io team as a unique venture trying to provide 100% vegan skincare, face, body grooming, and hair care products to its audience. Its objective of bringing customers joy while taking care of their body and soul was highly intriguing.
Given the need to increase its market reach, customer interaction, and brand awareness, an intuitive way of selling was required.
The Solution
As a well-reputed Live Stream Shopping Platform, Channelize.io knows the ins and outs of the live shopping market.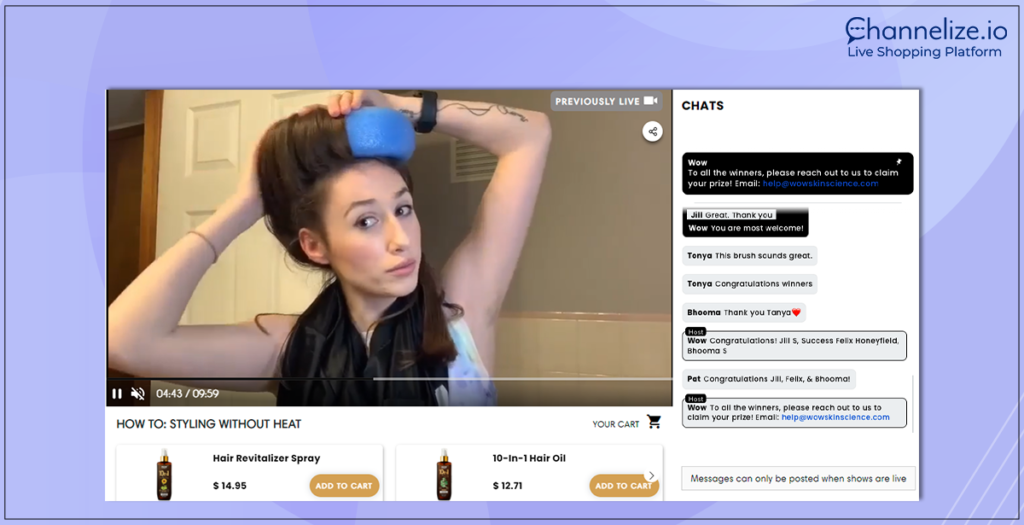 We helped them conduct livestream shopping shows to offer a personalized and humane buying experience to their customers. The live stream shopping shows brought in a horde of consumers, since the skincare venture brought innovation on the table.
The Outcome
Our Live Stream Shopping Platform for the Beauty Industry improved their customer experience and conversion rates. They achieved such results across their 55+ Live Shopping Shows conducted using our Platform. Besides that, WOW Skin Science also generated ample sales by using our RTMP support, which enhanced the overall experience of their shopping shows.
These shows garnered a huge audience, helping them find viable sales opportunities and product discovery. In addition to such perks, the brand also witnessed several more lasting benefits, such as:
Offered Unmatched Outreach and Scale
Provided a real-time online persona
Facilitated a seamless channel for bigger Order Sizes & Repeat Purchase Rate
Made them highly approachable
Created a Sense of Urgency leading to impulse buying
Educated their target audience in real time
Established a long-term Marketing Channel
Why Consider Us for Your Brand?
Channelize.io Livestream Shopping Platform is built with an emphasis on seller scalability, human connection, and shopper experience, which is helping WOW Skin Science to achieve its business goals.
As live stream shopping has immense potential in the Beauty and Skincare Industry, several brands like Dermalogica, Layla Cosmetics, Jungluck & many more are enjoying great success by leveraging our platform.
Most beauty and skincare brands online, especially new brands or those with new launches, miss out on valuable customer engagement that can be generated by the sales staff during an in-store shopping experience. This is where live video shopping for the beauty and skincare industry can bridge the gap. Just like WOW Skin Science, you can also create buzz, generate sales, and influence the purchasing power of your audience with us. All you need to do is to book a Free Demo with Channelize.io's Team and get started with the next generation of shopping experience.
Disclaimer: The Brand name WOW Skin Science and the brand logo are properties of wowskinscience.com.