Kyte Baby Cultivates Brand Loyalty & Drives Conversion via Live Shopping

---- 2

min read

Kyte Baby™ is the maker of the Original Bamboo Sleep Bag™. They work exclusively with bamboo because it's a sustainable resource and keeps the baby at a comfortable temperature while sleeping and is also a safe alternative to having blankets in the crib. The brand has vertically integrated their business to entrust production and environmental and ethical standards are consistently met. In this success story let us decode how Kyte Baby Cultivates Brand Loyalty and Drives Conversion via Live Shopping.

Engaging with Buyers: Kyte Baby uses Channelize.io Live Shopping Platform to interact with their audience in real-time, answering questions and providing additional information about the products. This creates a more personal and engaging shopping experience that can build trust and loyalty.

Read More: How Brands can choose anyone to Host Live Shopping Shows – Influencers, KOLs, Employees.

Offering Exclusive Discounts: Brands also offer exclusive discounts to buyers who make a purchase during a Live Shopping Show. This creates a sense of urgency and incentivizes shoppers to buy, which drives conversion and increases brand loyalty.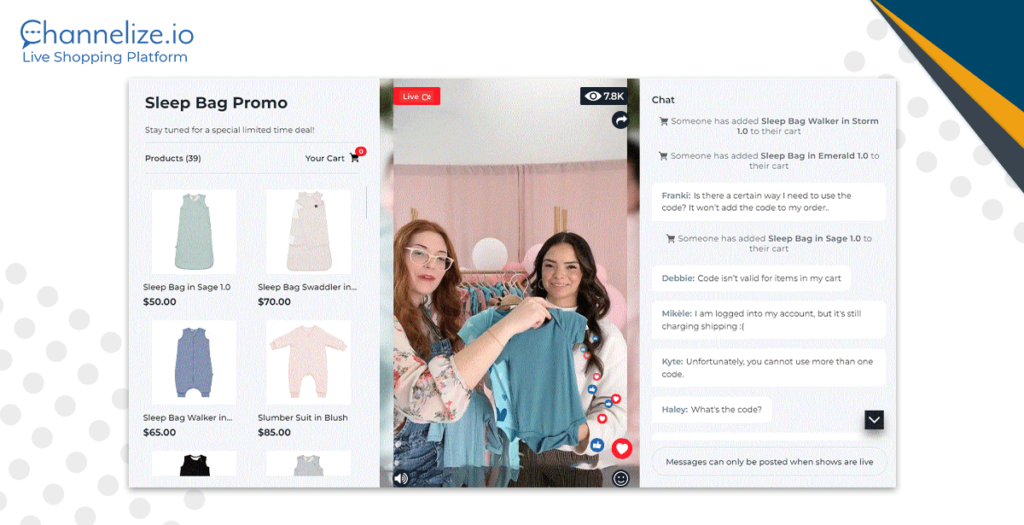 Showcasing the Product: By showcasing the product in a live stream, the brand offers a more immersive and experiential shopping experience. This helps buyers make more informed purchase decisions and feel more connected to the brand.
Providing behind-the-scenes access: Brands can also use live shopping to provide behind-the-scenes access to their business, such as product development, design, or manufacturing. This can help customers feel more connected to the brand and develop a deeper understanding of its values and mission.
Read More: Live Streaming Commerce, an effective Marketing Strategy for Ecommerce.
Better Tracking of Marketing Metrics: In typical online shopping, it becomes challenging to identify the customers who are satisfied with your products and who are not. By observing customers' body language and facial expressions, Live Shopping allows the brand to understand their satisfaction levels. In this way, the brand can make out if their selling strategies are working out or not.
Also, the brand is able to assess data with engagement analytics + live stream analytics to form a real-time understanding of customer impact.
The Result
This is how Kyte Baby Cultivates Brand Loyalty and Drives Conversion via Live Shopping. In addition to being able to depend on the brand for their daily hair care and wellness routines, customers also appreciated the unique relationship they were able to create with the brand via Channelize.io Live Shopping Platform.

To learn more, just request a FREE DEMO from the Channelize.io Team. Rest assured that our experts will curate the ideal marketing and promotion strategy for you with Live Video Shopping.