Introducing Shopify Widgets: Floating Live Videos & Shopping Shows Collections

---- 4

min read

Exciting news for our Shopify Clients! Channelize.io introduces Floating Live Videos & Shopping Shows Collections.

Our team has been hard at work behind the scenes, and we're thrilled to announce the latest update to our Live Shopping Platform. We're confident that this update will make your Shopping Shows more efficient. So, without further ado, let's dive into the exciting new changes in our latest Product Update.
Floating Videos – Live Shopping Show Notifications
Let visitors on your Ecommerce website know that you're LIVE! Interesting isn't it? See how this works.

We all know that to get Good Sales from your Shopping Shows, it is important that you get a good number of buyers to visit them. Marketing your Shopping Shows well is a good way to do that.
Another is to get all your website visitors to your Shopping Show. Homepage Banners, Header Links are some ways to do that. And we have now released an effective way to tell your ecommerce website visitors that your Shopping Show is LIVE:
You can now embed a Floating Video Widget on all, or on selected pages of your website. The widget will become visible to all the users on your website when a live show is happening.
This automatically presents a video preview from your Live Shopping Show.
How is this Useful?
By using our Floating Video Widget, you can significantly boost the number of visits to your Live Shopping Shows, making it easy for buyers to engage and shop from your Shopping Shows.
This further revolutionizes the way you can sell with Channelize.io powered Live Shopping / Live Video Commerce on your Shopify powered Ecommerce Store. It is easier for buyers to know about your Shopping Show, and they get an instant & seamless purchasing experience, ultimately generating Sales for your brand!

---
Shopping Shows Collection
Imagine your Shoppers seeing your Shopping Shows listed on important pages of your website! Beneficial, isn't it? Well, we have made this possible.

Live Shopping is known to get more Sale Conversions compared to traditional e-commerce strategies. For brands to get maximum benefits from Live Shopping, they should not only Go Live with Shopping Shows frequently but also attract more buyers to those shows. Hence displaying shopping shows on important pages like the homepage of your website, main product pages, etc can attract more buyers. And we have made this possible with our new update.
Shopping Shows Collection Widget is an important feature that allows you to organize Shopping Shows in the form of a collection and display them on your website as a Video Carousel. At each placement of the widget, you can choose which all Shopping Shows to display. On the Product Profile pages, you can show Shopping Shows in which that respective product was promoted.
Displaying Shopping shows via a video carousel is an eye-catching feature that can draw attention to your shopping shows. Placing it prominently on your website can improve Buyer Experiences, increase Visibility, enhance Engagement, increase Discoverability, improve Branding, and increase Sales.
Read More: Content Strategies to make Live Streaming successful for Commerce!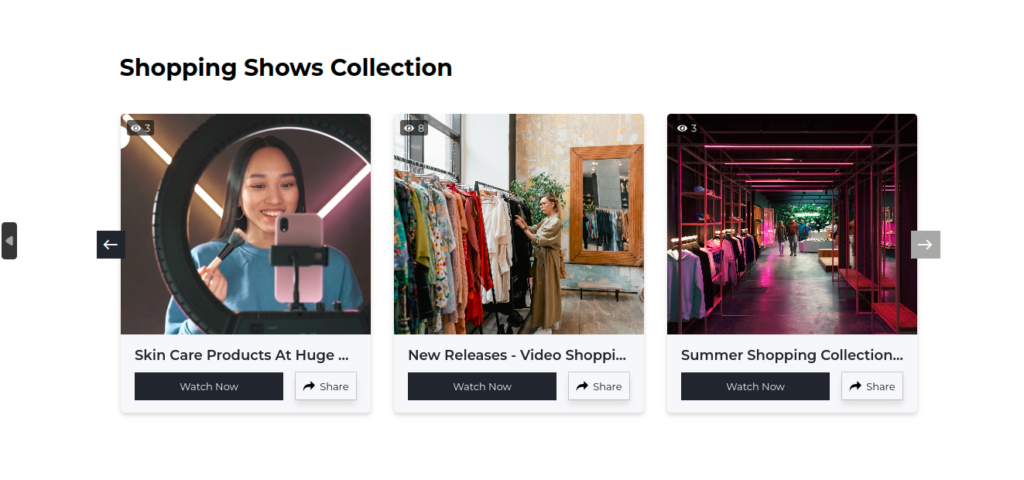 Here are some of the use cases:
Feature seasonal collections
With this Widget, you can showcase seasonal collections, such as holiday or summer-themed shows. This makes it easy for Shoppers to browse through the shows that are relevant to the requirement.
Highlight product categories
If you are a brand selling products of different categories then you can group Shopping Shows categorically such as beauty, electronics, etc allowing shoppers to easily find Shopping Shows promoting relevant products.

Showcase popular shows
Whether your shopping shows have attracted a lot of engagement or are simply shoppers' favorites, featuring them prominently on your website can increase engagement and drive retention.
Cross-promote shows
This feature can be used to cross-promote related shopping shows to buyers. For example, if a buyer is watching a show talking about AM Skincare Routine, the widget can display other shows talking about PM Skincare Routine. This not only keeps buyers engaged with your website but also increases the likelihood of them watching multiple shows.

Wrapping up
Thank you for taking the time to read about our latest product updates. We're confident these updates will greatly benefit your brand.
If you have any suggestions or feedback, we would love to hear from you at info@channelize.io. Our product roadmap is inspired by our Client Brands' requirements.
If you would like to see a Free Demo of these new updates, then please Book a Demo with us from here: https://calendly.com/channelizegrowth/30min
Happy Selling!