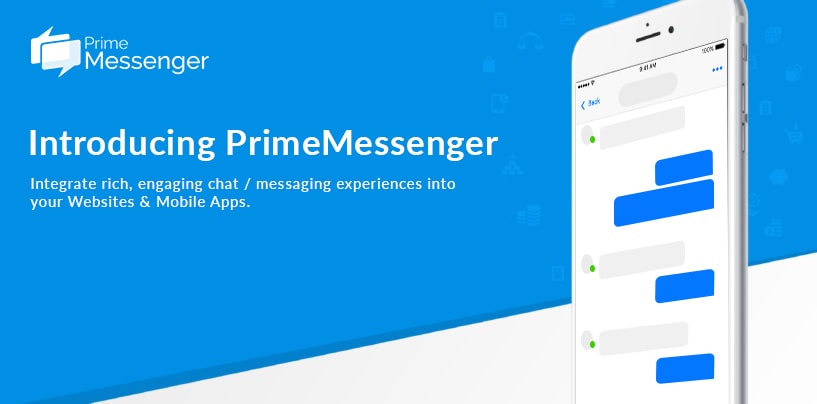 Introducing PrimeMessenger

---- 2

min read

In the past few years, products with Messaging and Chatting features have transformed the way people interact. Communication has now become much easier, inexpensive and engaging. There is unhindered sharing of information, content and ideas.

Thus, this has resulted in stronger relationships, cohesive communities, informed consumers, connected educationists, empowered merchants and competent workforces.

It isn't surprising now that many types of online businesses and communities are realizing that messaging and chatting features are crucial for growth. Start-ups, enterprises and app developers are even combining these with the primary service or product offered by their apps.

PrimeMessenger is on a mission to enable such organizations launch messaging and chatting features in their existing web and mobile apps, or launch their stand-alone messaging apps. Our SaaS (software-as-a-service) offerings reduce your go-to-market time for such features while keeping the costs affordable.

PrimeMessenger is suitable for innumerable use cases. Here's a brief overview on PrimeMessenger's feature set and how it can make an impact on your users:
One-to-One Chat
One-to-one chat is one of the best ways to boost website and mobile apps usage duration. It increases the use cases that your apps can fulfill. Increase in stickiness of your apps leads to a drop in churn of members. A simple connection of one-to-one chat can increase intimacy in dating apps, collaboration in utility apps, response-time in medical apps, participation in educational apps, and more!
Group Chat
Group chats generate buzz in your Community. They help develop new connections and strengthen bonds. Members work towards and discuss on common goals and interests.
Push Notifications
Being offline doesn't mean being disconnected. If your users can't receive a message, PrimeMessenger will send the push notification and deliver the message to your users when they're back to their app.
Multi-media content sharing
Photos, videos, music or any type of multi-media can be readily uploaded, transmitted and viewed.
Sync across multiple devices
Seamless user communication experience by syncing of messages across web and mobile devices.
Typing indicators
It's possible to display the typing status of other participants to make conversations even more engaging, in both one-to-one and group conversations.
Read receipts and delivery status
These features that you have seen in popular messaging platforms like WhatsApp and Facebook Messenger are very useful in making conversations smooth and relevant.
Easy Integration
Integrating PrimeMessenger with your web and mobile platform is easy and we'll soon be publishing our SDKs. Currently, seamless integration of PrimeMessenger with SocialEngine, the popular Social Network development platform, is readily available and plug-and-play integration with multiple other CMS is coming soon.
PrimeMessenger can also be used for creating stand-alone messaging apps, for your niche requirements.
There are many more features like Last Seen & Presence Indicators, Privacy Controls, Multi-language Support, etc. For a complete list of PrimeMessenger's features, please visit: https://primemessenger.com/features . We'll keep updating this page as we release new features.
Coming up: PrimeMessenger will continue forging a path to make itself the fastest, easiest and most useful in-app chat and messaging solution. We'll soon be publishing our roadmap with some upcoming features.