Multistreaming with Channelize.io – Bringing Live Shopping to Facebook, YouTube, Instagram & More

---- 3

min read
Livestream Shopping has proven to give much higher Sales Conversion rates of 25%+ than around 3% from normal Ecommerce experiences. So, the more buyer audiences you have for your Shopping Shows, more will be the absolute Sales Conversions. We realized this early on, and hence we'd shared easy-to-follow steps on getting a maximum audience for your Shopping Shows.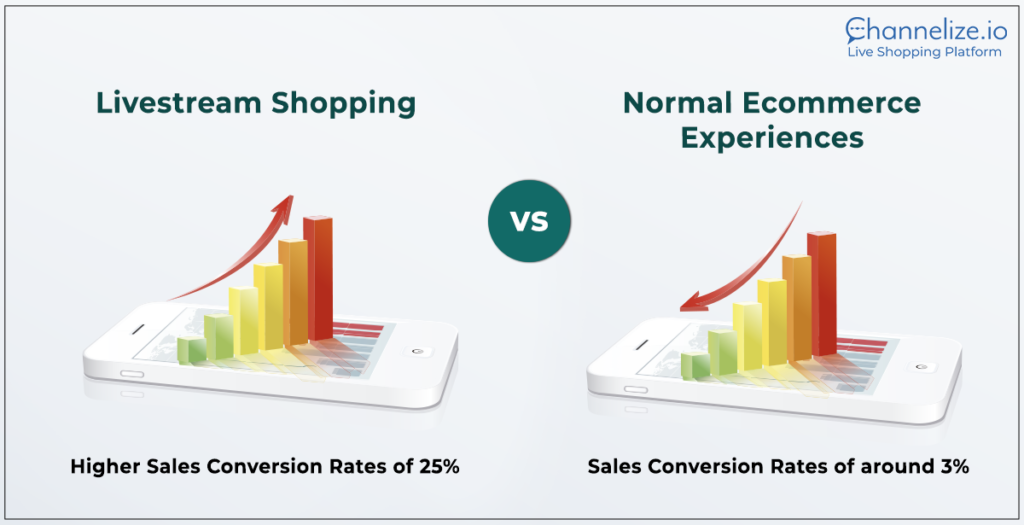 We now have another powerful feature in our armor that was highly awaited, and would help our customer brands get a wide reach for their live shows: Simulcasting, aka Social Multistreaming.

Channelize.io Live Shopping Platform has already made Live Stream Shopping effortless for Brands. Now with this new feature of Multistreaming, it has become super easy for brands to broadcast the Video Streams of their Shopping Shows on various external Platforms at the same time. Initially launched for Facebook, YouTube, Instagram, TikTok and Twitch, this feature will soon be available for many more Platforms.
What's More?
We also provide a Custom Integration that is platform-independent. Hence we also support multistreaming via custom RTMP connections to any platform that provides a Stream URL and Stream Key.
Brands just need to add Text Descriptions on the desired platforms for the Simulcasted Live Streams, with the URL of the Shopping Shows on their Ecommerce Website, which the Buyer Audiences on these platforms will then follow to go to the Shows. Now multistreaming via our platform will make brand building and marketing even easier.
Being able to simultaneously broadcast the Video Streams of Shopping Shows on different platforms allows you to connect with your followers on them, establish your branding to twice as many viewers, and ultimately elevate your sales without spending much time and resources.
Multistreaming using Channelize.io Live Shopping Platform
Now lets see how you can easily simulcast to Facebook, Youtube, Twitch, and Custom RTMP:
Step 1: Log in to your Production Dashboard at Live Shopping & Video Streams account.
Step 2: Click on the "Create Live Show" button to create and publish a new Live Shopping Show.
Step 3: Click the Simulcast button available in your Control Room and it'll open up the Simulcast drawer.
Step 4: Select the desired Channels and enter their necessary information, enable Simulcast, and save the settings.
Step 5: After this Simulcasting to the chosen destinations will be shown as Enabled in the dashboard.
Note: Before going Live from the Broadcaster App, you must first open the Live Control Room in the case of Youtube, and the Facebook Live Producer Page in case of Facebook to add/change the Stream Title, Description, and URL of Live Shopping Shows. This will redirect buyer audiences watching streams on the social platforms to go to your shopping show to participate in it and buy the promoted products.
For more information, please refer to the Help Center!
Simulcasting Feature is here. Are you ready to take advantage?
Streaming to multiple platforms positions your brand as a notable player in your industry, with a forward-thinking approach towards the shopping behavior of digital consumers. Multistreaming using Channelize.io Live Shopping Platform can help you achieve that.
Listed below are a few benefits of leveraging the Simulcasting feature, but there are undoubtedly many more depending on how you utilize it:
Improves customer engagement
Increases traffic on the Website
Enhances brand visibility and awareness
Enables tapping into a diverse consumer base
Allows to use the advantages of each platform be it Facebook or Youtube
Allows you to engage with the community more easily
Contact us at info@channelize.io, or take a look at some of our customer stories to learn how brands across industries are bringing the in-store shopping experiences online with Channelize.io Live Shopping Platform.
You can also Book a DEMO with us and get started!