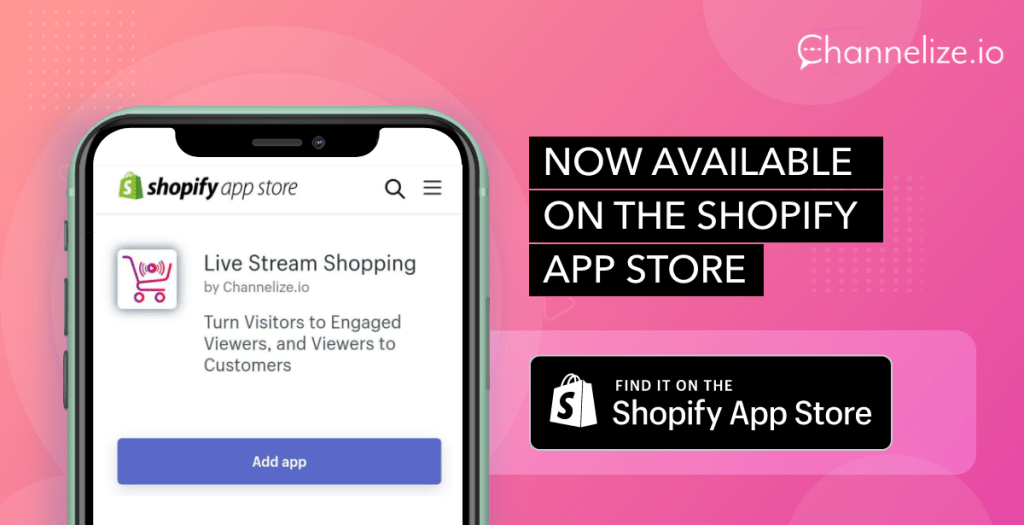 14 Dec

Introducing Live Stream Shopping for Shopify!

4

min read

Channelize.io is back with yet another launch, and this time it's really big! We're thrilled to launch our "Live Stream Shopping" app on the Shopify app store.
The power of Live Streaming Commerce is now available to thousands of Direct-to-Consumer (D2C) Stores on Shopify!
Shopify Stores can use this easy-to-install app to Enhance Product Experience, Boost Buyer Engagement, and Increase Sales and Conversions via Live Streaming and Video Commerce. From launching products to promoting them, Live Stream Shopping can help store owners to engage remotely with their buyers at scale, in a human way.
With this launch, we've brought our expertise in real-time engagement to Shopify Merchants. We aim to partner with them to boost their business. We strongly believe that Live Streaming Commerce is the new way of selling online and we want you to leverage its full potential.
How it works?
Store owners of any size – small or large – can now install our Shopify application from the Shopify app store, and achieve the following:
Create Shows & Events: For your store visitors and audience.
Live Streaming Shows can be created and scheduled from the Dashboard. Event properties like Title & Description, Promotional Banner & Video, Date & Time, and Host details can be configured easily.
Each show can solve a different purpose for your brand, like:
Product Demonstration & Showcase
Product Launch
Educating customers and spreading awareness
Special Deals
Influencer Marketing and Brand Advocacy
Entertaining content that keeps your target buyer audience engaged
Telling your brand story
Live Streaming Shows can be recorded to facilitate video commerce via playback. All shows can be shared on Social Media for better reach and results.
Buyer Interfaces: See Live, Upcoming, and Past Shows.
Buyers will be able to see a list of shows and click on anyone to view. All interfaces are well designed to maximize engagement and resultant sales. In our upcoming releases, we'll be adding more sections for pages of Shopify stores.
Engage LIVE: Through Live Streaming and Chat.
Engage buyers and connect with them in real-time. Give your viewers the confidence to buy. We will soon be rolling-out more real-time engagement features like Polls, Product Spotlights, Live Deals, and more. All new features will automatically be available to stores using our app.
Promote & Enhance Product Experience: Choose & Promote products with every show.
Promote products from your store during the events. Deliver product/service information audibly and visually with real-time product demos, and gain customer mindshare. All chosen products will be available for easy buying during the live stream or its recorded playback.
Engagement & Commerce Analytics – Analyze & Grow Sales: Enhance your sales funnel and boost revenue.
Make live streaming more impactful for your store with every show. Accelerate purchase decisions for your buyers and drive sales with data-based decision making.
Broadcaster Apps: iOS & Android Apps for your live stream hosts.
Hosts of your live streams could be you – the Store Owner, your Influencers, Brand Advocates, Employees, or anyone who can speak to your buyer audience about your brand & products, or deliver complementary content. Our broadcaster apps are very easy to use and have innovative features like beautification filters, chat, etc to make your live streams successful.
Lightning-fast Setup
Adding Live Stream shopping to your Shopify store is plug and play, with no coding required. Once installed, create, manage, and broadcast your events effortlessly.
Benefits of "Live Stream Shopping"
Live Stream Shopping is a new way of selling. It helps you deliver better product experiences and buyer engagement that online shopping lacks. It can give your store the boost needed for growth and wider reach amongst buyers. The perks of Live Stream Shopping that we are sharing below are not exhaustive, and there certainly are many more based on how you use it:
Improved conversion rates, session time, and buyer engagement
Increased repeat visits
Enhanced product experience and better customer mindshare
Gather real-time analytics during any event
Increased sales with accelerated purchase decisions
Higher net promoter score (NPS) and repeat customer rate
Lowered customer acquisition cost (CAC) and optimized advertising spends
Live streaming & real-time engagement are here! Are you ready to take advantage?
Live streaming and real-time buyer engagement are potential sources of innovation for businesses that will get you closer to your buyers and goals. Now you can leverage the power of Channelize.io and Shopify to build your brand and generate more revenue!
It's totally a win-win situation!
Install our application or visit our solution page to discover more.
Getting Started
Okay, so you now know about our Live Stream Shopping App and how it can boost your business. Now is the time to get started, all you have to do is follow a few basic steps as mentioned below and start selling LIVE.
Installation of the App
Creating an Event
Adding Event Basics
Choosing Products
Adding a Host
Managing your Event
Going Live from Broadcaster App

You can also refer to our Step by Step Tutorial to go Live on Shopify to learn everything in depth and start selling LIVE.