Why you need In-App Chat for your Dating and Matrimonial Business

---- 6

min read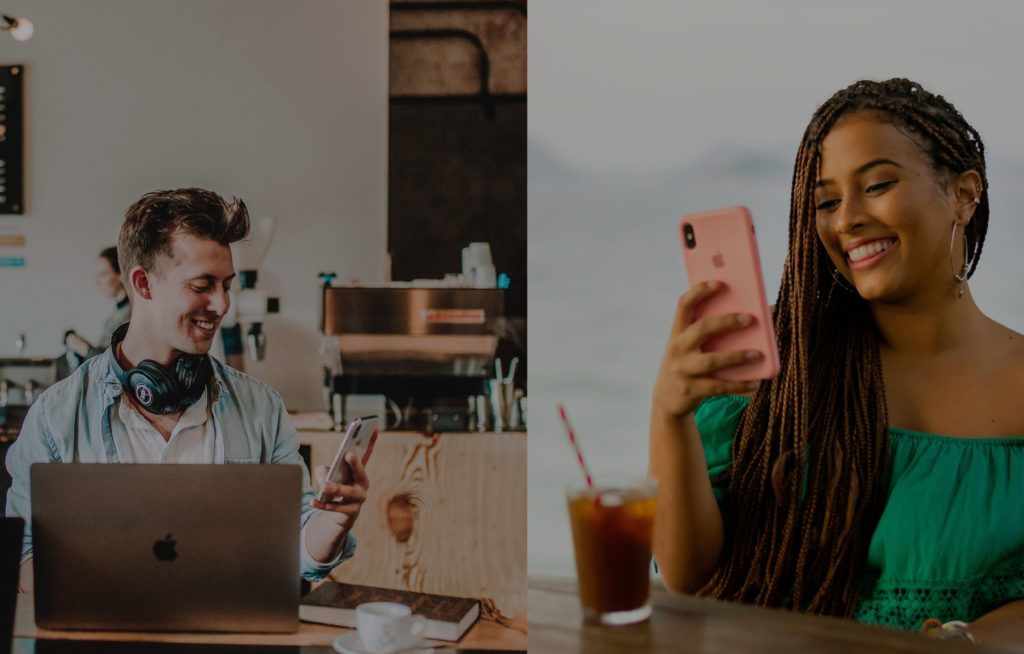 Back in 2013, Elena, a social media manager, broke up with her boyfriend. She was looking for something to distract her from the trauma. After a few weeks, a friend of hers suggested an app that would allow her to communicate with prospects. She said, "I'm going to try it!". "Chatting with someone without knowing anything about them and without sharing any details with them is a completely new experience", she quotes. The app was Tinder, which launched in the year 2012.
Many of the Online Matrimony and Dating Companies have already taken advantage of increasing smartphone usage around the world.
Bharat Matrimony is one such leading business in the Online Matrimony space. It allows users to create a profile and helps them in their Quest of Love. However, building profiles and sharing details cannot complete the full circle of matchmaking. Therefore, In 2016 Bharat Matrimony launched its real-time chatting application: '2gether'. It enables users to communicate privately with each other in real-time.
You might have felt overpowered by current market-dominant players like Tinder, eHarmony or Bumble while Building a Dating or Matrimony website or application of your own. "How am I going to compete with these market Giants?", "How can I stand out?". At some point, you too would have had such thoughts. But the business opportunities in the Online Dating and Matrimony spaces are immensely huge to accommodate plenty of players. Let's see how:
Facts and Figures that revolve around Online Dating Businesses
For the last decade, the Online Dating market has grown exponentially. In 2018, the estimated revenue of these applications and websites was approximately $1.763 billion and is expected to grow by 20% in 2020.

Source: Statista

On average, a person spends 30 minutes on Dating applications according to Bumble's in-house sociologist Dr. Jess Carbino.




The female presence on these Dating applications is 36.4%. 45% of these are still unsure of online Dating values. So, Dating apps that can provide more assuring features to such users have better chances of growth. In-App Chat is one such feature.


Source: Statista

As per the survey of eHarmony, 20% of committed and romantic relationships begin online. Considering a large number of people that spend time online and connect with others, there is a big potential for growth in this number.
The Takeaway – Dating, and Matrimony industries are growing at a fast pace. There is enough demand for Dating Apps, including those catering to Niches. The market pictures great opportunities for young entrepreneurs. You just need to figure out your specific audience and meet their requirements well.
According to a survey, 41% of 18 to 30 age users believe that online communication and texting are improving their relationship. In terms of 'business digitization', Conversational UX and Conversation Interfaces (Messaging and In-App Chat) are the most common words used.
In-App Chat for Dating apps/sites is a straight-forward requirement and helps enhance the experience of Dating for users.
Why you need In-App Chat for your Dating or Matrimony Business
The reason is simple! With the increase of smartphone usage and broadband availability, the human necessity of communication is served well with rich, real-time communication. To improve user experience, each Dating site is trying to provide such features to its users.
Check out the following reasons on why you need In-App Messaging:
1) To increase Engagement and Retention
I tried a Dating app myself in the year 2017. It was a new app and I wanted to try my luck there. I signed up with my account and was asked to provide some general details about me. After that, it was like any other Dating App where you can go through a number of prospects and like them if you are interested. And just after 3 days, I got my first match. Right after I opened the app, a pop-up came stating 'It's A Match' and then redirected me to her Instagram profile where we started our communication.
If you are going to redirect your consumers to different platforms, you will be losing a large amount of engagement. Further, many Consumer Messenger apps like WhatsApp, WeChat, Telegram, etc. have already set the interaction and features quality bar so high for users that they are bound to switch to these Feature-Rich Messenger Applications if your app is unable to provide such feature-rich communication.
With a Feature-Rich In-App Chat functionality, you can provide your users with a similar experience to the likes of those popular Messaging Apps, that too without losing out on users as users will not have to look for alternatives to get in touch with their potential better half! This way you can attract more engagement on your app, and also be able to achieve retention.
2) Privacy and Security
An important factor that led to the success of Popular Online Dating and Matrimony Apps, is the greater security surrounding them. Users get paranoid when asked to share personal contact details. What if the details get leaked or made public? This type of thought can lead to a lack of trust in your App.
However, after the integration of the In-App Chat feature, your users will not have to share their mobile numbers, email IDs, or any other personal contact information to initiate a conversation. Also, they won't be getting redirected to third-party platforms as their communications can be carried out over the application itself. With the APIs and SDKs of such in-app chat platforms, you can also control the conversation flows.
Furthermore, Privacy Controls like the visibility of presence indicators, blocking members, etc. keep your users carefree and promote effective communication.
3) Interactive Features
Real-Time Communication is nowadays a common feature and can be accessed through many vendors and service providers. However, the thing which attracts users the most is what you can offer other than simple real-time chat. Below is a list of some of the many features that are more than plain simple chat:
– Video/Voice Calling is one such crucial feature that allows users to create a more intimate environment. These features grant the users with high-quality face to face or on-call communication methods, that can make their interaction interesting, rather than just focusing on a static image.

– Audio Notes also play a major part in Dating and Matrimony. This is another feature that adds quality in real-time chatting. How a person speaks helps the users in determining their attractiveness and personality. Dating websites and applications can monetize themselves by allowing their users to communicate with small voice notes in real-time to develop a more personal and intimate relationship.
– Push Notifications: Dating Apps Users would like to be reminded every time their connection sends them a message. It facilitates anytime, anywhere connection that keeps the users hooked on your platform. Push Notifications fill the users with excitement, every time someone from the opposite gender wants to connect, or a prospect sends a message!
Other than the above, there are many more advanced features to make Communication Feature-Rich, like Creative Emojis, Delivery reports, Read Receipts, Stickers & GIFs, Image Sharing, Message Forwarding, Quote Messaging that make sure your users stay hooked on your website or application for a long time.
4) Monetization
– Role-Based Access Control (R-BAC) is one of many popular techniques of monetization which you can use in websites or apps. You can create divisions according to features offered into a Free or Premium account. Eg. while some features like real-time chat can be accessed by free users, other features like Audio/Video Calls can only be used by premium users. This way you will be able to earn by In-App Chat itself.
– Credit Feature is another characteristic that can turn your Chat integration potential for Monetization. It is a feature where you can deduct credits from users every time they access advanced features provided in the premium subscription. Integrating a chat platform with credit deduction features will help your website to create new engagement and retention creatively.
– In-App Advertisement provides a complete monetization technique for Online Dating and Matrimony businesses. You can allow advertisements in the free users' chat platform and compel them to purchase the ad-free premium version. However, the advertisement placement must be sophisticated as it must not interrupt the user's interaction.
Conclusion
Communication is the most important key factor in Dating and Matrimony business. Before building a Dating application, you need to determine your specific target audience, analyzing your competitors, security, chatting features, etc. Users are always attracted to a user-friendly and unique product. Moreover, wisely chosen monetization strategies can turn your business profitable soon.
The easiest, fastest and cheapest way of building Chat inside your website and application, is to use 3rd party provided Chat SDKs and Messaging APIs. There are many such User-to-User Communication enablers available in the market. Channelize.io is one such option that provides Chat API along with JavaScript Chat SDK for your website, and iOS & Android SDKs for your mobile applications for you to easily integrate Chat into your website and apps.
We offer a feature-rich and highly customizable product. It is also quick to integrate our product and easy to use. Check out Channelize.io Demos to know more, it is quick and simple to browse. Request access to our Demos now.