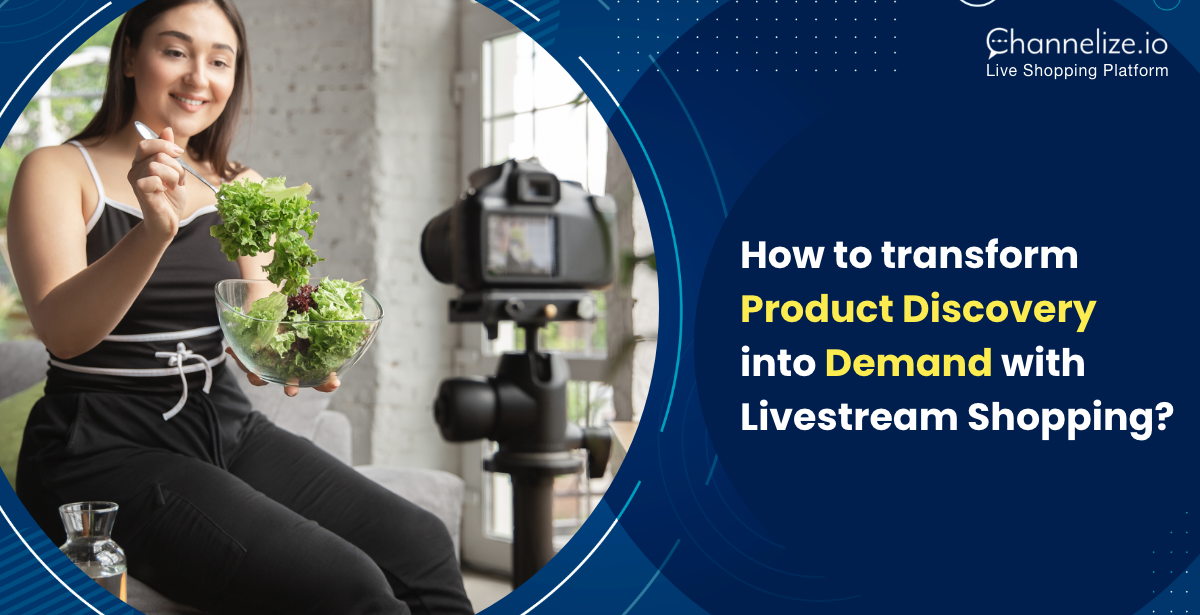 How to transform Product Discovery into Demand with Livestream Shopping

---- 6

min read

Understanding your consumers' purchase intents and presenting products that sync with their needs is what Product Discovery is all about. It is central to every component of a successful eCommerce experience and hence online brands and retailers need to get it right.

Product Discovery introduces buyers to your products. It determines the quality of overall Customer Experience (CX) and eventually leads to Sales.

The key to converting your audience is how well you show them their desired products or create a product need for them.

You simply need to find a way to elicit an emotional connection between a consumer and a product. You want a consumer to feel so inspired and confident that it's impossible for them to not purchase. Here is where Livestream Shopping comes in handy and involves much more than simply exposing shoppers to products. It eventually converts Product Discovery into Demand.

In this blog we'll decode how Live Video Shopping can help brands transform Product Discovery into Demand.
Product Launches – Introduce your Products to Buyers
Launching a new product can be exciting but also present quite a predicament. The same aspect that can bring you great success can also be an impediment. A newly launched product has to gain the trust of audience and create a need in the eyes of prospective customers. Hosting live shopping shows can be an effective demand creation strategy to launch your products.
Whether you're a fashion brand launching seasonal collections or a beauty brand launching new skincare ranges based on changing customer needs, live video shopping can help you showcase your products in an appealing, informative and captivating manner.
Effective Showcasing of products by Hosts
During live shopping shows, when a host showcases products in ways that customers see them with all their perfections and flaws, and understand all aspects of the products in real-time, the buyers are more likely to make informed and accelerated purchase decisions.
For example, a furniture retailer educating shoppers on their sofa collection, demonstrating fit/feel with different size models and highlighting differences in fabric and firmness.
Pro Tip: By using livestream shopping, you can easily market your live shopping shows to a larger audience and make product discovery happen at scale.
Facilitate better understanding of your Products
Making audience understand why they need a product creates a need for them leading to sales of your product. Via live shopping shows you can highlight your product's key features and USPs and demonstrate how it solves a buyer's pain point.
While addressing the pain points of audience you can also take a proactive approach to answer any questions buyers might have.
In addition to talking about problems your product addresses, you can also mention how it has resulted in good results for customers. By doing so, you will be able to better convey your products' benefits and create more demand for them. This can be one of the best ways to Transform product discovery into demand.
Tip: With Email & SMS Notifications of Channelize.io Live Shopping Platform, you can now Notify your Buyer Audiences well in advance about your Upcoming Live Shopping Shows, with subsequent reminders closer to the Go-Live date.
Elevate Product Experiences
Below are some ways brands across industries can Elevate Product Experiences to help consumers better understand products ultimately transforming Product Discovery into Demand.
If you are a Fashion, Jewelry or Accessories brand you can feature close-ups of your products. Show aspects like color, texture, shine and luster, etc.
Skincare brands can host live interviews of specialists like Dermatologists, Trichologists, etc.
Electronics, Accessories and Fashion Brands can showcase the condition of products. Specially relevant in case of used or preloved goods.
Hospitality (Hotels) and Real-estate retailers can make buyers experience the ambience of products.
Fitness brands can host Interviews with Physiotherapists.
A skincare brand can do unboxing and demonstration of a new range of skincare products.
An Automobile or Consumer Electronics brand can make buyers experience the sound, light, etc of the products.
If you are a Fitness Brand you can talk about equipment maintenance and demonstrate the durability of a product.
Read More: How Ecommerce Brands can provide Product Experiences that convert to Sales
Personalize Buyer Experience
When you nail personalization, you lay the foundation for a highly inspiring and exciting product discovery experience, one that makes your shoppers think, I have to have this – it's meant for me!
Live video shopping enables brands and retailers to offer direct engagement opportunities that allow shoppers to experience personalization. For instance,
A fashion retailer walking viewers through its latest summer collection while answering their questions about products in real time.
Host can reply verbally, or call out buyers' names.
You can also have a moderator reply to Chat messages via text from the Channelize.io Production Dashboard.
We have also rolled out the feature of "Real-time Products Update". Now if Buyers request your Host to talk about, or Demo a Product that you have originally not chosen to Promote in a Show, then you will be able to add that Product for Promotion in Real-time during a Live Show.
Offer a Seamless Live Buying Experience
When shoppers face roadblocks while looking for products and purchasing them via your online store, it's an instant missed opportunity to generate the demand for your products. Channelize.io Live Stream Shopping Platform offers seamless product discovery and shopping experience to customers via features like In-show Products Promotion, Product Spotlight, Add-to-Cart, Live Chat with Pinned Messages, Reactions for audiences, Mini Player, and more!
Read More: Top 5 Features to Maximize the effectiveness of your Live Shopping Shows to generate more Sales.
Further, our Platform makes it easy for any chosen host for a Shopping Show to Go Live. Hosts can easily Go Live using our iOS and Android Host Apps, and Shopping Shows can also be streamed using external cameras and professional videography setups via Live Streaming Softwares like OBS, vMix, Ecamm, etc. Also by leveraging our platform you can get started with Live Stream Shopping on your Ecommerce Platform within just 10 mins. Isn't that quick and easy?
Apply Promotions and Sales Strategies
After you have provided an amazing product discovery experience to your shoppers, you can use promotions and sales strategies as a tool to further generate demand and the best way to do so is via livestream shopping. Promotions and Sales Strategies like running discounts, flash sales, deals, giveaways, and limited-time offers can be cherry-on-the-cake to boost your sales. These can keep your customers engaged and entertained, and hence they are more likely to invest in your products leading to increased sales. This is one of the best ways to Transform product discovery into demand.
Read More: 10 Content Strategies to make Live Streaming successful for Commerce
Time to Transform Product Discovery into Demand with Channelize.io
When your product discovery experience is not up to snuff, your customers are going to leave your products for your competitors, without ever experiencing what your brand has to offer. By contrast, when you get it right, you're creating a value-based customer experience worth coming back for from the very first moment.
Product discovery done right via Channelize.io Live Stream Shopping Platform connects shoppers to products they want to buy while making them feel understood, and this builds confidence in your brand leading to demand for your products. Apart from this it can also help:

Increase customer engagement and retention
Encourage spontaneous purchases and boost average order value
Leverage better insights as you get to know your customers on a deeper level
Refer to our Success Stories and see how 800 + brands are truly delivering competitive shopping journeys via Channelize.io Live Stream Shopping Platform. You can also BOOK a FREE DEMO with us and know more about our Platform.
Happy Selling !