How to sell LIVE on Shopify – A step by step tutorial!

---- 7

min read

Customers' ever-increasing demand for improved product experiences, authenticity, and convenient shopping gave rise to Live Commerce. Now that live commerce is here and is predicted to be a mainstay in the future, Channelize.io has come up with an easy-to-install Live Stream Shopping App for Shopify. This offers thousands of Direct-to-Consumer (D2C) Stores on Shopify an opportunity to leverage the power of Live Stream Shopping, Real-time Engagement, and Sell Live on Shopify. By leveraging our Live Shopping app, Shopify Merchants of all sizes can get started with live streaming without reinventing the wheel and stand out from the crowd.
What's more?
You can Install our Live Shopping App for Free and Upgrade as you Scale-up!
In this Shopify step-by-step tutorial, we've put together all the steps on how to sell live on Shopify by leveraging our Live Stream Shopping App.
Components of Live Shop
Your Live Shop will comprise of 3 components:

Shopify App: Provides the interface for buyers on your store.
Admin Dashboard: Enables your Store Admin to manage the Live Shop integrated within your Shopify Store and create and manage Live Shopping Shows.
Host App: Enables the Host / Influencer / KOL / Brand Employee / Anyone you choose as Host for each show to go live and run that live shopping show.
Read More: How Brands can choose anyone to Host Live Shopping Shows – Influencers, KOLs, Employees.
Custom RTMP via Live Streaming Software: Live Shopping Shows can also be streamed using external cameras and professional videography setups via Live Streaming Software like OBS, vMix, Ecamm, etc.
Read More: Launching Custom RTMP Support for Live Stream Shopping.
---
Installation of the App
The answer to how to go live on Shopify starts with the installation of the Live Stream Shopping app from the Shopify app store by following these basic steps:
1. Download the Shopify Plugin from HERE.
2. Install the application, select the plan you'd like to go with, and complete the checkout process. You can choose our free plan too and start streaming to your buyers for free.
3. Once this is done, login/signup to the Channelize.io Shopify Live Selling Dashboard, and voila, you will be redirected to your Dashboard. That's it!
---
Understanding the Dashboard
After installation, the next step is to understand the dashboard, what all it has for you, and how you can create engaging shopping shows through it for your buyers. Your Dashboard has many features like Creating an Event, Adding a host, Adding and Promoting Products, Event Analytics, etc.
Let's see what these are and how you can work with them.
Creating an Event
Be it giving buyers a sneak peek of your latest products, a behind-the-scenes look at how you run your business, or hosting a fashion show or product demonstration, our live selling app can be leveraged to create live shopping shows for various goals.
Events can be easily created through the Dashboard just by following the steps mentioned below. These events are editable and you will learn more about them as we proceed further.
1. Click on the "Create Event" button in the header.
Adding Event Basics
Fill in the basic details such as Title, Description, Start & End schedule for your Event, Promo Video Link, etc. Additionally, you can include a Promotional banner image for your Event (hover on the "i" icon of each field to know details).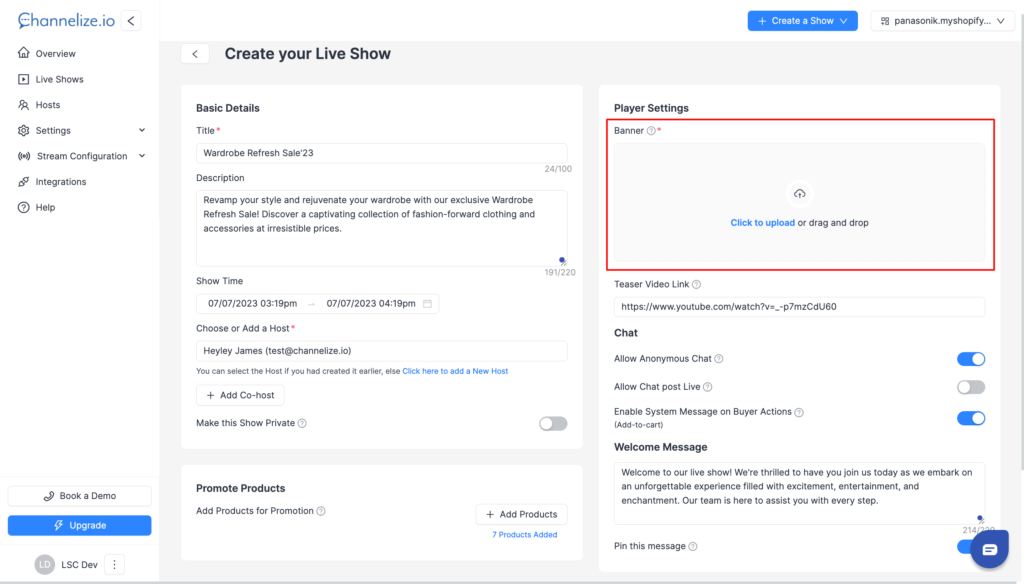 Choosing Products
As all your Store's products are automatically synced with the dashboard, you can choose your desired products to be promoted and sold during Live Shopping Shows.
Adding a Host
Every live shopping show would have a "Host" associated with it who will start the Live Stream from the iOS or Android Host App. A host can be anyone from your staff, an employee, or a brand advocate. You can also invite influencers or KOL to host your show. They will just need the Host App to host your live shopping shows.
So at last, you can select a Host for your Event using the auto-suggest field by starting to type in it. In case you want to add a new Host, click on the "Add a Host" link below this field.
The people you choose as Hosts for your shopping shows will also get an email from us explaining how they can Go Live.
As soon as you click on the "Publish Event" button, your Event will be successfully created and published for everyone to view. You also have the option to just Save the event for editing and publishing later.
Managing your Event
1. Once you create a live online selling event, it will be listed on the "Events" page of your Dashboard.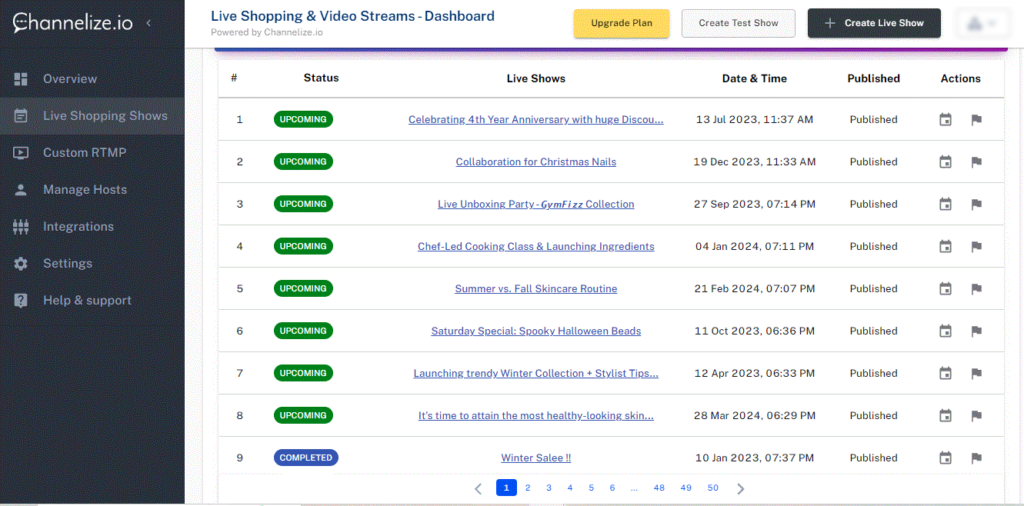 2. Events Page will also have a list of all your events that are upcoming and completed. It will also tell you in the "Status" column which events are Live right now.
3. For the recently created live stream selling event, you can view the details by navigating to "Jump to Event Page" under "Actions".
---
Going Live from the Host App
The hosts can easily Go Live using the iOS and Android Host App by following these simple steps:
Just make sure that you and the Event Host have downloaded the live streaming selling app on their Mobile devices and become familiar with it.
1. Login into the App by entering Your Store URL and Public Key (get from the Dashboard). You can share these with your Host, although these will also be emailed to them.

2. Enter the Host's email and password. This is the same as you would have set while "Adding a new Host".
3. Once Logged in, the Host can see only those upcoming Events for which they are chosen as host.
4. The Host can start a live stream by clicking on the "Go Live" button. This button will only be available during the Event time using the live streaming selling app.
5. The Host can allow camera + mic permissions and click to Go Live. They will also see a "Live" label on top once they start streaming.
The Host App also allows the Host to easily:
See all the products they are supposed to promote in the show
Chat with audiences
Apply beautification filters
See the count of live audiences, and the reactions they are posting
We are adding more capabilities in the Host App for effective and engaging selling.
---
Ready to adopt the Modern way to Sell LIVE on Shopify?
Channelize.io live video selling offers Shopify merchants one of the simplest and effective ways to sell live on Shopify. Whether you're a Large Brand or just launching your online store, you'll be able to use our app to go live and start selling effortlessly.
We hope that this quick Shopify live shopping tutorial has helped you get a good overview of how you can start selling via Live Stream Shopping and connect remotely with buyers in a personalized, engaging and fun way. If you have any further questions or feedback, we are happy to help. Please contact our team at info@channelize.io or book a free DEMO to get started.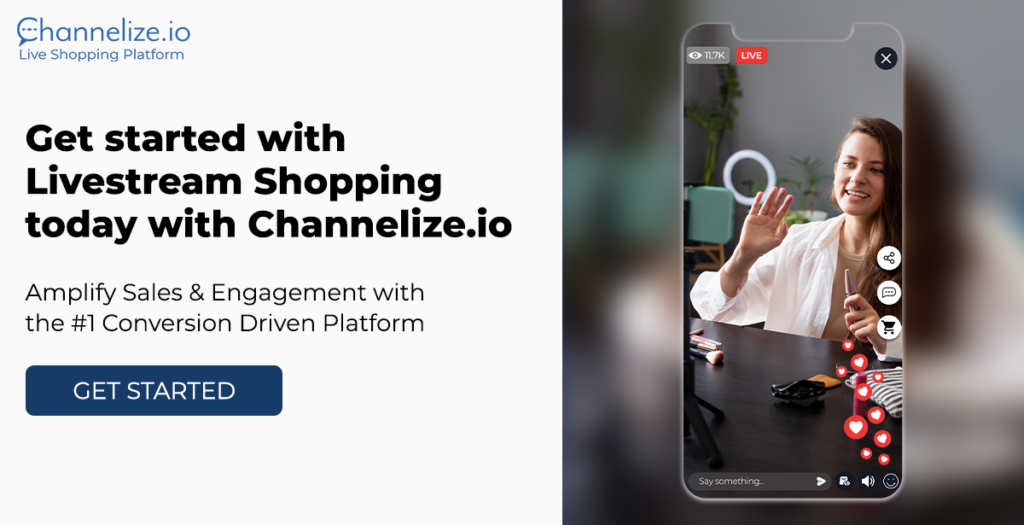 And we wish you the best of luck on your live selling journey!