How Fashion Brand OXGN stands out in the Live Shopping Space

---- 2

min read

As retail undergoes its biggest transformation in modern times, Live Streaming Ecommerce is regarded as an important facilitator. In the world's second-largest ecommerce market, the US, the live streaming ecommerce market is still in its infancy yet Coresight projects it to hit $25 billion by 2023. Due to the immense benefits of Live Video Shopping, brands around the world are taking advantage of it and maximizing Sales. Let's decode in this success story, how Fashion Brand OXGN stands out in the Livestream Shopping Space with Channelize.io.
The Objective
Based out of the Philippines, OXGN is Inspired by street fashion and youth culture. The brand aims to make streetwear accessible to everyone without breaking the bank. The brand stays on top of trends and creates clothing that embraces authentic individual expression. This makes it a favorite among streetwear enthusiasts.
While selling its products online, OXGN realized how important it was to understand buyers' needs and tell product stories that resonate with buyers.
As a result of this, OXGN approached Channelize.io to nurture buyer relationships while keeping storytelling as the core of their sales strategy.
Read More: Live Streaming Commerce, an effective Marketing Strategy for Ecommerce.
The Solution
In just a few weeks, Channelize.io Team helped onboard OXGN and the brand was able to go live with their first show quickly using a simple and inexpensive setup.
Typically, the brand goes live with multiple hosts with on-hand knowledge of their products.
By effectively leveraging the features of our Platform, the brand always hosts inspiring TV-programme format live video shopping shows, wherein the brand effectively showcases its clothing line. During a show, hosts also focus on different themes and the hottest trends in the Fashion Industry.
Read More: How Brands can choose anyone to Host Live Shopping Shows – Influencers, KOLs, Employees.
By leveraging the power of storytelling via our Platform, the brand OXGN has been able to portray authenticity and interactivity, and sell their products.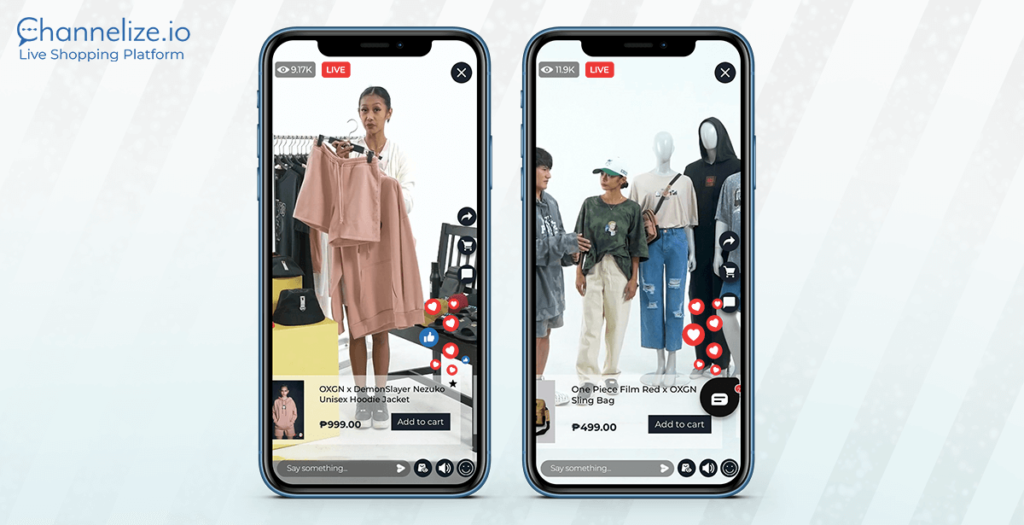 The Result
OXGN immediately received an overwhelmingly positive response from their community. In addition to being able to depend on the brand for their daily hair care and wellness routines, customers also appreciated the unique relationship they were able to create with the brand via Live Streaming Ecommerce.
All this led to a boost in Sales, Customer Engagement and Retention, and Brand Loyalty. This is how OXGN stands out in the Livestream Shopping Space with Channelize.io.
To learn more, just request a FREE DEMO from the Channelize.io Team. Rest assured that our experts will curate the ideal marketing and promotion strategy for you with Live Video Shopping.
Disclaimer: The Brand name OXGN and the brand logo are properties of oxgnfashion.com.