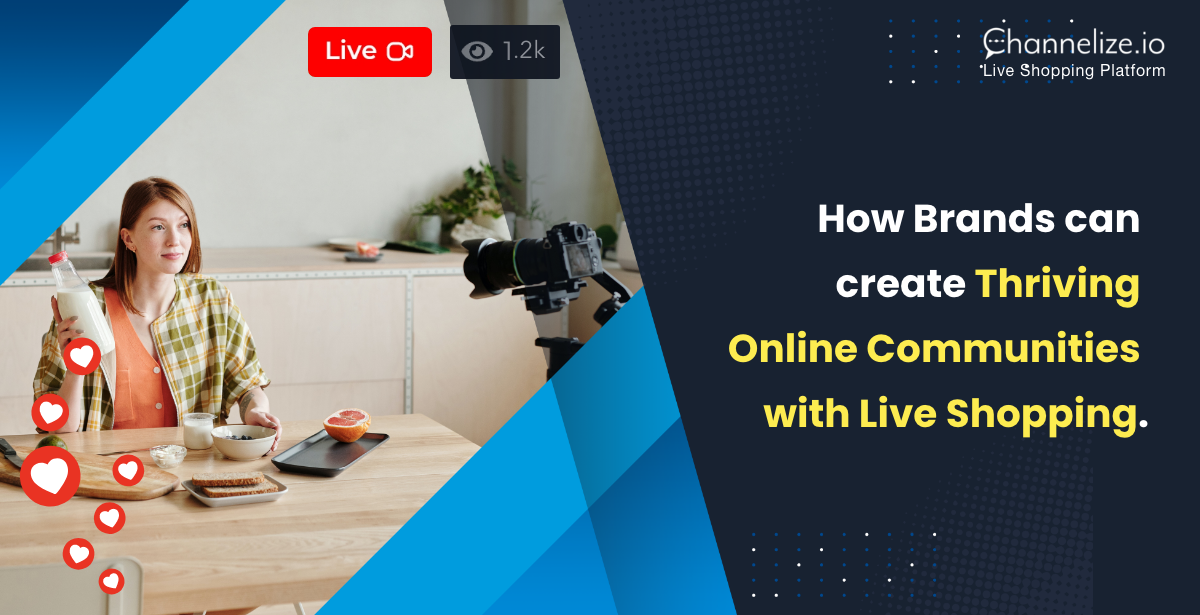 How Brands can create Thriving Online Communities with Live Shopping

---- 4

min read

With Live Shopping picking up speed in the world of the retail industry, there is no denying that the exclusivity of Real-time, Live Shopping Experiences excites Shoppers and drives them to make purchases. Live Stream Shopping is regarded as a total transformation of the retail industry, led by a new generation of brands and a new way of selling, through Live Shopping Influencers, Brand Employees, and Hosts. But how can we build Thriving Online Communities with Live Shopping?

First, let's see why building a community around your brand matters:

Building Community gives your customers a space to feel seen and heard by your brand in a unique way. This is a sure-shot way of ensuring a Loyal Customer Base that not only Fuels Brand Growth but also makes Repeat Purchases and talks to others about it. A loyal following of your brand can help you make customer-driven decisions and improve overall growth. Also Building Communities helps brands Upsell to existing clients rather than getting new clients. Thus it gets important to build a strong online community that thrives. 
Building Thriving Online Communities with Live Shopping
Let's decode how Live Video Shopping can help you build Thriving Online Communities.
Brings all your Buyers at one Place

While some of your customers will read your newsletters, others will follow you on social media. With live shopping, you can bring them all together at one place. Hence during a live shopping show, your website or online store can be the get-together place for your online community. Furthermore, during a live shopping show, your customers are there with others who validate their tastes and give them a sense of belongingness.
Additionally, regularly hosting live shopping shows for your community and choosing the right host to create engaging content, announce giveaways and live contests and host interviews is a way to encourage your community to stick to your brand.
Targeting Specific Demographics
Live stream shopping can also be leveraged to target specific demography. In the fashion industry, brands are creating plus-sized clothing to target specific demographics, and hosting shopping shows can be a powerful way to build a community-specific to that demography.
Live stream shopping helps brands connect with targeted demographics much faster, ensuring they offer the right experience to a particular group of interested consumers. Customers who feel like brands are connecting with them at an empathetic level will be more prone to remain attached to a brand while forming a powerful online community.
Read More: Live Streaming Commerce, an effective Marketing Strategy for Ecommerce.
Engagement and Interactivity
By making products available for purchase during a live shopping show you encourage customers to ask product-related questions and queries and give you feedback. This makes customers feel like they are being listened to. This makes live stream shopping a two-way conversation that encourages shoppers to not only buy but also participate in live shopping shows. By provoking consumers by asking for their feedback you make them feel like part of your community.
Additionally, brands can also give viewers a "sneak peek" into what's coming, launch new collections, host live product unboxing and offer complimentary content and keep their community-engaged for life, and create a stable sales channel.
Responding to Chat, using sales tactics like sharing Coupon Codes and Pinning them, Spotlighting Products, etc are some of the other ways to make your live shopping shows interactive.
In live-streamed shows about your products, you can also talk about aspects of your products that otherwise are not indicated well via textual and image descriptions, and this brings buyers closer to your products and brand. The sense of belongingness that buyers get for your brand goes a long way in ensuring sustenance for your brand. Hence engagement is another aspect of live shopping that fosters community building.
Authenticity
Buyers love brands that are authentic!
Live shopping is a concept based on live video, which provides your consumers with the authenticity they are looking for. Selling live shows that you value open communication and you are authentic. During a live shopping show, buyers can see products in real-time and be reassured of the authenticity and quality of products they want to purchase. This authenticity is what customers crave and encourages them to be part of your community.
Read More: How Ecommerce Brands can provide Product Experiences that convert to Sales.
Storytelling
Storytelling is an effective way to create thriving online communities and live stream shopping is the best way to achieve so. Storytelling wins the attention of your customers, encouraging them to stay hooked to your content and remain loyal buyers of your products.
Telling brand stories is all about telling your company history, your philosophy, your values, telling your products stories, their benefits, and sharing customer testimonials.
On the Whole,
Online consumers are craving communities now more than ever. For brands, this means that community is critical to success. However, forming a community requires much more than simply gathering people together in the same place or accumulating a certain number of users on an app or site. Live Commerce as a community-building tool can help brands give customers value at every stage of their journey and ensure a loyal customer base.
Furthermore, Live Commerce gives online communities an opportunity to leverage their own online stores and monetize them.
Channelize.io Live Shopping Platform helps Brands to reap the benefits of Live Shopping. It differentiates itself from other platforms because it makes it very simple for merchants to engage with their customers in real-time, sell live, and understand the performance of their live shopping shows while creating thriving online communities.
We also offer Pre-built Integrations for Shopify, WooCommerce, Magento and Wix. So irrespective of the platform you are on you can leverage our platform and create thriving online communities for your customers, leverage your own store to monetize while increasing overall conversion rates.
Book a DEMO with us or contact us at info@channelize.io to start your live selling journey.