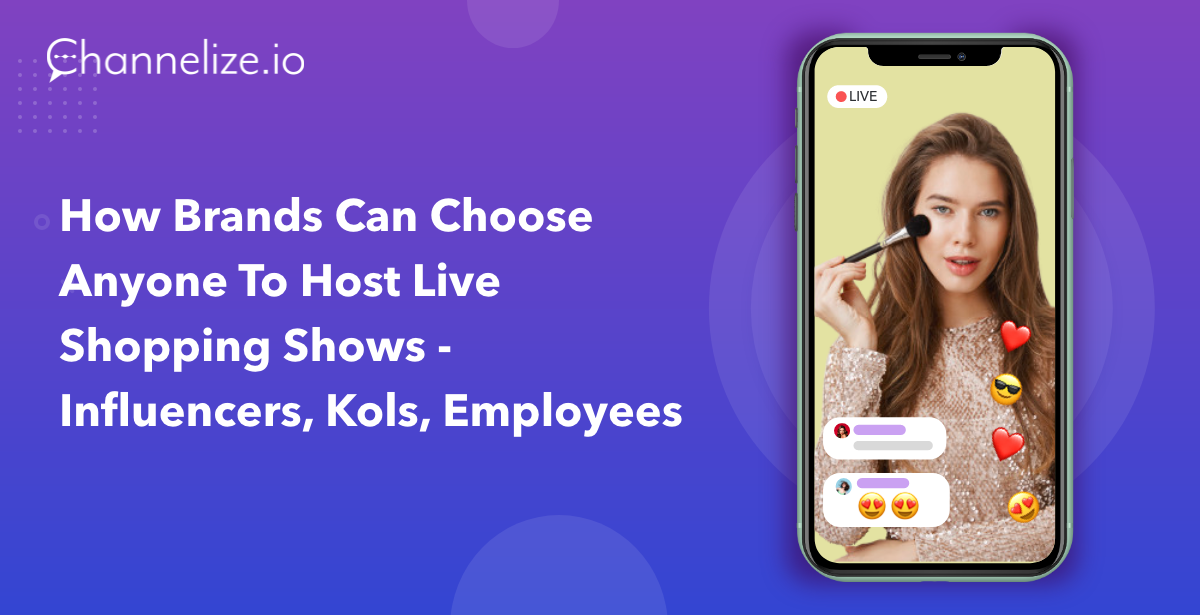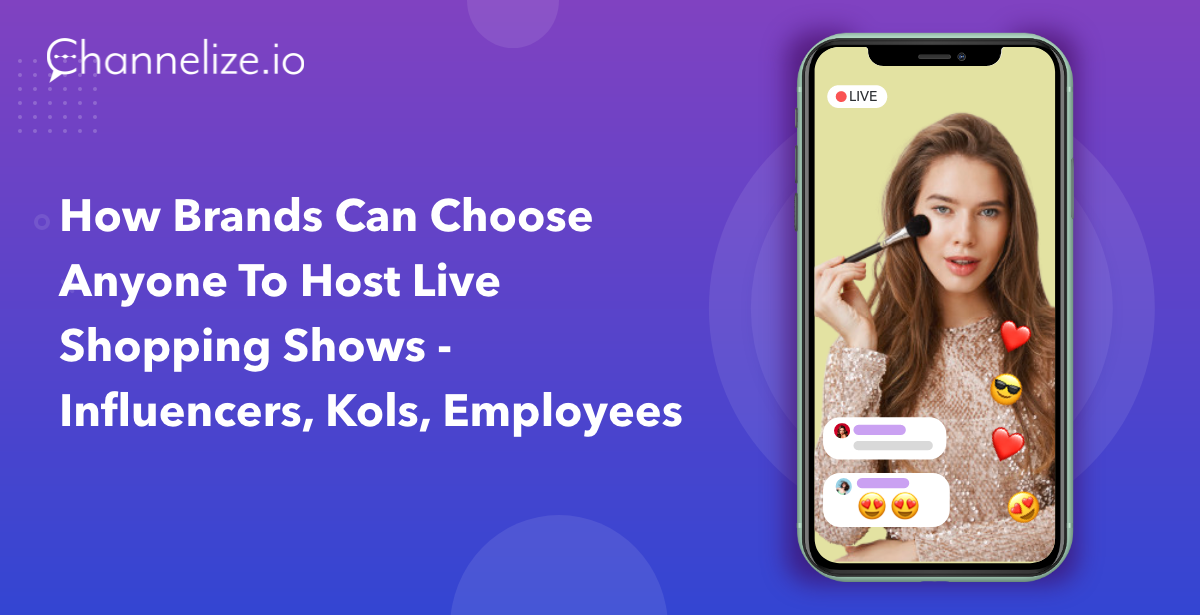 How Brands can choose anyone to Host Live Shopping Shows – Influencers, KOLs, Employees

---- 5

min read

Live Shopping is one of the most impactful ways to connect with your shoppers in a transparent, raw, authentic, and engaging manner. Hosting a Live Shopping show reflects the human side of your business, eventually leading to higher sales. This is why Live Shopping in the USA is gaining so much popularity. Live Shopping in USA gives ecommerce merchants an edge over others to reach thousands of new customers with just the click of a button. This increases their brand exposure and providing a diversity of revenue generation. In this blog let us see how brands can choose anyone to host live shopping shows.

This Live Video Shopping experience can be added to e-commerce platforms like Shopify, Magento, WooCommerce, Prestashop, and Wix, and Custom Web & Mobile Apps (with our API, SDKs & UI Kits). This directly converts these applications into Live Shopping Apps instantly.

Let us see how effortless it is for brands to choose anyone to easily host a Live Shopping Show by leveraging our Live Stream Shopping App: an influencer, celebrity, key-opinion-leader (KOL), industry expert, store owner, brand-employee, or any influential personality who can speak well about their products.

By leveraging the robust components of our Live Shopping Platform, store owners can create, run and manage Live Shopping Shows efficiently. In addition to the components for buyer interfaces (API, SDKs & UI Kits), our platform comprises a Production Dashboard for Store Admins and Host Apps for Hosts. Thus, the roles and responsibilities of a store admin and a host are completely demarcated.

Anyone can use these Live Shopping Apps to conduct live shows without extensive technical knowledge. Also, because of this segregation in responsibilities, brands can have full control over their live shopping shows. Also, they can leverage the benefits of Influencer Marketing and Selling anytime and from anywhere.
How can brands leverage Production Dashboard to create and manage Live Shopping Shows?
1. Store owners can create live shopping shows and assign the same to a host.
Here a host can be anyone, a livestreaming influencer, celebrity, KOL, industry expert, store owner, employee, or any influential personality who can speak well about their products.
Refer to our step-by-step tutorial to know how to get started with live shopping by leveraging the Live Stream Shopping app
2. With the Host Management feature, admins can manage their hosts from the Production Dashboard itself by accessing the common host listing page.
This gives admins the opportunity to view all the created hosts at once, edit their details (changing name, email ID & resetting password), add new hosts, and much more
3. Admin, having access to the dashboard, can have full control over shopping shows. Event properties like Title and Description, Promotional Banner and Video, Date and Time, etc can be configured easily
4. Admin can gather real-time analytics during any show. Check and analyze Engagement KPIs (Total Comments, Total Reactions) and Performance KPIs (Show Duration, Peak Time, Peak Viewers, Total Unique Viewers) of each shopping show. Store admins can track engagement for live as well as recorded shows. Additionally, the graphical representation of analytics allows admins to interpret data quickly, find better insights, and reap the benefits of analytics
Features of the Production Dashboard
Simulcasting: Helps multi-stream Shopping Shows on Social Media Channels like FB, YT, IG, etc.
Custom RTMP Support: Helps you Go Live with Pre-recorded Shows with OBS, etc.
Product Spotlight: Helps Spotlight Products during a live shopping show to attract buyers' attention to them and drive conversions
Other important features are In-show Products Promotion, Add-to-Cart, Live Chat with Pinned Messages, Shopping Show Analytics, Multi-host Selling, Multilingual interface, Embed Shopping Shows, New Buyers' Interface, Live Chat moderation, and Real-time Products Update, etc.
How Hosts can leverage the Host App to host live shopping shows?
1. Every Live shopping show created through the dashboard has a show "Host" associated with it. After entering the Login credentials, Store URL, and Public Key from the app landing page, a host can go LIVE by clicking on the "Go Live" button from the iOS or Android Host App
2. All the login details will be shared with a host via Email
3. The host can engage with buyers in real-time and build relationships with high touchpoint interaction
4. The host app is an effective live selling tool and enables HD video streaming with low latency
5. This method of collaboration is extremely effective because it provides customers with social proof of activities which makes a brand credible
Segregation of our live shop's components eliminates platform dependency as a host can host a show well irrespective of geographical barriers
Features of the Host App
Preview mode
See all the products to promote in the show
Product Spotlight feature
View and respond to chat messages of the audience
Apply beautification filters
See the count of live audiences
See the reactions audiences are posting
Flip camera to show products that might be laid on store shelves
Co-host (multihost) feature

Read More: How to sell on Livestream with Multiple Hosts using Channelize.io.
Custom RTMP via Live Streaming Softwares
Live Shopping Shows can also be streamed using external cameras and professional videography setups via Live Streaming Softwares like OBS, vMix, Ecamm, etc.
Read More: Launching Custom RTMP Support for Live Stream Shopping.
This is how brands can choose anyone to host live shopping shows and generate revenue.
Wrapping Up
Channelize.io Live Shopping Platform is an efficient way to add live shopping to your online store and provide your buyers with a differentiated shopping experience from the comfort of their homes. The best part of our Livestream plugin is the segregation of the production dashboard and the host app.
Because of this segregation brands can choose anyone to easily host their live stream shows while they have full control over them. Additionally, for hosts, this eliminates platform dependency and location restrictions. The perks are enhanced given how brands can even allow Live Streaming Influencers to host shows.
This makes the whole process of hosting a live shopping show lot easier and effortless for brands as well as for hosts, eventually leading to the following
Execute more shopping shows with Livestreaming Influencers
Allowing Live Shopping Influencers, employees, admins, etc. to conduct Live Shopping Shows
Increased repeat visits and buyer engagement
Enhanced product experience and better customer mindshare
Increased sales with accelerated purchase decisions
Higher net promoter score (NPS) amongst target customers
Lowered customer acquisition cost (CAC) and optimized advertising spends
You can Book a FREE DEMO with us to get started.