Build vs Buy: Get In-App Communication with Highest ROI using Channelize.io Chat API and SDKs

---- 4

min read

If you've reached here, you most likely agree how In-App Chat can have a big impact on your business with increased user engagement, increased retention, better customer satisfaction, providing new avenues for monetization and helping your business achieve new possibilities.

Now the next question that comes is: How should you get In-App Communication features in your Website and Apps?

Should you get them built by your own / hired development team, or is there a smarter and more efficient way?

Let's say you go by the first option: Build In-App Chat for your Website and Apps.

This is what the development journey would be like:
You get a team that looks at-least like: 1 Project Manager, 1 Backend Dev, 1 Web Frontend Dev, 1 iOS Dev, 1 Android Dev, 1 Designer, 1 QA Engineer, 1 Cloud Engineer. The approximate monthly cost of such a team: US $ 20,000.

In 4 months, this team would get back to you with first versions of a Chat / Messaging system for Web, iOS & Android. There is a high probability that you will find many important features missing from these, and the user experience will be sub-par.

This team will now get into a cycle of Build – Iterate – Review for the next 3 to 4 months, and you will have something respectable to release in a total time of about 8 months.

So, the total financial cost of development would be

at-least

: US $ 106,000, and the time invested would be around 8 months.
What if you did not spend money, and opportunity cost in "Re-inventing the Wheel", and instead used a product like Channelize.io that provides robust, feature-rich Messaging API and Chat SDKs?
You would have required a smaller development team, with much lesser efforts to roll-out integration with Channelize.io for In-App Chat. Approximate launch time of 1 to 2 weeks, and integration cost of roughly US $3000.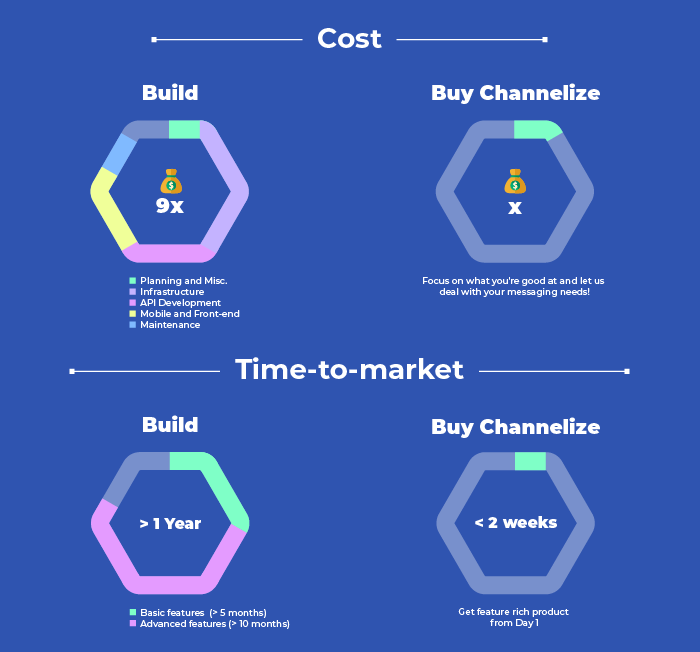 So, here's why it makes perfect business sense to Buy, and not Build In-app Communication:
Low Cost & Effective Utilization of Resources
Focus your development cost, efforts and team on technology challenges that are core to your business, and cannot be rented out. Using Channelize.io ensures that you do not have to invest in expensive development processes.
Businesses that seek to implement an in-app messaging system must first assess the costs of building such a system on their own. Additional constraints may appear in the form of limitations of the in-house design & development team, unknown challenges, high cost, the need to plan future resources, etc. Besides, security continues to be a primary challenge in the development of an in-app messaging system. And this question is hard to ignore while planning to use In-App Messaging, that when You get Low cost of Innovation – Why not use it?
Channelize.io provides the peace of mind that allows business operators to develop and diversify their core services, thereby making money from their business activities. It makes it easy to make decisions that benefit your product and business.
Leverage power of existing software
Why to build something from scratch when something is already ready-made for you so you can do what you're best in.
Consumer Messaging Apps like Facebook Messenger, WhatsApp, WeChat have set the bar high for messaging experiences. Building your own messaging apps will require considerable investment to match customer expectations. Channelize.io meets such high standards well.
Further to the above, observers in the modern tech industry note the decision to build a scalable, globally meshed; low-latency in-app messaging service faces a graded tier of challenges. These include ensuring service levels guarantees and performance guarantees – both of which can challenge and strain the resources and technical ability of a single organization.
Advanced features like Security, Privacy, Scalability, Moderation, Data Integrity, etc are also pre-built into Channelize.io. So, you don't need to worry about these essentials, or plan their development. All future innovations and developments in the platform are also available to you.
Faster & Cheaper to get to Market
There is a famous saying – Either go fast and grab OR go slow and loose. And what's better when the faster option is cheaper as well?
You'll invest only a fraction of money (if using Channelize.io) that you'd have otherwise spent on hiring many developers, UI designers, testers, etc. The decision is easy, to implement Channelize.io In-App Communication for your business, especially when you get visible ROI so fast. Moreover, we work on a monthly recurring basis, so allow us to run your In-App Communication, and see the amazing results it brings!
Hit the ground running with a faster time to market. Launch in-app communication when you need it, and don't wait for it to be developed! Most importantly, you will save the Opportunity Cost of not growing the core business.
You get what you see
Channelize.io has demos available for its product, so you can experience the product before buying it.
Hope we have been able to tell the clear benefits of Buying over Building. Channelize.io is a CPaaS (Communications Platform as a Service) Solution that will meet your User-to-User In-App Communication needs well.
So, go ahead and Buy or Rent an In-App Chat Solution that is easy to integrate into your Website and Apps.
If you need any assistance in planning and building conversational features and in-app communication in your website and apps, then please contact us.