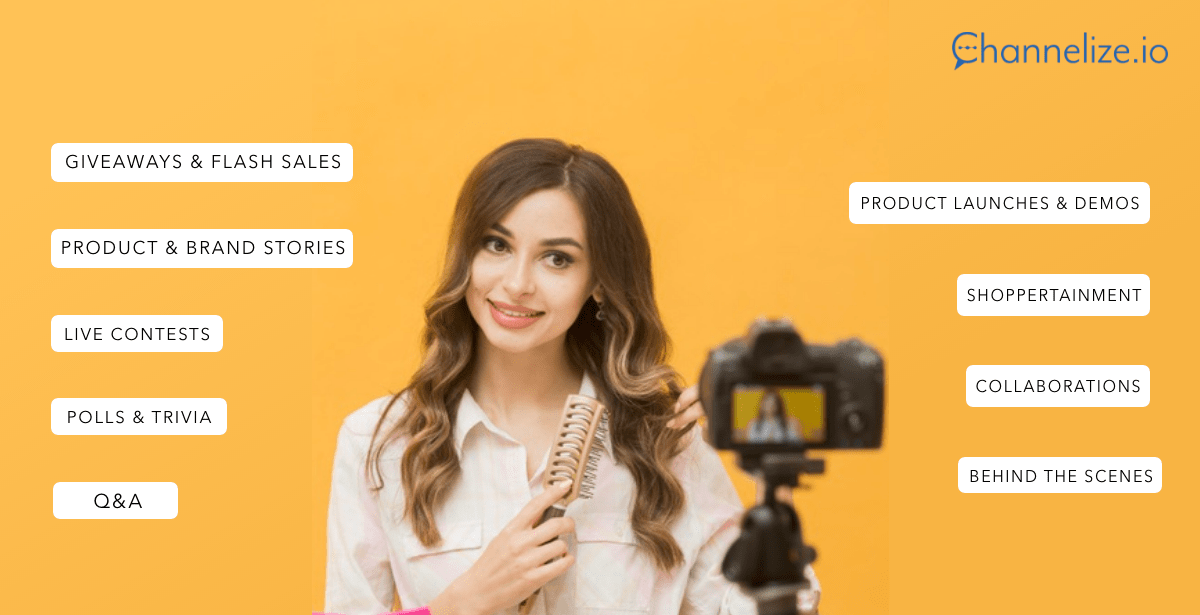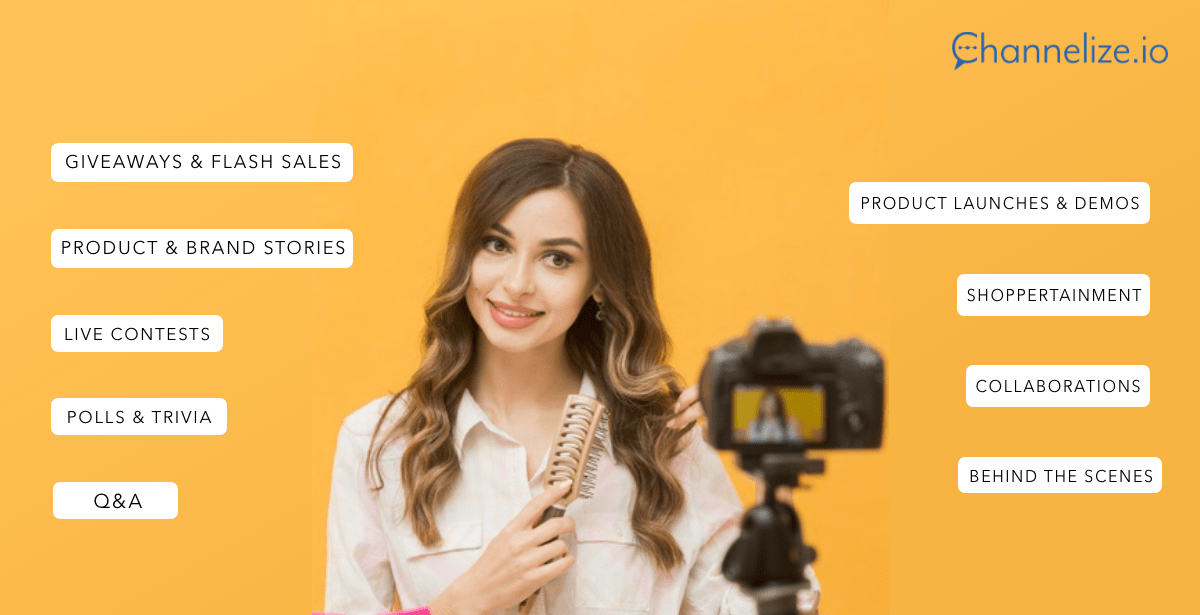 Content Strategies to make Live Shopping successful for Commerce!

---- 8

min read

When done well, live shopping shows have the potential to break down communication barriers between buyers and your brand which ultimately generates sales. Hence we can say that if leveraged correctly Live Video Shopping can be an effective sales enabler.

Moreover, today it is becoming increasingly significant for businesses to show they're authentic and human, and Livestream Shopping will help overcome the shortcomings of traditional online shopping, grow your audience, build brand affinity and ultimately stay ahead in the game. But hold on a second, this doesn't mean you should live stream everything and anything. Hence it gets important to know how to create the most enjoyable and valuable live shopping experience that can lead you to success.

Furthermore, live shopping allows you to leverage one or more below-mentioned strategies that will educate, entertain, and engage your audience all at the same time. Be it taking viewers behind the scenes and inviting an influencer to collaborate for the same or demonstrating a product while offering a limited-time discount and hosting a Q&A session, brands can leverage and combine many such strategies. This will increase viewers' enjoyment of your live stream and will ultimately help you to keep customers you already have as well as gain new ones. Here are the 10 Content Strategies to make live shopping successful for Commerce.
Content Strategies to make Live Shopping successful for Commerce:
By giving your viewers a "sneak peek" into what's coming, you are generating demand before your product is even on the shelves. This can also include live unboxing videos before conducting livestream sales. Live unboxing of products is always interesting because it gives a first-hand look at the product and thus generates curiosity for a product which can increase sales.
You can also live stream the launch of a new product and take early bookings during the live show itself. Additionally, you can also offer deals and discounts on pre-booking to generate a sense of urgency.
You can share industry-related updates, company announcements, and news with your audience in real time using our custom live commerce platform. This will make you their go-to resource, which will help you build a trusted customer base and establish credibility for your brand.

PRO-TIP: You can promote your product launch show on your website or store's homepage to attract more audiences. Here's a reference.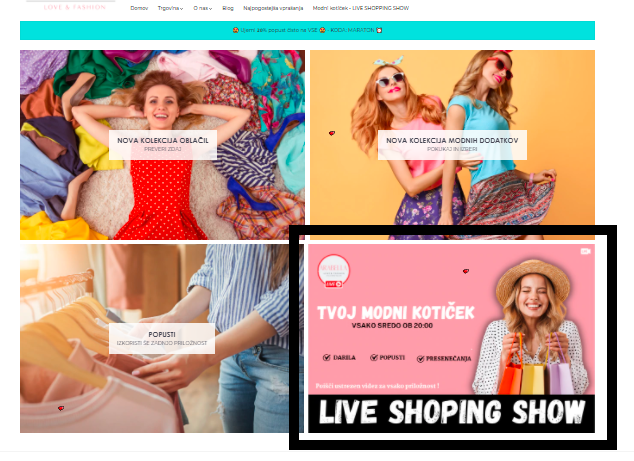 Read More: The Ultimate Guide to Live Shopping Show Moderation.
Product Demonstrations
Conducting product demonstrations in real-time offers customers an insight into the usage and functioning of a product which helps them better understand a product. Additionally, product demonstrations are useful in the consideration stage of buyers' journey as these can convince them that a product is designed to meet their needs.
A host can also showcase customers multiple product variants and options and answer their concerns about product colour, size, fit and usage, etc in real-time which can fully satisfy and delight them.
Here's how one of our clients is showcasing product applications in real time:

Product & Brand Stories
Besides product launches and demonstrations, what live streaming retail does the best is that it allows viewers to participate in product or brand storytelling in ways that enrich customer experiences and triggers emotions in them. Telling your brand story is not just about your company history, your philosophy, and your values it's also about telling your products stories, their benefits, and sharing customer testimonials.
With this connection, audiences feel eager to find out more about your brand and products.
Furthermore, sharing customer testimonials via your stream shows viewers why you are the best choice for them which eventually boosts your credibility.
Entertainment
One of the initial goals of using live shopping should be to bring more fun and entertainment and spice things up for viewers because it's not solely the gameplay they come to see they look for entertainment and fun too. Live stream e-commerce is an intriguing solution that merges shopping with entertainment and urges viewers, especially the youth to watch, shop, and stay.
Offering incentives, such as prize draws, special promo codes, or a countdown, talking to viewers by addressing them and challenging them for a bet, newsjacking or allowing a charismatic performer to take over a session, conducting trivia and quizzes and allowing viewers to poll live to express their opinions, etc are some of the ways to liven things up a bit and make shopping entertaining.
Hence, live shopping events have the power to elevate Shoppertainment which leads to a differentiated shopping experience and ensures a boost in customer retention and average session time.
Complementary Content
One of the best Content Strategies to make live shopping successful for Commerce is offering Complementary Content. Streaming complementary content is an added advantage of live shopping that can enhance your brand perception and lead to brand loyalty.
For instance, an influencer while live streaming for a fitness brand can show a new workout routine and also refer to a certain piece of gym equipment that the audience can buy on the go.
An automobile retailer while hosting a live walkaround of a vehicle can stream complementary content like vehicle maintenance and driving tips.
These can be effective ways to use live commerce in your App for Sales.
Read More: How to create an effective Monthly Calendar for your Live Shopping Shows.
Collaborations
Collaborating with influencers is a surprise element to an otherwise mundane, one-person setup. Influencers can be anyone from celebrities to subject-matter experts to KOLs (key opinion leaders) to any prominent personality who can influence customers. A brand can work with them to create engaging content, announce giveaways, host interviews, launch or promote products, host tutorials or recommend products, etc.
Influencers are usually trusted by their followers, and when a trendsetting influencer conveys your message to a relevant audience, your brand is seen as more relevant and credible. Like, if you are a travel agency, you can collaborate with a prominent personality of a popular tourist destination.
Hiring influencers to conduct live shows for brands on your website, app, or e-commerce store, ask them to share about those shows on their social media handles to get more traffic and sales.
Hosting Live Contest or Giveaways
Hosting live contests gives brands a dedicated audience wherein they can also promote their products or services indirectly. This can include voting for a product through polls, interactive trivia games, quiz competitions, etc. Such sessions can keep your customers engaged and entertained hence they are more likely to invest in your products and participate in your future events.
Furthermore running contest giveaways are a sure-fire way of making your customers excited about your brand which will increase their engagement, establish brand awareness, and create a buzz.
Read More: How to get Maximum Return on Investment from your Live Shopping Shows?
Behind the Scenes
Giving your customers access to behind-the-scenes footage can help you establish a deeper connection with them. It could be a glimpse into how a certain product is made, how your employees celebrated a festival, or taking your viewers on a quick office tour.
Not only do behind-the-scenes streams create a more personable brand image, but they also show a real insight into your company's culture which can drive more audience attention towards the actual event itself.
Flash Sales, Deals & Discounts
Offering flash sales, deals, discounts, or coupons during a live stream can cause a sense of urgency and can push customers to buy products. Hence live-streamed flash sales, deals, and discounts conducted via custom live commerce are proven to be a potent sales tool. The best way to highlight such features is by pinning them during a live shopping show. Here's a reference:
Q&A Sessions
Live Q&A sessions are wholly authentic and are a format of storytelling. There are no scripts or editing, and the audience loves this authenticity. Moreover, Q&A sessions also help viewers put their doubts in the spotlight. The answers validate this possibility of interaction, solving doubts, and hence generating value for a brand. Right from food brands to automobile brands, every industry is leveraging this method to foster customer engagement.
One of the perks of live streaming a Q&A session is that it gives customers a sense of connectedness with your brand and helps them know products better, which leads to more informed buying decisions, and faster sales conversions.
Repurpose & Recycle
Many brands still ask how live shopping drives retail sales. Going live doesn't mean that your video's life is over once you press the stop button. Live stream not only gets more viewers while it is live, it also achieves greater reach after the "live" part is over. Thus you can also repurpose your live videos by inserting clips from it into your blog posts, post excerpts on your social media channels, or set in the video in your newsletter, etc.
Getting live stream footage cut into an easily shareable form for social media is an effective way to keep your audience engaged for the long term.
Additionally, you can also build up some hype before you actually go live. This can be achieved by making teaser videos and images, sharing them on your social media channels, and notifying your audiences beforehand.
Leveraging the right marketing strategies for your live stream show can help you drive brand awareness, more customers and ultimately will fulfill your business goal. Hence it is important to craft a promo plan for your live show.
Wrapping up: Content Strategies to make live shopping successful for Commerce.
If you don't have a way to engage your customers, there's no point for them to stick around. Give your customers a reason to want to interact with your brand during a live stream by creating an interactive and entertaining environment and opening up the conversation. Furthermore, If you make a good impression, customers may also seek out your other content after your Live Shopping show has ended.
We hope these Content Strategies to make live shopping successful for Commerce help you get your live shopping game plan off the ground, or if you've already started, it helps you take your strategy to the next level!
Planning to venture into Live Shopping or want to build an even more reputable and buzzworthy business?
Visit our Live Shopping Platform or book a Free Demo with us to get started.
We also have plug-and-play integration available for popular e-commerce platforms. Install & activate the plugins on their respective platform and start selling LIVE:
Shopify: https://apps.shopify.com/live-stream-shopping
WooCommerce: https://wordpress.org/plugins/live-shopping-video-streams/
Magento: https://marketplace.magento.com/channelize-liveshopping.html
PrestaShop: https://addons.prestashop.com/en/support-online-chat/86309-live-shopping-video-streams.html
Wix: https://www.wix.com/app-market/live-shopping-by-channelize-io